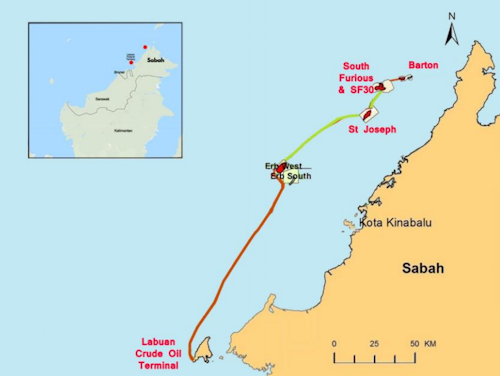 (Courtesy Hibiscus Petroleum)
Offshore staff
KUALA LUMPUR, Malaysia – Hibiscus Sdn Bhd (SEA Hibiscus) has concluded its St Joseph infill drilling campaign on the 2011 North Sabah enhanced oil recovery production-sharing contract (PSC).
This entailed drilling and completion of three infill oil producers, using triple splitter wellheads on the St Joseph Jacket‐A platform with associated modifications to topsides facilities. 
SEA Hibiscus took operatorship of the PSC in March 2018, as a 50% partner to Petronas. The PSC contains the St Joseph, South Furious, SF30 and Barton fields offshore Sabah, which collectively export to the Labuan crude oil terminal.
The three new wells have added more than 3,200 b/d to production, and the project should add 2.77 MMbbl to the reserves.
Further process debottlenecking activities are in progress to reduce backpressure on the new wells and help stabilize flow rates.
This project, the South Furious 30 infill drilling program, and the SF30 early water injection scheme are part of a seven‐well drilling campaign across the PSC.
The jackup for the Joseph wells has now mobilized to South Furious Jacket‐C to drill and complete three new oil production wells and one water injection well in the SF30 oil field.
08/20/2019