Hibiscus Petroleum
Offshore staff
KUALA LUMPUR, Malaysia – Hibiscus Petroleum has drilled and completed SJ‐105A, the first of three wells for the St Joseph infill drilling project in the North Sabah enhanced oil recovery PSC offshore Malaysia.
The SJ‐105A wellbore was drilled as a horizontal well comprising around 2,400 ft (731 m) of horizontal section which encountered 1,000 ft (305 m) of oil in the targeted reservoirs.
Production has since stabilized at just above 1,000 b/d of oil.
This program and the South Furious 30 (SF30) infill drilling and SF30 early water injection projects comprise a seven‐well campaign on the North Sabah PSC in 2019.
Two more oil production wells are being drilled at the St Joseph oil field followed by three new oil producers and one water injector on the SF30 oil field. 
All production heads to the Labuan crude oil terminal.
07/24/2019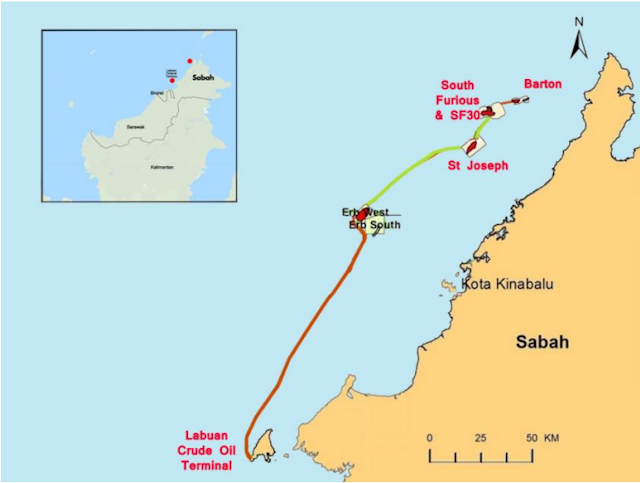 Map of the North Sabah enhanced oil recovery PSC offshore Malaysia.Hibiscus Petroleum