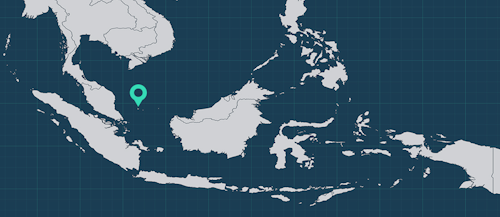 (Courtesy Coro Energy)
Offshore staff
LONDON – Coro Energy has issued an update on drilling plans for the Duyung production-sharing contract in the West Natuna basin offshore Indonesia, in which the company has a 15% interest.
The campaign will comprise one exploration well (Tambak-1), designed to test the Tambak prospect beneath the central area of the Mako gas field, and one appraisal well (Tambak-2), primarily investigating the intra-Muda sandstone reservoir in the southern area of the Mako field, also gathering stratigraphic data from the Lower Gabus interval.
China Oilfield Services Ltd.'s jackup Asian Endeavour 1 will drill the wells.
Tambak-1 well will appraise the Mako field's central area and its intra-Muda sandstone reservoir, assumed to lie around 385 m (1,263 ft) below sea level.
A full suite of wireline logs will be run before the well is deepened to test the Lower Gabus Tambak prospect beneath the base Muda unconformity. Planned TD is around 1,370 m (4,495 ft) subsea.
Tambak is a three-way dip closed inverted anticlinal structure, around 15 sq km (5.8 sq mi) in size. The reservoir is prognosed to be early Oligocene-age fluvial and lacustrine sandstones of the Lower Gabus formation, and to be charged by the underlying syn-rift lacustrine source rocks of the Benua shale.
Potentially, the prospect could hold 250 bcf of gas.
Tambak-2 will be the most southerly test of the Mako field to date and will, Coro said, represent a significant step out from the Mako South-1 well, which is more than 13.5 km (8.4 mi) to the northeast.
Gaffney Cline & Associates has assessed 2C resources at 276 bcf of recoverable dry gas in the Mako field with gross 3C resources of 392 bcf through additional field upside.
The Asian Endeavour 1 will soon mobilize for Singapore from the COSL yard in Shanghai, likely reaching the first well location in late September.
08/19/2019