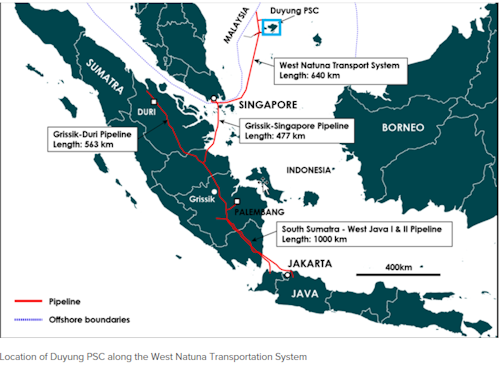 Offshore staff
LONDON – The partners in the Duyung PSC in Indonesia's offshore West Natuna basin have committed to a two-well drilling campaign.
This will comprise one exploration well to test the Tambak prospect beneath the central area of the Mako gas field, and an appraisal well through the intra-Muda sandstone reservoir in Mako's southern area.
According to Coro Energy, the program should begin in September, with each well taking around 33 days to drill and test, with a total projected cost, including rig mob/de-mobilization, of around $17 million.
Tambak is an inverted anticlinal structure that could hold 250 bcf of gas. Planned TD for the well is around 1,370 m (4,495 ft) TVDSS, with tests likely in both the intra-Muda Mako reservoir level and the Lower Gabus prospective target horizons.
The appraisal well will intersect the intra-Muda reservoir at around 380 m (1,247 ft) TVDSS, with the program in this case including coring, wireline logging and open-hole testing of the reservoir section.
Gaffney Cline & Associates has assessed recoverable dry gas in Mako at 276-392 bcf.
04/29/2019