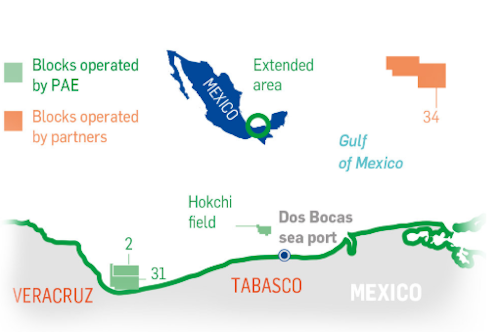 (Map courtesy Pan American Energy)
Offshore staff
HOUSTON – Early results from the Xaxamani-2EXP well offshore Mexico look encouraging, according to Talos Energy.
The company farmed into 25% of surrounding block 31 late last year, after granting operator Hokchi Energy a similar share in offshore block 2.
Hokchi – a subsidiary of Argentine company Pan American Energy (PAE) – has committed with Talos to drill two exploratory wells on each of the blocks.
Xaxamani-2EXP well, which spud in July, is the first well in the Olmeca project area, in water depths of around 60 ft (18.3 m), less than 2 mi (3.2 km) from shore. It is designed to build on the 2003 Xaxamani-1 exploratory well, which logged oil pay in several intervals.
Now that the latest well has reached TD, PAE plans to conduct a drillstem test before moving to drill the Tolteca well, which has similar objectives.
Yaluk-1EXP, the second well on block 2, was drilled during 2Q this year, encountering sub-commercial hydrocarbons.
Earlier this year Talos concluded a three-well appraisal program on the Zama oil discovery in block 7. Zama-3, designed to test the southern extent of the reservoir, logged around 1,000 ft (305 m) of gross TVD sand and 748 ft (228 m) of gross TVD oil pay, with better than expected net-to-gross ratios across the pay sections.
Resultant data, including 59 fluid samples from the reservoir, more than 200 pressure points, 25 logging runs and two extended flow tests, will be assimilated into Netherland, Sewell & Associates' independent report. Talos expects the updated resource guidance to be in the upper half of its previous estimate of 400-800 MMboe recoverable.
Front-end engineering and design for the development is advancing, with Oil & Gas Consulting (a joint venture between Baker Hughes GE and McDermott International) working on optimizing recovery and the economics.
Talos has narrowed down the potential concepts and the prevailing concept design will serve as the basis for development.
At the same time, unitization discussions continue with Pemex, which operates an adjacent block containing an extension of the field. The goal is to achieve a final investment decision in 2020.
08/08/2019