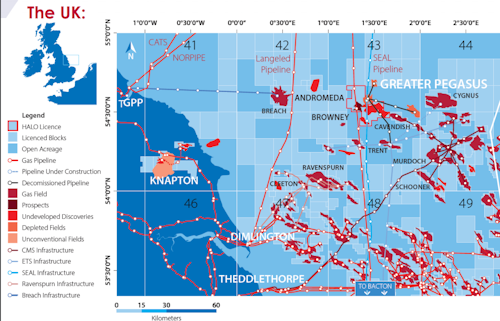 Hague and London Oil
Offshore staff
THE HAGUE, the Netherlands – Spirit Energy has spudded the Andromeda North well on block 42/12 in the UK southern North Sea.
This is Hague and London Oil's (HALO) first UK well: the company has a 45% interest in the license.
The well is targeting around 40 bcf of gas and should take around 90 days to reach the planned TD of more than 3,000 m (9,842 ft). If it is a discovery, it will be suspended as a future producer for a development of the Greater Pegasus Area.
In the Dutch North Sea, Neptune Energy has secured an extension for the E15c license until the start of 2021. According to HALO (20%), it includes the 20-50 bcf Maple Triassic sandstone prospect which is now scheduled to be drilled in 2020.
Maple is close to the Vincent discovery (HALO 30%) and the F-16E production facilities (HALO 4.147%): in the event of a success both fields could conceivably be tied-back to F-16E under a fasttrack development.
08/01/2019