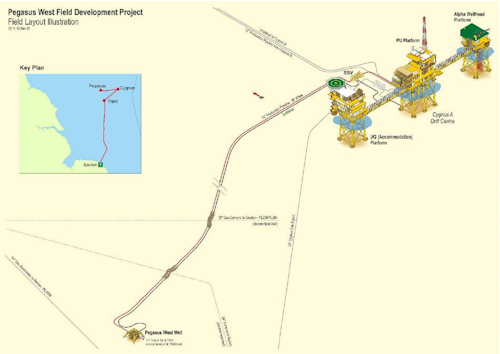 Spirit Energy
Offshore staff
THE HAGUE, the Netherlands – Spirit Energy and Hague and London Oil (HALO) aim to take a final investment decision this year on the Pegasus West gas development in the UK southern North Sea.
Spirit submitted a development plan to the UK's Oil and Gas Authority in January.
HALO became a partner after acquiring Third Energy Offshore.
The program involves drilling of a single well, tied back via subsea facilities to the Neptune Energy-operated Cygnus platform complex, with the gas then entering the Esmond Transportation System pipeline to land in Bacton on the Norfolk coast.
In 2015, the Pegasus West well tested 92 MMcf/d of gas from three separate zones. The initial plan is to develop 83 bcf of reserves, with start-up scheduled between late 2021 and 2023.
HALO will also participate in the forthcoming Andromeda exploration well in the Greater Pegasus Area, considered a relatively low-risk exploration prospect.
A success could expand the Pegasus West area development.
05/24/2019