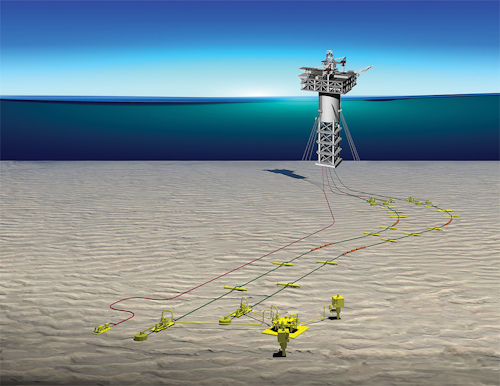 Mergers and acquisitions, as well as joint ventures and partnerships, are providing a path forward to drilling and field development in the US Gulf of Mexico. As larger operators seek to reduce their obligations in the GoM, smaller and mid-sized operators are seizing the opportunity to grow their E&P portfolios. Last year, there was the Noble Energy-Fieldwood Energy deal; the Kosmos Energy acquisition of Deep Gulf Energy; and the Murphy Oil-Petrobras joint venture.
This trend has continued in recent months, most notably with LLOG, one of the region's largest private equity-backed players. The company announced two deals in April that will enable it to keep moving forward with its E&P plans in the Gulf.
In one of these deals, Murphy Oil agreed to acquire a number of deepwater assets from LLOG Exploration Offshore, L.L.C. and LLOG Bluewater Holdings, L.L.C. The acquisition includes 26 blocks containing seven producing fields and four development projects in the Mississippi Canyon and Green Canyon areas. It adds about 32,000-35,000 net boe/d on an annualized basis for full year 2019 to Murphy's Gulf of Mexico production (about 60% oil).
Roger W. Jenkins, Murphy Oil's president and CEO, said: "We expect these newly acquired assets to generate meaningful cash flow over the next several years that will provide us with additional flexibility for future capital allocation."
He said that recent strategic changes, including increasing its deepwater, oil-weighted, tax advantaged, Gulf of Mexico assets, have revamped the company's portfolio. In addition, Jenkins said the company "is now positioned to grow oil production with an overall compound annual growth rate of 7 to 9%, all while maintaining our compelling dividend, repurchasing our stock, and decreasing our debt levels."
Imran Khan, senior research manager, US Gulf of Mexico Upstream Oil and Gas at Wood Mackenzie, said: "The transaction is part of Murphy's aggressive plan to expand its footprint in the Gulf of Mexico. The company has a large war chest after disposing of over $2 billion in Malaysian assets earlier this year. Murphy also acquired a majority of Petrobras' Gulf of Mexico portfolio last year, on top of starting a robust exploration and appraisal campaign. With this transaction, Murphy becomes the eighth-highest producer in the Gulf of Mexico. Only a year ago, they were number 20."
He added: "For LLOG, what is old is new again. It monetizes most of the LLOG Bluewater joint venture and allows the company to get back to what it does best: explore. Part of the proceeds will go to paying down debt, but the cash infusion will allow the company to focus on exploring and bolstering the pipeline of new projects.
"We forecast a big year for M&A in the Gulf of Mexico, and the momentum is starting to pick up. We expect more to come as buyers are attracted to short payback periods, while sellers shed fringe assets, and some private equity players look to harvest their old investments."
In the second deal, LLOG Exploration Offshore L.L.C. and Repsol E&P USA Inc. signed an asset exchange and joint participation agreement in the deepwater Gulf. The agreement provides for the drilling of a delineation well at Repsol's Leon discovery and covers Keathley Canyon blocks 642, 643, 686, and 687. In addition, Repsol will acquire an interest in the LLOG-operated Moccasin discovery in Keathley Canyon block 736.
Discovered in late 2014 on Keathley Canyon block 642, Leon is about 200 mi (322 km) offshore Louisiana in approximately 6,000 ft (1,829 m) of water. The discovery well was drilled to a TD of about 32,000 ft (9,754 m) and encountered nearly 500 ft of high-quality net oil pay in multiple sands in the Lower Tertiary formation but has not yet been fully delineated.
The new agreement with LLOG provides for the drilling of a delineation well this summer which will be operated by LLOG. LLOG will have a 33% working interest in the well while Repsol will have a 50% working interest. Following the scheduled delineation drilling, potential development options will be evaluated for this field.
In 2011, Chevron discovered Moccasin on Keathley Canyon block 736 in more than 6,500 ft (1,981 m) of water. The discovery well was drilled to a TD of more than 31,000 ft (9,449 m) finding nearly 400 ft (122 m) of net oil in the Lower Tertiary. LLOG subsequently licensed the block in a 2017 lease sale. 
Moccasin and Leon are less than 20 mi (32 km) apart which provides the opportunity for co-development. LLOG will retain a 31.35% working interest in the field and Repsol will acquire a 30% interest in Moccasin. •