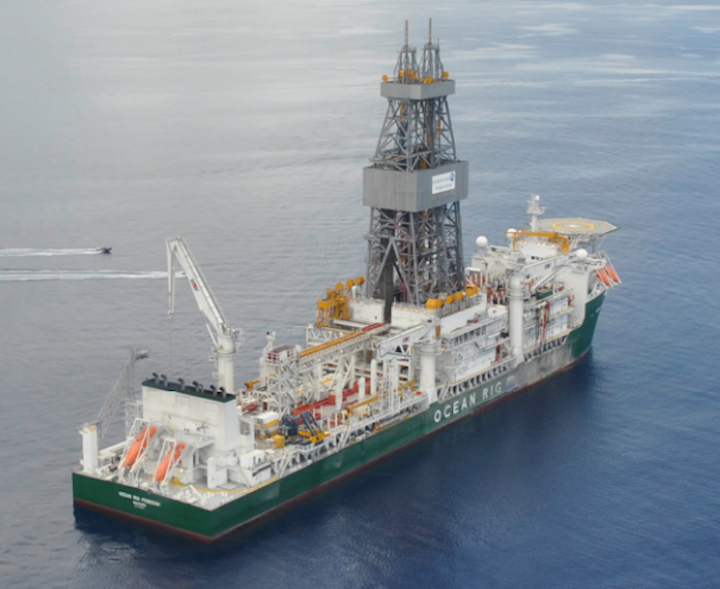 Transocean
Offshore staff
SAN DONATO MILANESE, Italy – Eni has completed drilling of Agogo-2, the first appraisal well of the Agogo discovery in block 15/06 offshore Angola.
The well results confirm the 650 MMbbl of oil in place at the Agogo field and indicate further upside in its northern sector. This will be assessed with new appraisal wells.
The Transocean drillship Ocean Rig Poseidon drilled Agogo-2, 3 km (2 mi) northwest of the Agogo-1 discovery well, about 180 km (112 mi) from the coast and 23 km (14 mi) from the N'Goma FPSO, which serves the block's West Hub. The well was drilled in a water depth of 1,700 m (5,577 ft) and reached a total depth of 3,949 m (12,956 ft).
Agogo-2 encountered 58 m (190 ft) net of light oil (31° API), in sandstones of Miocene and Oligocene age with excellent petro-physical characteristics, the company said. The result confirms the extension of the Agogo reservoir to the north of the discovery well and below the salt diapirs.
The well has been planned and drilled as a highly deviated one, according to Eni, to reach the sequences below the salt diapirs and prove the existence of reservoir and oil charge also in this sector of the Agogo megastructure. Data acquired in Agogo-2 indicate a production capacity in excess of 15,000 b/d of oil.
The company said it plans to start production from Agogo before the end the year with a subsea tieback to the N'Goma FPSO. Meanwhile, it will continue the appraisal campaign to assess the discovery's full potential and size its development.
The Block 15/06 JV consists of Eni (operator, 36.8421%), Sonangol P&P (36.8421%), and SSI Fifteen Ltd. (26.3158%).
07/26/2019