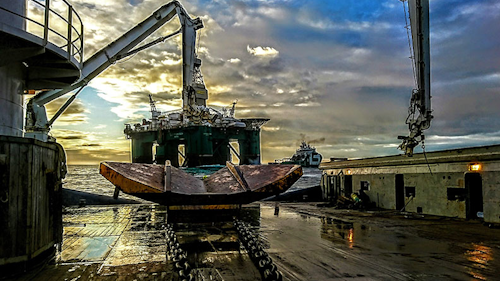 Lundin Petroleum
Offshore staff
STOCKHOLM, Sweden – Lundin Norway has discovered oil with two exploration wells on structures on the eastern edge of the Edvard Grieg field in the Norwegian North Sea.
The semisubmersible Leiv Eiriksson drilled the dual-branch 16/1-31 S and 16/1-31 A wells on the Jorvik and Tellus East prospects in license PL338 on the Utsira High, 4 km (2.5 mi) northeast of the Edvard Grieg platform.
At Jorvik, the well encountered oil in 30 m (98.4 ft) of Triassic-age conglomerate reservoir of Triassic age overlain by a thin, good-quality sandstone.
Following coring and data collection, the well tested around 130 b/d in the conglomerate interval, with pressure measurements showing the area is in communication with the Edvard Grieg field.
Lundin believes a horizontal production well in the Jorvik area could flow at commercial rates.
At Tellus East, the well intersected a 60-m (197-ft) gross oil column in porous, weathered basement reservoir. Currently two horizontal wells are producing from the Tellus area on the northern edge of the Edvard Grieg field, the oil sourced from porous, weathered basement reservoirs.
The result has strengthened the company's confidence in the basement potential in this area.
Lundin assesses combined resources from the two structures at 4-37 MMboe, and will look to develop both with wells from the platform in order to optimize the processing capacity.
The Leiv Eiriksson will remain on the Utsira High area to drill various shallow gas pilot wells as part of Lundin's Solveig development before moving to PL815 to drill the Goddo exploration well 16/5-8S.
This will test an extension of the Rolvsnes weathered basement oil discovery into the adjacent license, where the combined potential could be above 250 MMboe. Rolvsnes/Goddo are south of the Edvard Grieg field.
06/20/2019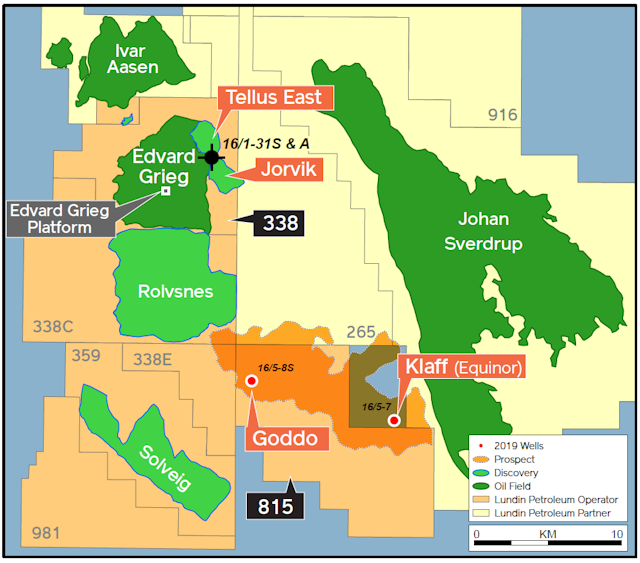 The Jorvik and Tellus East prospects in license PL338 on the Utsira High are about 4 km (2.5 mi) northeast of the Edvard Grieg platform.Lundin Petroleum