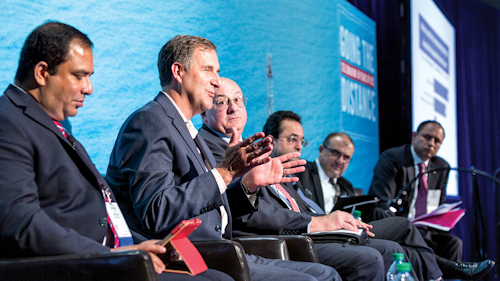 Saudi Aramco
Offshore staff
DHAHRAN, Saudi Arabia – Saudi Aramco presented papers in two sessions at this year's Offshore Technology Conference.
Corrosion in offshore well completions can cause serious well integrity issues and necessitate costly workover operations.
For the 'Erosion and Corrosion Prediction' session, representatives from the company's Northern Area Oil Operations highlighted the deployment of a non-metallic, glass-reinforced epoxy to protect completion equipment against various corrosive elements.
Aramco also contributed to a paper at the Smart Materials session presented by the University of Houston's Center for Innovative Grouting Materials and Technology. This covered the use of additives to cement, the aim being to modify or improve its strength and resistance to fluid loss or gas leaks in order to enhance well performance.
In addition, in-booth Aramco presentations showcased new hybrid acidizing fluids for reservoir stimulation; development of an untethered downhole sensor tool that replaces conventional well logging; toughening of oil well cements and drilling with cement; and work with high-temperature fracturing fluids.
05/30/2019