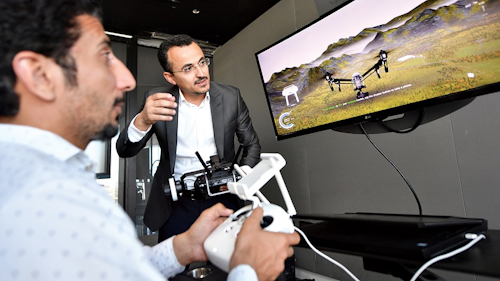 Offshore staff
DHAHRAN, Saudi Arabia – Saudi Aramco has converted an office complex in Dhahran to 4IR (Fourth Industrial Revolution) Center, implementing technological and digital innovation.
This will develop the technical skills of the company's workforce to help it achieve its digital transformation vision, leading to improved efficiencies and cost savings.
The center is designed to support conception of new ideas, prototyping, piloting, and full-scale deployment.
It features 279 sq m (3,003 sq ft) of video walls, with a total pitch of more than 109 million pixels split into multiple clusters and zones.
At its heart is the circular Artificial Intelligence (AI) Hub, surrounded by a concave video screen displaying more than 20 operational solutions. It is one of the biggest screens of its kind in the world, Aramco claimed.
The AI Hub focused is on developing advanced analytics and machine learning solutions in hydrocarbon-related applications and visualizing and predicting the performance of the company's assets.
Alongside is "VR Zone," which will develop, prototype, and train for augmented and virtual reality, and which can also be used to visualize plant assets and to provide a live sense of the plant experience from a simulation booth.
Another capability is demonstrating operational use of underwater robots for various applications.
03/21/2019