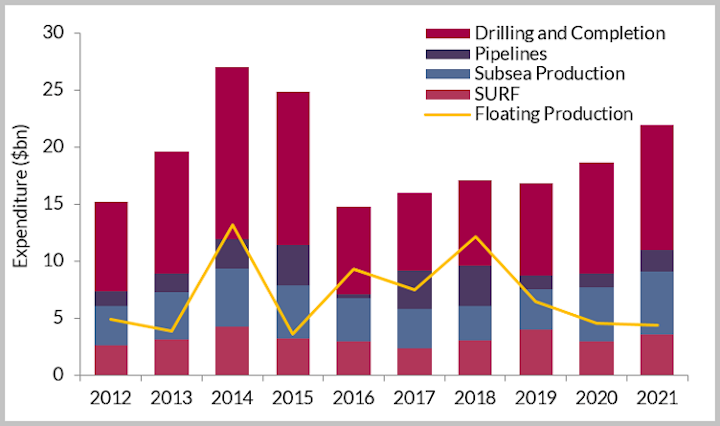 Offshore staff
LONDON – In its most recent update, the oilfield services research team at Douglas-Westwood projects that global deepwater expenditure will grow at a 3% CAGR over the 2017-2021 period, with expenditure totaling $125.4 billion.
This update highlighted more than 115 potential projects that are expected to drive offshore drilling and installation activities over the forecast period. The firm said that the latest deepwater data for 2Q 2017 represented a 4% expenditure increase from 1Q 2017 data, as operators adopted development plans based on value and simplified technology.
The report reaches the following conclusions:
Drilling and completion will remain a key sector, accounting for over 34% of forecast expenditure
Subsea tree installation activity is forecast to grow at a 13% CAGR over the 2017-2021 period
Floating production units will account for 28% of spend
Subsea production equipment, SURF, and pipelines will represent a combined 38% of capex
Africa and the Americas will remain the dominant region, accounting for approximately 79% of forecast expenditure
A flexible phased development approach by operators will ensure that deepwater developments continue to thrive in both established plays and frontier areas.
Douglas-Westwood says that project reengineering, cost cutting for equipment and services, and a relatively stable oil price will lead the number of deepwater projects expected to be sanctioned over the 2017-2018 period to grow by 42% compared to the 2015-2016 period.
05/19/2017