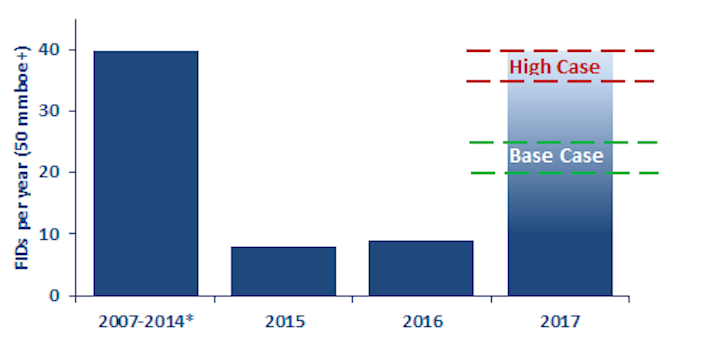 Offshore staff
LONDON/HOUSTON/SINGAPORE – Wood Mackenzie expects the first signs of growth to emerge this year since 2014.
Malcolm Dickson, principal analyst for Upstream Oil and Gas, said: "2017 will demonstrate how efficient the oil and gas industry has become; showing projects in better shape all round."
Wood Mackenzie's global upstream outlook for 2017 predicts that the overall exploration and production spend will rise by 3% to $450 billion, still 40% below the total in 2014.
At the same time, costs will continue to fall in 2017, although only marginally, with a leaner industry emerging.
Over the past two years capex deflation has averaged 20%, the analyst adds, but there is now room only for small further reductions with capital costs set to fall by an average of 3-7%.
Wood Mackenzie predicts the number of final investment decisions (FIDs) for new projects will exceed 20 this year, up from nine in 2016, but still some way below the 40/yr average of 2010-2014.
Typically, the new projects will be smaller in size, more efficient, and with capex/boe averaging $7/bbl, against $17/bbl for the 2014 projects.
"Companies will get more bang for their buck as development incremental internal rates of return (IRR) will jump from 9% to 16%, comparing 2014 to 2017," Dickson said.
"This is in part a result of a shift in capital allocation away from complex mega projects towards smaller, incremental projects in the Canadian oil sands and deepwater."
Deepwater will revive this year, the report predicts, but over the long term more cost cuts will be needed. Of the 40 larger pre-FID deepwater projects currently in the planning stage, around half fail to hit a 15% IRR at $60/bbl.
"The industry has selected the best projects to optimize and take forward. In 2017 it will have to turn its attention towards optimizing the next wave of developments to get them sanction-ready," Dickson said.
Graham Kellas, senior vice president of global fiscal research at Wood Mackenzie, added: "Some governments will be tempted to increase tax rates, but those with uncompetitive fiscal regimes will have to make changes to ensure they can attract still-scarce new capital.
"Getting the risk-reward balance right will be a critical factor in attracting scarce investment capture in 2017, even for resource-rich hotspots such asIran and Mexico."
01/11/2017