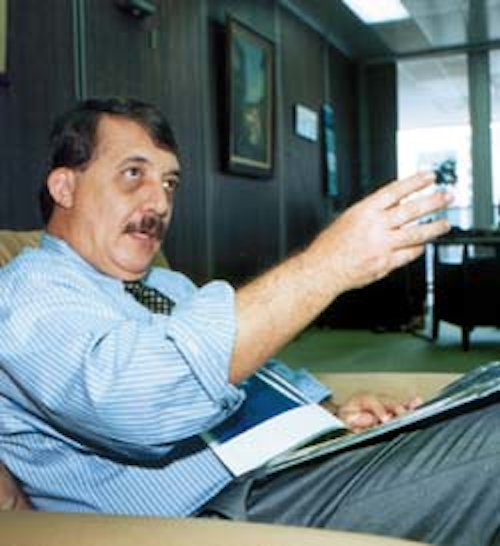 George Hawrylyshyn
Contributing Editor - Rio De Janeiro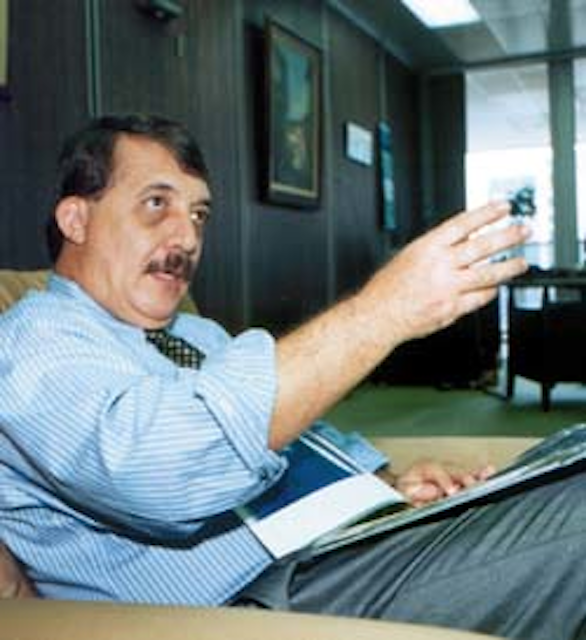 Antonio Carlos de Agostini.
Perennial deepwater production record-holder Petrobras faces the likely loss of its oil monopoly as a "positive factor from which it is prepared to take advantage," and is now giving even greater priority to deepwater development.
Petrobras is now producing from a well at the world's greatest water depth, 1.027 meters, and holds the world record for the deepest offshore producing system, the Petrobras XVIII FPS, in 905 meters. But the state-controlled, mixed capital Brazilian national oil company is facing the likelihood of drastic changes at the congressional level which could lead to the end of its 42-year old oil monopoly rights. In preparation for this eventuality, Petrobras has streamlined its administrative process by merging the departments of exploration, drilling, and production into one E&P unit and is said to be ready to compete with private domestic and foreign oil companies if the constitutional change occurs.
Meanwhile, the new Petrobras director of E&P, Antonio Carlos de Agostini, who replaced long-time director Joao Carlos de Luca, said company policy now is to concentrate on deepwater production in order to boost Brazil's domestic oil production to the 1.4 million b/d mark by the end of 1998. This figure is almost twice the present output and would bring the country close to self-sufficiency.
In making the announcement, Agostini explained that most of the additional oil will come from the already proven recoverable deepwater reserves in the Campos Basin and especially Marlim, where reserves have just been upgraded from 1.6 billion to 2.5 billion bbl oil equivalent.
Asked if Marlim was therefore the top priority for Petrobras, the new E&P director replied, "Marlim is so important for us that it is no longer on the priority list. It is 'hors concours'. It is a very pleasant fact that it is a patrimony from which we intend to obtain the greatest possible production and profits as we continue to probe into its full potential.
"But we also have other new discoveries with very promising expectations not only in the Barracuda, Marimba, and Guarajuba Fields in Campos, but also in the Santos Basin as well as off the coast of Bahia, where we did some deepwater drilling recently."
Agostini said the giant, deepwater and world record-holding Marlim Field already has two FPSs (floating production systems) onstream producing around 110,000 b/d oil, but in 1998, these will be joined by two more FPSs that are already ordered, by an FPSO about to be ordered, and two additional production units that are anticipated. The company is investing US$2.5 billion for these new projects. By then, Marlim will be producing more than half a million b/d oil, more than a third of Brazil's total production by then.
By the end of 1998, the country's peak production is programmed to reach 1.345 million b/d, of which 37% would come from Marlim. That amounts to 535,000 b/d oil, with an additional 5 million cm/d gas.
"The main factor," explained Agostini, "for increasing the Marlim reserves was the upgrading of the recovery factor from 23% to 35%." The one-year reserve re-evaluation study, he continued, was based on the performance of the wells already producing in terms of the geological data and seismic interpretation. The conclusion reached was that the oil recovery rate in Marlim is 12% higher than originally estimated.
"This gave us more than 800 million bbl additional oil," he added.
Encouraged by this surprise, Petrobras decided to anticipate by a year the coming onstream of two additional production units in Marlim.
"Before the end of this year," Agostini said, "we'll be calling bids for two more Marlim permanent production units: another FPSO (one is about to be ordered) and a floater, either a semi or a TLP, depending on the availability and cost of the unit. We want to see these units onstream by the end of 1998."
The study also resulted in the reduction of 23 production wells from the original program and increased significantly the number of horizontal wells to be used. There will now be a total of 127 production and injection wells, including 33 horizontals.
Asked if programming a total of 33 horizontal wells for one single field is a revolutionary measure in the Petrobras development policy, he replied, "The use of so many horizontal wells is not considered such a big innovation in the oil industry any more. It is now the opposite. I heard from Shell that to drill a conventional (vertical) development well, you now have to explain why. You increase production significantly, improve the system significantly, and cut costs with a horizontal - you make a 'fiesta'."
Another deepwater innovation being considered by Petrobras for Marlim, is the first use in Brazil of a TLP. Asked if that meant Petrobras was abandoning its long favorite semi-based FPSs, Agostini replied, "On the contrary, we will continue working with floaters, with the ships (FPSO and FSO), and in the future perhaps with the new pumping technologies."
Copyright 1995 Offshore. All Rights Reserved.