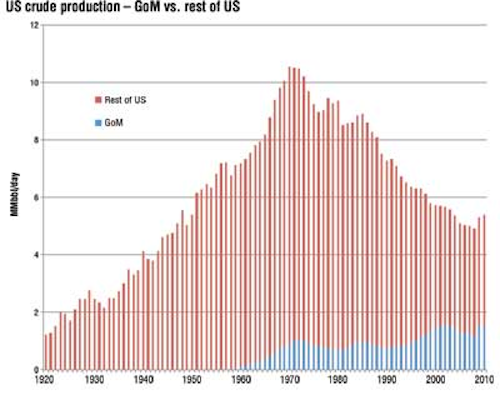 US Gulf continues to set the pace in deepwater, despite recent difficulties
Luke Davis
Infield Systems
The US Gulf of Mexico (GoM) is no stranger to adversity. Over the last four years exploration and production activity in the GoM has been paralyzed by a string of setbacks that have acted to reduce capital investment and harm the region's production profile. The trouble started in the latter half of 2008 as the credit crisis began to unfold. Crashing commodity prices and restricted access to capital slammed the brakes on upstream activity and 2009 proved to be a rather mute year. In the wake of this financial malaise the industry looked towards 2010 as a year of recovery. However, in April, the region was rocked by the Macondo tragedy. Deepwater E&P activity subsequently ground to a halt as President Obama's deepwater drilling moratorium turned in to what was coined as the "permatorium." Over 18 months has now passed since theDeepwater Horizon incident, and the wider global industry appears to be on the verge of another strong growth cycle. The question is, will the GoM sustain the pace?
Before the credit crunch
Prior to 2008 the Gulf of Mexico was in ascendency. While shallow water activity was experiencing long-term decline, the deepwater market was booming. By 2009, production from deepwater projects, specifically BP's Atlantis and Thunder Horse, Shell's Mars, Ursa and Auger, and Chevron's Tahiti, began to provide significant returns. Indeed, these projects, among a host of similarly productive fields, reversed declining production rates and made 2009 the most productive year in the GoM's oil and gas history. Moreover, these deepwater fields played a pivotal role in reversing 17 consecutive years of decline as 2009 US crude production finished 8.2% higher than that of 2008.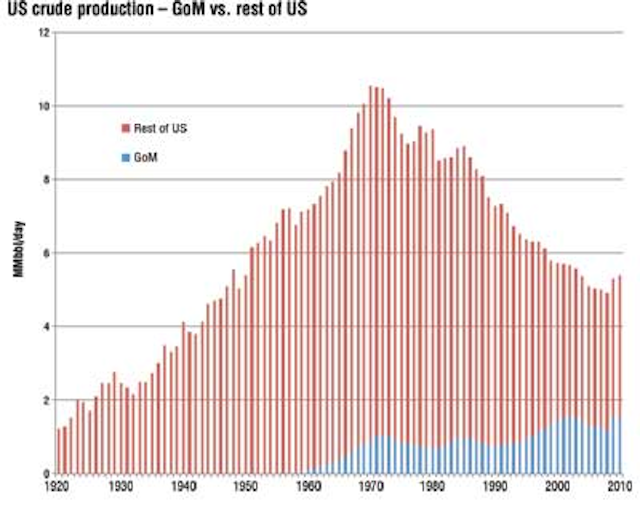 However, in the latter half of 2008 the picture began to change. Falling commodity prices and restricted access to credit reduced activity in the Gulf as oil companies reduced E&P budgets. At the same time, the onshore shale industry drew investment away from the GoM's shallow water regions. Finally, in 2010, the Macondo disaster and the ensuing drilling moratorium brought activity to a standstill. While field completions in 2008 and 2009 provided the impetus for 2010 to post another crude oil production record, a lack of investment in the region's deepwaters would soon begin to have negative effects. Indeed, deepwater oil production in the first six months of 2011 finished 14% lower than the same period in 2010 – a direct result of reduced E&P activity brought on by the adverse market conditions and drilling moratorium.
2011 in review
As 2010 drew to a close, the Gulf's oil industry was hoping and praying for a reversal of fortunes in 2011. However, 2011 kicked-off much like 2010 finished – with a severe lack of new permits being issued for deepwater drilling. Indeed, new deepwater permits remained unforthcoming throughout the first five months of 2011 and it was not until June that things began to change.
Since June, the issuance of new permits has increased substantially with October 2011 finishing higher than any month since December 2009. Moreover, the number of new deepwater well spuds has increased in the last quarter, leading to vastly improved utilization rates for the region's fleet of deepwater drilling rigs. The importance of the GoM to US crude production was underlined in June 2011 as ExxonMobil announced its Hadrian discovery which could be the most significant find since BP's billion-barrel Thunder Horse discovery in 1999.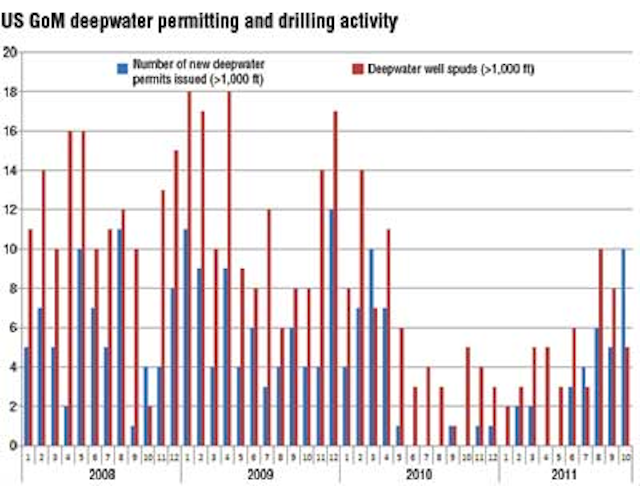 On top of a recovery in well permitting and drilling activity, a number of significant projects have been executed through 2011. New fields being brought onstream include Anadarko's Callisto (MC 876), Helix Energy's Phoenix (GC 238), LLOG's Condor (GC 448), Eni's Appaloosa (MC 460), and ATP's Anduin West (MC 754). These five fields were developed via subsea tiebacks to existing platforms – an increasingly common development scenario as the region's extensive infrastructure of floating production hubs and pipelines continues to grow.
In spite of recent difficulties, the US GoM continues to set the pace in the development of the ultra-deepwaters. Indeed, in November 2011 FMC Technologies announced that one of its subsea trees had been installed on the Shell-operated Tobago field at a record water depth of 2,934 m (9,626 ft). The new record surpasses FMC's and Shell's previous milestone of 2,852 m (9,357 ft) on the Silvertip field. Both Tobago and Silvertip are part of the wider Perdido development, which also holds the record for the industry's deepest platform installation at 2,438 m (7,999 ft).
Subsea tiebacks aside, a number of floating production projects have also progressed through 2011. The region's first FPSO installation, theBW Pioneer, is installed on Petrobras' Cascade field (WR 249) and, despite a number of setbacks, is expected onstream shortly. The GoM also is host to two current TLP developments: Chevron's Big Foot (WR 029) and Shell's Olympus (MC 807-B). The $4-billion Big Foot project was sanctioned by Chevron in December 2010 and Daewoo Shipbuilding and Marine Engineering subsequently won the hull construction contract while detailed engineering for the topside went to KBR. Big Foot is expected onstream in 2014.
A look forward
While 2011 can be summarized as a year of partial deepwater recovery and continued shallow water stagnation, 2012 stands to be much more positive, in the deeper water at least.
Here, Infield Systems' forecasts upstream capex to increase by as much as 38% year-on-year in 2012 as operators push forward with development plans and execute projects that have been delayed due to the drilling moratorium.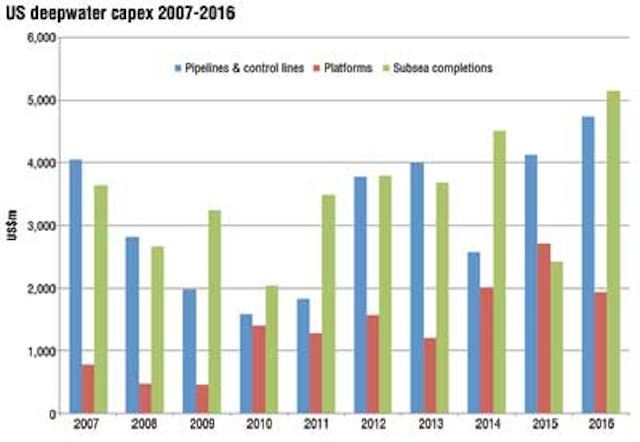 More broadly, GoM offshore capex is forecasted to increase from $9 billion in 2011 to over $12.5 billion per annum by 2015. Deepwater (more than 500 m, or 1,640 ft) activity is expected to account for over 76% of total North American offshore infrastructure investment to 2015, with pipelines, subsea equipment, and floating platforms forecasted to assume 94% of this spending.
Over the next five years, a forecasted 49 deepwater fields are expected to be brought into production in the Gulf – the majority of which are expected to consist of subsea tiebacks to existing fixed and floating platforms. The relatively shorter lag time (the delay between discovery and development) for these projects will help to sustain production rates in the near term. In the longer term, major project developments, including the installation of a forecasted 13 floating platforms (five TLPs, five semisubs, and three spars) by 2016, will provide the additional capacity required to push GoM crude production above and beyond its 2010 record.
Political will
On March 30, 2011, President Obama addressed Georgetown University in Washington, D.C., and announced his administration's target to reduce US oil imports by a third over the next 10 years. To help achieve this ambitious goal, the president outlined a three-part strategy which focuses on the development of domestic energy reserves, increasing fuel efficiency, and encouraging the growth of renewable technologies. Given the longer term nature of the latter two, Obama must be placing a central emphasis on increasing the domestic production of identified resources. Therefore, crude reserves in the GoM will be right at the very heart of this strategy. Indeed, the first lease sale in the Gulf since the Macondo spill was held Dec. 14, 2011.
While the GoM has admittedly seen tough times in recent years, political will power is now starting to suggest a much more positive future, and it is hard to envision a future for US oil production and consumption without deepwater E&P activity at its core.
More Offshore Issue Articles
Offshore Articles Archives
View Oil and Gas Articles on PennEnergy.com