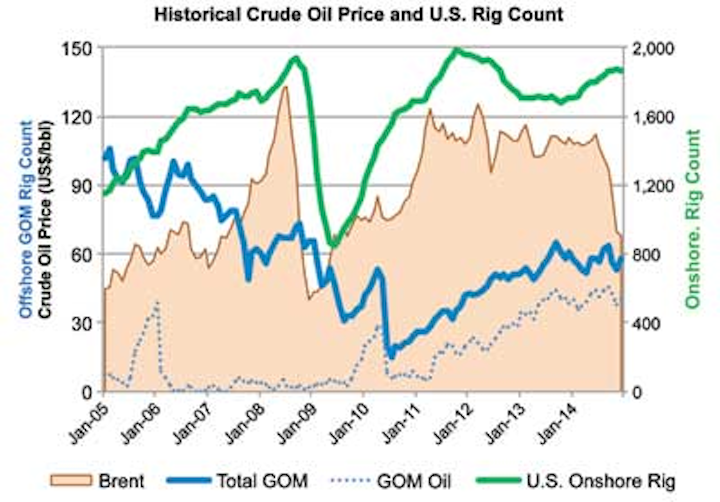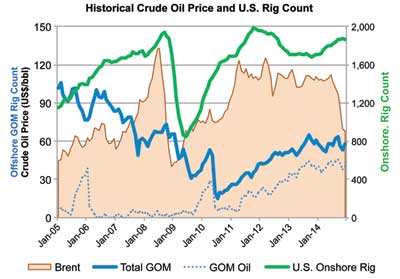 Data suggests projects still viable above $60/bbl
Bob George
Neil Abdalla
Cecilia Jing Cui
Gaffney, Cline & Associates
Significantly reduced cash flow for companies in 2015 means reprioritized spending is inevitable. In the short term, there is not always the flexibility to make decisions based solely on fundamentals, and so the first impacts may well include projects that in the long run remain viable. As a high cost environment, the deepwater Gulf of Mexico (GoM) would appear to be vulnerable and, indeed, cuts should be expected.
However, economic analysis by Gaffney, Cline & Associates (GCA) suggests that good projects in that environment can still be viable down to $60/bbl oil price. Further, economic rationality would suggest that where the opportunity exists, onshore shale spending would be a better short-term target for capital deferral because operating flexibility allows any adjustments made there to be reversed in equally quick order. That is not the case in the deepwater GoM where it is tomorrow's expected price that is the key driver, and where deferral now may mean missing out on gains later.
With oil now trading well below $70/bbl from a 2014 high of $115 in late June, the price slide has been the longest continual month over month decline and the steepest drop since the recession of 2008 during the financial crisis. Along with the decrease in prices, oil companies have watched 10% or more wiped off their market capitalization. The fall in oil prices is raising questions as to what impact this is going to have on industry activity in 2015. The key take-away from the recent OPEC meeting is that, through its impact on activity and therefore production, price is the weapon of choice to address the changing balance of supply in a demand-constrained world.
Activity is driven by a combination of factors: fundamental economics, cash flow and availability of funding, internal project resourcing (people), and commitments already undertaken. When there is rapid change, it takes a while for the dynamics of this mix to unwind. Looking at the other end of the spectrum, it was four or five years before the oil price rise that started in 1999 was taken to represent a paradigm shift. The initial response was for companies to prosper, pay down debt and buy back shares, "not squander it this time," and be content in the belief that price would revert to the $20/bbl mean that it had over the previous 20-25 years. On the other hand, when the oil priced crashed in 2008, it was only a few months before the response was seen in the rig count; a time lag that is now similar to when prices started falling this time around.
In 2008, the oil price fell below $90/bbl and the US onshore rig count was down by 1,000 within six months, although then rising again almost as rapidly as prices recovered. Thus far, in 2014, the oil price has fallen by a little less than $50/bbl from its June high, with further uncertainty as to exactly where it is headed and for how long. Nonetheless, if 2008 turns out to be a guide then a fall in the order of 500 rigs or more (some 25% to 30% of the rig count) could be the consequence, even though the rig count has only just started to hint at such a fall.
Using 2008 as a guide for 2014 is more complex in the GoM as activity at that time was dominated by gas well drilling, and the price of gas which continued falling after oil prices picked up. Since 2010 (with the hiatus following Macondo) GoM activity has been driven by drilling for oil and deepwater. The problem currently is the uncertainty as to where prices eventually settle, and for how long. There has been some suggestion that support might come in at around $60/bbl, although there has been a jump in options trading for December 2015 at $35-40/bbl. In 2009-2010, the oil price recovery was into the $70-80/bbl range until the Middle East unrest drove it higher, where it has largely remained until the current fall. Regardless, it is clear that nothing is presently certain and in terms of 2015 decisions will still need to be taken whether $70/bbl or less turns out to be a temporary phenomenon or not.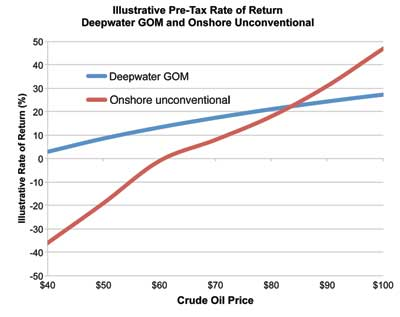 Displaying 1/2 Page 1,2Next>
View Article as Single page