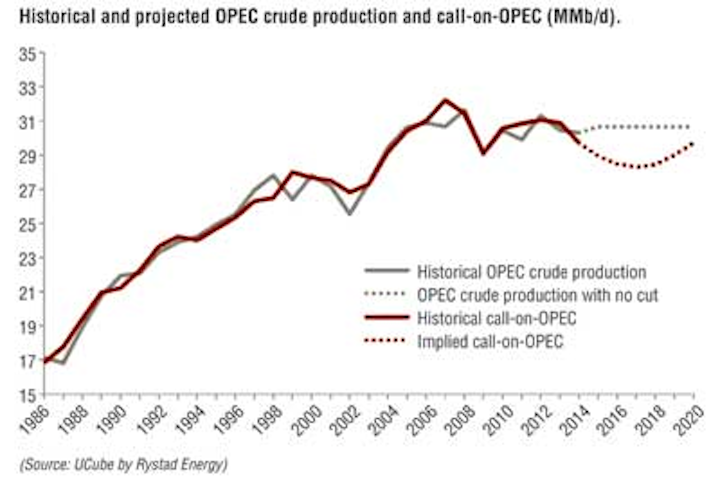 How are weakened oil prices affecting the future?
Jon Fredrik Müller
Rystad Energy
The OPEC resistance to reduced production quotas has spurred a continued oil price drop, following the trend from this past June. With Brent oil prices currently at $70/bbl, how robust are deepwater and ultra-deepwater developments? Will ultra-deepwater costs related to water depth, drilling time and other complexities favor the deepwater developments, or will the sheer size of ultra-deepwater elephants wrestle through to development no matter what?
At the time of writing, OPEC had just completed its 166th membership meeting and conveyed to the world that it is not reducing its quotas from the current level of 30 MMb/d of oil. The market responded by sending the oil price further down; currently it is trading around $70/bbl (Brent). The market has dropped close to 40% from June 2014 because of the surging US shale oil supply and weaker global demand prospects, which is causing an over-supplied market. Prices may continue to slide as the market realizes that the price level where US shale production growth stops is lower than $60/bbl (on field level).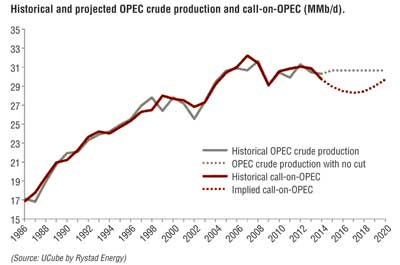 Click to Enlarge
In our baseline scenario, the need for OPEC's crude production declines to a low of 28.3 MMb/d in 2017 compared with an estimated September production rate of 30.7 MMb/d. In a scenario where OPEC crude production is kept at current levels, given our assumptions for global oil demand and production from the rest of the world, the oil market would become increasingly over-supplied in the next few years.
Stock builds/draws are often mentioned in periods with over/under supply, but such a large build of inventories over several consecutive years would not be realized as global oil inventories will not be able to absorb these projected excess volumes. Oil demand would have to rise much faster than expected to prevent either a supply response or lower prices – barring any major unforeseen supply disruptions. So, either the oil prices "collapse" and the imbalances will self-correct over time, or supply growth will pre-emptively have to be meaningfully reduced (by OPEC and/or others).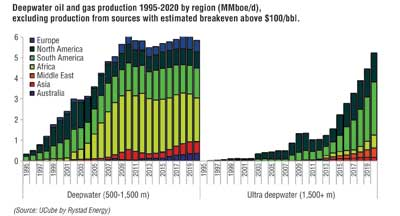 Click to Enlarge
The forecasted oversupply will have a different effect on different sources of production. To understand the potential impact on deepwater (500-1,500 m/1,640-4,920 ft) and ultra-deepwater developments (1,500+ m) we first need to look at history.
Developments deeper than traditional shelf (125 m/410 ft) began in the mid-1970s with developments off the coast of United Kingdom and Norway, and with other regions following from the early 1980s. However, developments in waters deeper than 500 m did not really commence until the late 1980s. It was in the mid-1990s that production from 500+ m really ramped up, led by developments in the US Gulf of Mexico (GoM) and Brazil. From the middle of the 2000s Africa stepped up to the plate with significant developments like Girassol, Bonga, Kizomba, Dalia, and others.
The production ramp up from deepwater is behind us; however, the ramp up from ultra-deepwater is still to come. Production from these water depths began in the late 1990s in the US GoM and Brazil, and currently stands at the beginning of a production ramp up that is forecasted to go from the current level of 1.5 MMboe/d in 2014 to more than 5 MMboe/d by 2020.
Ultra-deepwater developments are more complex than deepwater developments in many ways. First and foremost is the water depth. The deeper water brings challenges in many ways and one in particular is with the risers. Not only are pressure and structural integrity issues, but also the weight pulling down on the FPSO becomes significant in ultra-deepwater. By the end of the 2000s flexible production risers were approved down to around 2,000 m (6,560 ft); however, there were rigid and hybrid solutions (riser towers/submerged bouys) capable of handling deeper waters. Currently, there are flexible production risers capable of withstanding 2,500-m (8,200-ft) water depths, and the qualification of equipment for deeper waters is likely to continue. Into the 2020s we might see water depths at around 3,000 m (9,842 ft) with the giant Libra development moving forward in Brazil. These depths are at today's limits, but the hope is that emerging composite flexibles (more strength and less weight) will be qualified to handle water depths beyond 3,000 m.

Click to Enlarge
Displaying 1/2 Page 1,2Next>
View Article as Single page