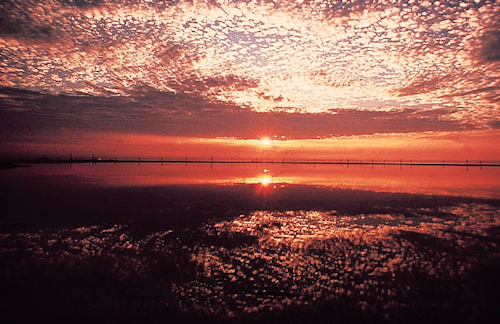 How long will it last?
James Dodson
James K. Dodson Co.

Leonard Le Blanc
Editor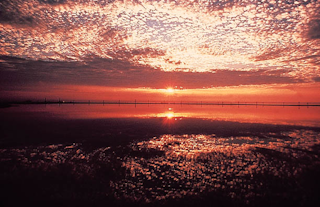 A new day for the US Gulf of Mexico, looking seaward from coastal Louisiana.
Producers in the US Gulf of Mexico have little choice but to drill the number of wells dictated by rig fleet availability - no less and no more. Upgraded drilling rigs are not actually adding to fleet numbers. New rigs in the US Gulf are working on deepwater wells that require more time to drill, and do not add to the well count. Thus, the total number of wells to be drilled in 1998 should approximate 1,150, about the same as 1997 and 1996.
Although technology is pushing down exploration and development costs in the US Gulf of Mexico, margin maintenance will become tenuous if oil and gas prices drop much further (from $18/bbl oil and $2.50/Mcf gas). The problem is that the industry has built a substantial cost infrastructure that is price-dependent. Falling prices will trigger a curtailment of exploration, which will depress rig and vessel contracting. Drilling rig day rates are not elastic enough to absorb the cancellations and downgrading of day rates.
On the positive side, unless oil and gas prices drop and remain depressed, very little should change in the US Gulf of Mexico in 1998, compared with 1997. The drilling fleet will not begin growing significantly until 1999. Drilling rig day rate escalation will continue, although taking longer between ramping periods. In deepwater, rig contracting is slow because most rigs are committed to long-term contracts. The backlog for other drilling and production equipment will continue with only modest relief.
Oil reserve additions are slightly ahead of production, benefitting from a growing deepwater program with 2,221 undrilled leases in water depths greater than 1,500 ft. Natural gas reserve additions are drifting behind production. After flagging for several years as continental shelf fields began to exhaust, trunkline fabrication and throughput is being revitalized by two factors:
Deepwater oil and gas production increases are requiring trunkline extensions.
Total Gulf of Mexico gas production is close to maximum deliverability.
Competition for rigs
Deepwater exploration and development opportunities are opening up around the globe, offering competition for the key mobile drilling assets in the US Gulf. Thus, the fabrication and upgrading of drilling units qualified to drill in excess of 3,000 ft will remain insufficient and could force US Gulf day rates for such units even higher. Rig availability for deepwater prompts two questions:
Has US Gulf deepwater leasing moved too far ahead of available rig supply, despite the long lease periods.?
Is there a cutoff point in rig day rate escalation at which operators give up on exploration in favor of work on existing discoveries?
Regarding the first question, so much depends on whether rig newbuilds and conversions provide enough development relief in the 1999-2002 time span. The US Gulf regulatory body - Minerals Management Service - is considering possible lease extension measures to alleviate expiration of undrilled deepwater leases where rigs are not available, as well as deepwater oil and gas discoveries that are simply beyond the depth range of conventional technology.
With respect to the second question, only a collapse in oil prices or supply of quality deepwater oil and gas prospects will impact rig contracting. Rig day rates will closely match the demand for oil and gas, and new exploration and production technology will be used to counter-balance day rate cost escalation.
Wells drilled
The 1998 projection of 1,150-1,193 wells is based upon a survey of planned wells, with 167 rigs operating in the US Gulf for an average period of 300 days each.
Through October of 1997, producers in the US Gulf had drilled 964 wells, which if projected through the remaining two months of 1997 will total about the same as forecast for 1998. By comparison, this number is only slightly higher than the 1,141 wells drilled in the US Gulf in 1996, showing a tight equilibrium driven by the limited availability of mobile drilling units. One element of this change is the growing number of gas wells being planned.
Shell will remain the top driller in 1997, and had already drilled 93 wells through October, versus 113 in all of 1996 (see accompanying table).
Chevron occupies second position, but had already surpassed its drilling rate in 1996 (86 wells) through just 10 months of 1997 (87 wells). Texaco is in third position with 46 wells through the first 10 months of 1997, versus 44 in all of 1996. Vastar Resources ranks fourth with 36 wells.
Other significant points in a data collection matching operator well counts for 1996 and 1997 include:
Among the major gainers in 1997 (10 months) over 1996 in terms of wells drilled are Ocean Energy (35 versus 30), Forcenergy (29 versus 20), Burlington Resources (30 versus 14), and Petsec (17 versus 11).
Unocal, which ranked fifth in 1996 with 42 wells, dropped to 20th position in 1997, with only 16 wells drilled through 10 months of 1997. Other operators dropping with fewer wells in 1997 (10 months) versus 1996 include Conoco (20 versus 32), Murphy Oil (17 versus 26), Oryx (15 versus 24), Mobil (13 versus 23), and Walter Oil & Gas (9 versus 16).
Well planning activity
Plans of exploration (POE) and development (POD) submitted to the Minerals Management Service are the clearest indicator of rig and funding availability. Producers are closely holding off on filing POEs and PODs until they have a clear idea when a rig will become available. Even as the prices of crude and gas have strengthened over the past three years, planned wells filed have not tracked upward, as might normally have been expected.
For all water depths, producers will likely file (projections from 11 months total in 1997) about 1,167 wells under POE's and 792 wells under POD's in 1997. The POE number varies little from the 1,148 POE wells filed in 1996. Three other points are significant in the data:
The 792 POD wells projected for 1997 will be down from the 919 POD wells recorded in 1996, and only slightly higher than the 706 POD wells recorded in 1995.
Projected POD wells filed for 1997 are down from POD wells filed in 1996.
For well plans filed for water depths under 351 ft in 1997, projected calculations based upon results through November of 1997 indicate that POE wells filed will total about 798 projected for the entire year, slightly ahead of the 783 planned wells filed during 1996. This is less than the 853 planned wells filed during 1994, which is the highest point over the past five years (1992-1997).
Leaseholding
There are a total of 4,875 active leases issued in all water depths across the US Gulf OCS in the 1992-1997 leasing period, of which 2,221 (45%) lie in water depths greater than 1,500 ft. Of the 2,221, 1,032 (46%) are in water depths greater than 4,999 ft, and 746 (34%) are in water depths ranging between 2,999 ft and 4,999 ft (see accompanying table).
Several other trends are evident in 1992-1997 US Gulf leasing data:
Producers in general are holding onto acreage as long as possible. Of the 5,030 leases issued in the 1992-1997 period, only 75 have been relinquished and another 80 have expired.
Of the 1,032 leases still active in water depths greater than 4,999 ft, none has been relinquished or has expired. All of these leases are undrilled at the present time.
Of the 2,161 active leases issued for depths under 351 ft, 1,793 (83%) remain undrilled. There is a strong probability that drilling rigs are simply not available for the rate of leasing taking place over the past two years or that day rates have exceeded what producers wanted to pay.
Top producers
Shell USA is the top oil and gas leaseholder in the US Gulf with total leasehold production of 54.6 million bbl of oil equivalent (BOE) net of royalty, as measured through the first six months of 1997. The total production is split between Shell Offshore, which has with 31 million BOE, and Shell Deepwater, which has 23.4 million BOE (see accompanying table).
Shell Offshore's leasehold production was almost evenly split between depths of less than 601 ft and depths between 601 ft and 1,499 ft. In depths over 1,500 ft, Shell Offshore has about 3.2 million BOE. Shell Deepwater leaseholdings (working interests) produced 22.7 million BOE in depths greater than 1,500 ft.
Chevron was the next top oil and gas leasehold producer in the US Gulf with a net production of over 46 million BOE, measured for the same six-months period. Virtually all of Chevron's leasehold production was captured in water depths of less than 601 ft. Following Shell and Chevron is Exxon with 30 million BOE, Texaco with 29.8 million BOE, Unocal with 20.7 million BOE, Mobil with 18.6 million BOE, and Vastar Resources, with 16.5 million BOE.
The total of the top 50 leaseholders in the US Gulf for the same period was 440 million BOE, of which 367 million BOE (83%) was produced in depths of less than 601 ft. All other leaseholders produced 59 million BOE for the period, of which 91% was produced in less than 601 ft.
Conclusion
In conclusion, drilling activity in the US Gulf of Mexico will ride oil and gas prices. There are enough price-sensitive independents operating in the US Gulf to make this more true than not. The downside will be reflected in exploration numbers, not development, at least initially.
If oil and gas demand continues to grow, which is equally likely, especially in the long term, activity will continue in lockstep with the growth in the fleet of mobile rigs. At the same time, if day rates continue to climb because of shortages, at some point, producers simply will not have the money to drill leases, and thus will decline to contract for rigs.
In all cases, the market is self-correcting.
Copyright 1997 Oil & Gas Journal. All Rights Reserved.