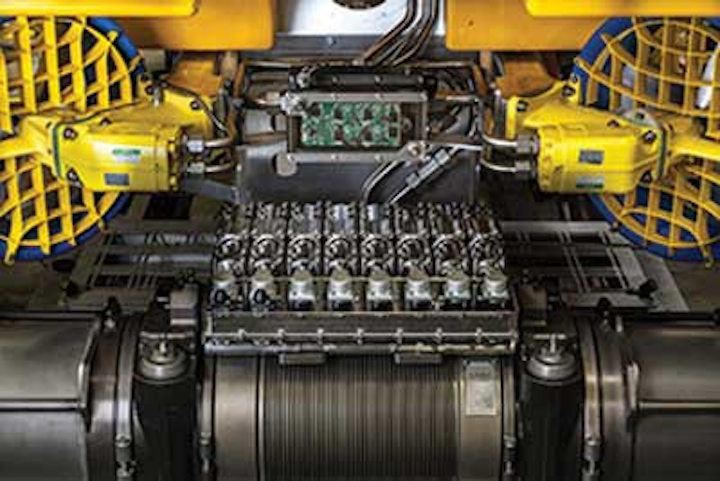 Displaying 2/3 Page 1, 2, 3Next>
View Article as Single page
Logistics, safety, and training
This year's event also featured new offshore logistics and safety equipment and training initiatives.
Under their jointly owned Hi-Con Training program, Raytheon Professional Services LLC and Petrofac Training Services launched the new Tropical Helicopter Underwater Escape Training (THUET) course.
Approved by OPITO, this new training for high-consequence oil and gas exploration scenarios will be offered at NASA's Neutral Buoyancy Lab (NBL), and has been accepted by Shell UA and other Gulf of Mexico operators to satisfy their warm-water HUET requirement. It has also been reviewed and endorsed by the P&T Wells organization.
The THUET course intends to help workers traveling to and from offshore oil and gas installations and vessels by helicopter stay calm in an emergency. It also teaches delegates to escape a helicopter following an unexpected water landing by providing specific training in pre-flight and in-flight requirements.
Hi-Con Training's THUET course is taught by training professionals at the NBL at the Johnson Space Center in Houston. The 6.2 million-gallon, 40-ft deep (12-m deep) pool, once used exclusively to train astronauts, allows for an extremely realistic learning experience, and a Modular Egress Training Simulator allows participants to experience the feeling of escaping from a helicopter fully submerged in water.
"As part of our focus on service and excellence, Hi-Con Training is constantly reviewed, upgraded, and expanded, ensuring that it is current and of the highest quality," said Tracy Cox, director of performance consulting at Raytheon Professional Services. "The OPITO-approved Tropical HUET is a safety and survival game changer and an important initiative for oil and gas workers in the Gulf of Mexico."
Wild Well announced a joint agreement with Check-6 to develop the next generation of well control training for the oil and gas industry. The partnership will result in a new standard of training by providing access to the most advanced computer-based training and learning techniques available.
The training partnership will focus on advancing well control training courses using methods designed for adult learning while incorporating new teaching and learning techniques in lecture, computer-based training, and hands-on simulation exercises.
Cobham Life Support introduced its new Survivor+ personal overboard survival system. The Survivor+, a new class of "wearable" personal flotation device, incorporates both a SOLAS approved inflatable life jacket and a personal life raft into a single system worn as a compact vest for maximum readiness and survivability. The company says the new maritime safety system is designed to improve chances of survival in Man Overboard and vessel evacuation.
Orga Offshore unveiled its next-generation offshore platform marking and warning system. The user-friendly touchscreen navaids central control panel (NCCP) sits at the heart of the new digital system. Its modular design allows easy set up and maintenance while the touchscreen user interface enables full system interaction to control and monitor all the company's aids to navigation equipment.
The control panel can also be extended to integrate the company's new circle and H helideck touchdown, positioning and marking lighting system as well as its latest aviation obstruction light system. Available for certified IECex and ATEX (Zone 1) and non-certified use, the NCCP has full alarm, history, and remote status monitoring capabilities.
Spotlight award winners
Service and supply companies, contractors, and vendors introduced many products and technologies, but 12 new, innovative, and proven technologies each received aSpotlight on New Technology Award.
Baker Hughes was recognized for the LaunchPRO wireless top drive cement head, which launches balls, plugs, or darts wirelessly during cementing of heavy subsea long strings and long, heavy liners. Its remote wireless operation reduces HSE risk by reducing manual intervention and rig time, while optimizing reliability.
The system's operation is powered by rig air through a single pneumatic hose that can be tethered to the cementing line to reduce the risk of damage during cementing operations. A wireless pressure transducer provides real-time data to the cementing operator to allow for adjustments during operations.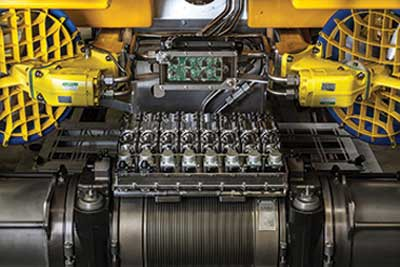 The ISOL-8 Pump is tightly integrated with FMC Technologies' UHD III ROV.
FMC Technologies Schilling Robotics won for the ISOL-8 Pump. The isolated pump enables secondary intervention for BOPs in compliance with API Standard 53. The pump is tightly integrated with FMC's UHD III ROV, and meets the 45 second requirement for closing BOP shear rams.
It consists of independent pistons synchronized with software control. Flexible configuration allows optimization for a variety of demands and can simultaneously provide up to 50 gpm at 5,000 psi. The company says this system is depth insensitive and can save operators up to $4 million per rig.