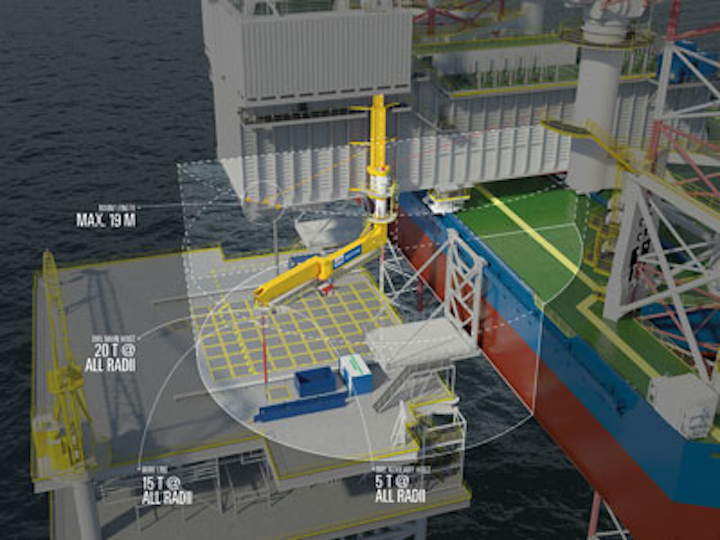 Offshore staff
HOUSTON– At the Offshore Technology Conference, GustoMSC is introducing SmartCrane, a lifting system designed for retrofitting to existing cantilever jackups to increase efficiency, or for installation on newbuild rigs.
The company says two features were of prime importance in the development: facilitating SIMOPS independently of any operation in progress on the drill floor, and easing material handling beneath the cantilever or between the work platform and drill rig.
Enabling a wireline operation away from the drill floor provides advantages in development drilling andP&A operations, the company adds.
SmartCrane features a moveable arm with the hoisting point underneath the cantilever. In this way, wireline operations can take place on one well while development drilling or P&A operations are under way on another well.
Savings in rig days for a P&A could therefore be around 10% compared to the conventional approach in which all activities such as logging and cementing are performed in a sequence on one well from the drill floor.
In addition, the system provides a 20-metric ton (22-ton) hoisting capacity beneath the cantilever at any position outside the drilling riser, and can reach the main deck of the rig, allowing it to transfer containers and other pieces of equipment weighing up to 20 metric tons from the main deck to underneath the cantilever and vice versa.
This feature leads to greater efficiency, the company adds, as crane access to the well head from the drilling rig is normally difficult due to the area being blocked by the cantilever.
GustoMSC is exhibiting at booth #11007.
05/02/2016