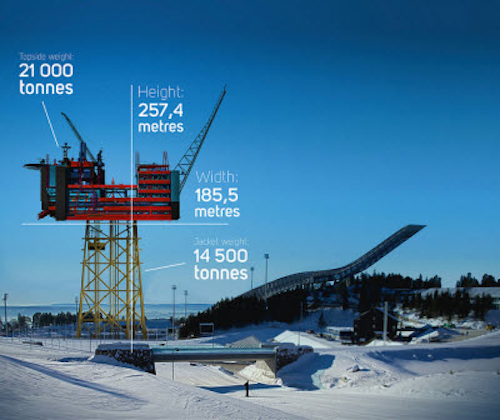 Offshore staff
OSLO, Norway – Kvaerner says that the 22,000-metric ton (19,958-ton) topsides for the Edvard Grieg field platform is ready for delivery. The job was completed under the schedule outlined in the NOK 8-billion ($1-billion) contract awarded in 2012 from operator Lundin AS.
The topsides consists of a main deck module; a combined utility module and living quarters; a process module; and a flare tower. The main deck module and the combined utility module and living quarters have both been moved to barges at Stord, ready for tow-out to the field. The process module is also ready on a barge atAker Solutions in Egersund, Norway, and the flare tower is completed and ready for delivery directly offshore from the subcontractor in Poland.
In addition to the EPC delivery of the topsides, Kvaerner wasawarded the contract to assist Lundin in preparing the platform for production when both the steel substructure and the topsides havebeen installed at the field.  Additionally, under a separate EPC contract, Kvaerner also delivered the platform's steel jacket substructure. The 14,500-metric ton (15,983-ton) structure was delivered as agreed in the spring of 2014 from Kvaerner's Verdal, Norway, facilities.
The modules for the topsides will be towed to field and lifted in place on top of the steel jacket in three separate lifts. Kvaerner will assist Lundin with offshore hook- up and completion during the summer and into the fall. The production is expected to reach a peak of 100,000 b/d. The oil will be processed and transported through a new pipeline to the Grane field and further via Grane's piping to the Sture terminal.
Lundin Norway AS is operator and owns 50% of the license. The other partners areWintershall Norway with 15%, OMV Norway with 20%, and Statoil with 15%.
04/14/2015