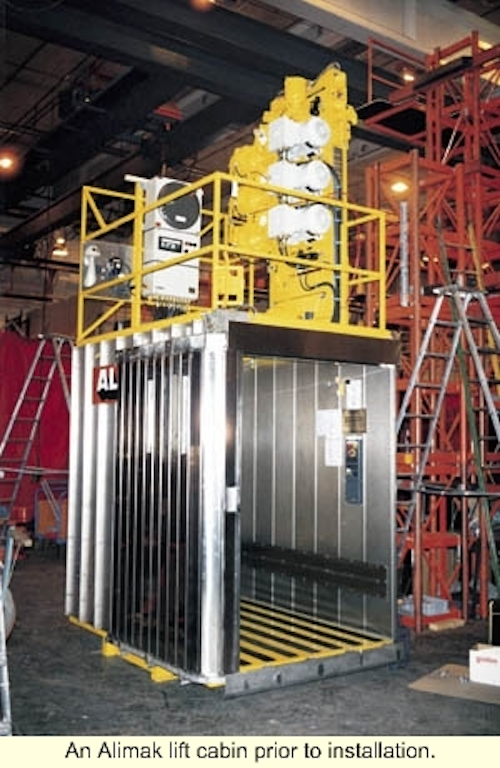 Three rack and pinion lifts have been delivered for installation on the Snorre B platform by Alimak. The units have the heaviest lifting capacity of any such lift used in the offshore industry and were supplied in December under a SKr 10 million contract with Aker/Kvaerner and will be installed by Alimak inside three of the platform's legs later in the year. The racks have been delivered to the Dragados construction yard in Cadiz, Spain and the lift bodies to Aker Stord in Norway for installation during fit-out. The twin mast lifts each have a lifting capacity of six tons and will be used to carry personnel and to bring out pumps, motors and other heavy equipment for maintenance.
The Snorre lifts are each powered by six 690V 7.5kW electric motors mounted on the roof of the stainless steel panelled car. They offer a choice of operating at 0.6 m/s when being used with a 1.5-ton load capacity to move personnel, or at 0.3 m/s when carrying higher capacity loads. Each car features a special door which will permit the access of machinery when required.
Sedco Forex
Alimak began supplying lifts to the offshore industry in 1973, and has sold several hundred hundred units. Eighty-two units were supplied during the 1990s with deliveries last year totaling 29 units. Deliveries include installations on the Sedco Forex platforms which have been fitted with lifts that include special material handling platforms. Measuring 4 meters by 1.4 meters, they have a 30 ton capacity and are folded flat for storage and used only once every two years when bulky equipment is moved during platform refits.
The Alimak lifts are self-propelled by electric motors on the lift cars that engage directly with toothed racks fitted to the platform leg structure. The racks are made in 1.5-meter sections which are bolted directly onto a mast. This offers the advantage of transferring lift loads directly downwards to the lowest part of the structure and eliminates the need for shafts or motor rooms used by wire rope lifts. They can be used in explosive environments and are particularly suitable for use in harsh conditions. The lifts also offer the ability to travel at an incline or around curves if required.
The longest Alimak lifts supplied to the offshore industry are the two operating on the Troll GBS platform where they descend 323 meters into the gravity base. However, the unique design enables the lifts to operate to any height and the company's record stands at 600 meters with an installation on a TV mast in Poland.
For more information contact; Birgit Eriksson, Alimak, Tel: +46 910-870 00 Fax: +46 910 566 90, E-mail: birgit.eriksson@alimak.se