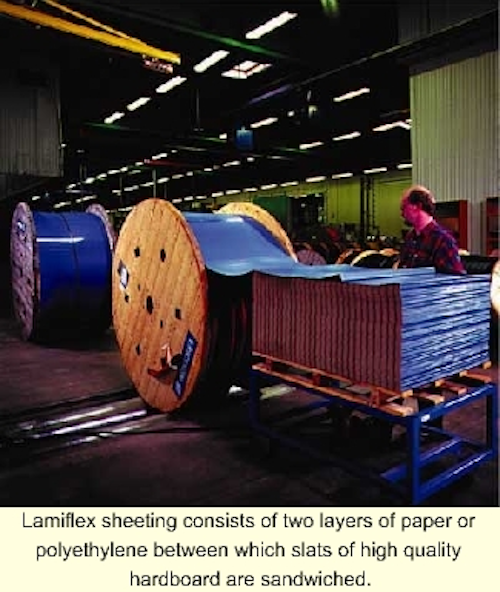 Protection against damage to high value pipes, cables, and umbilicals is now possible through use of the Lamiflex packaging system. This unique product consists of two layers of polyethylene or paper between which slats of high quality hardboard are sandwiched.
The Lamiflex sheeting is supplied in widths that fit, for instance, the cable drums exactly so that it is simply rolled over the drum and secured with strapping. The cable is then fully protected against physical damage as well as rain, seawater, and ultraviolet light for many months.
A new addition to the Lamiflex range of packaging options is available with an inner foil layer that contains a contact vapor corrosion inhibitor. This aids protection of drums carrying steel wires or other products that could be damaged if left standing and exposed to the elements for any length of time.
Cables wound onto drums for transportation are easily damaged through accidental contact with hard or sharp objects - causing considerable expense and inconvenience. Traditional methods of protection typically involve nailing wooden planking over the drum, but this can also be very time consuming to apply and to remove after which it is extremely difficult to replace if needed. This leaves the cable exposed and vulnerable to damage if it is not being used immediately.
Claw hammer test
When cables protected by planking are taken offshore, the used timber also becomes a bulky and inconvenient waste material requiring correct disposal. Lamiflex, by contrast, may be re-used indefinitely or, if it is no longer required, rolled into a compact and convenient bundle for disposal.
Lamiflex is manufactured at Nyköping in Sweden where it has been subjected to numerous trials by customers and inspection authorities to establish effectiveness. This has been demonstrated when a standard drum is rolled at 6 kph onto a sharp object and the Lamiflex covering has been found to provide complete protection for the cable. Another demonstration shows the ease with which someone using a claw hammer renders planking on a drum useless. When the hammer was applied to a Lamiflex wrapped drum, the cable remained unscathed.
Lamiflex is manufactured on a unique machine that enables the sheeting to be supplied in any width up to 6.1 meters wide. The wider sheeting is particularly valuable for quickly and securely wrapping long objects such as piping or tools.
For more information contact Mats Järpehag, Lamiflex. Tel +46 155 21 21 60, Fax +46 155 21 21 30, Email: mats.jarpehag@lamiflex.se