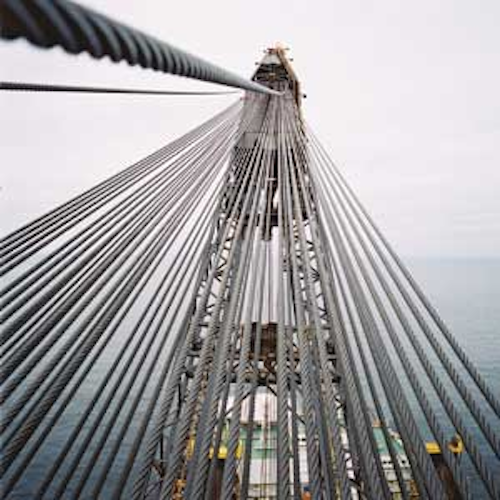 Sara Fletcher
Bridon International
Jurgen de Jong
Heerema Marine Contractors
Surface-based heavy lifting operations such as transferring 9,000 metric ton (9,921 ton) topsides between vessels require dependable crane ropes. With daunting costs associated with downtime offshore, operators cannot afford an unanticipated failure. Furthermore, crane ropes used in such operations are not simple consumable products that can simply be slotted into independently designed lifting systems. They are highly engineered pieces of machinery that are integral to the lifting systems themselves. With this in mind, contractors must be assured of rope integrity and reliability, and plan for replacement.
Collaboration between operators and equipment suppliers is crucial to the creation of effective heavy lifting systems. Such collaboration is exemplified by the long-term partnership between marine contractor Heerema Marine Contractors and rope manufacturer Bridon International, who on vessels like theDCV Balder operate highly optimized lifting systems that truly make the most of state-of-the-art rope technology.
Built in 1978, theDCV Balder originally was equipped with two heavy-lift cranes. In 2002, the vessel underwent a major upgrade with the addition of a DP system, mooring line deployment system, and a 1,050 metric ton top tension J-lay tower to become a multi-purpose deepwater construction vessel. Heerema recognized that to harness the full potential of these lifting systems, it also needed equally advanced rope technology.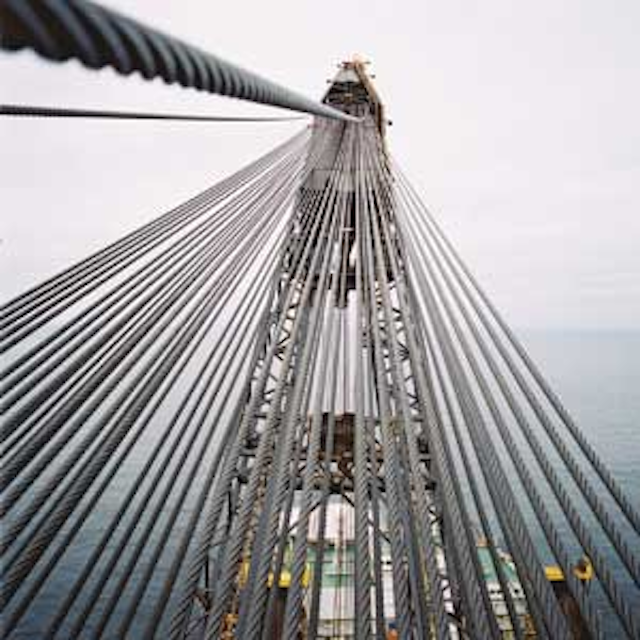 Specialty wire rope from Bridon is used on Heerema'sBalder heavy-lift semisubmersible.
Heerema's first priority was to ensure that the vessel's new J-lay system had sufficient handling capacity to deploy huge loads under challenging conditions. With this in mind, its abandonment and recovery (A&R) winch required a single deployment rope of unprecedented strength and complexity. First, to guarantee safety the rope was required to provide a 1,500 metric ton breaking load. In addition to the immense loads the rope would have to carry, the nature of the single-line load handling arrangement required it to exhibit limited rotation under load. This necessitated a multi- strand wire rope which had never been produced in such large diameters and lengths.
The Bridon technical team first designed a rope that could theoretically attain the required properties, and manufactured a small-scale trial model to confirm design assumptions and to assess manufacturing methods. When this trial succeeded, Bridon commenced to build the full-scale rope.
Several times over the ensuing years, theBalder has taken on operational challenges that required longer and stronger A&R ropes, and Bridon has consistently worked with Heerema to supply these. Having replaced the original 3,150 m (10,335 ft) rope supplied in 2000 with a 3,400 m (11,155 ft) length, in 2007 Bridon was commissioned to construct a new rope to enable the Balder to make 4,000 m (13,123 ft) deployments in the Gulf of Mexico on behalf of BP. The scale of this rope was such that Bridon had to invest in new handling equipment to construct it.
As operators explore greater water depths in challenging environments, Bridon is expanding its manufacturing capabilities in anticipation of future needs. The company is constructing a £30 million ($47 million) factory that by early 2013 will produce multi-strand ropes in lengths of exceeding 7,000 m (22,965 ft) and gross package weights of up to 650 metric tons (713 tons), by far the largest and most complex ever. These ropes should expand the scope of what is possible for operators working in deeper waters and difficult environments.
In addition to its J-lay tower, Heerema'sDCV Balder was equipped with two heavy-lift cranes, each with lifting capacity in excess of 3,000 metric tons (3,307 tons). As part of the upgrade of one of these cranes, Heerema turned to Bridon to supply a matched pair of two 19,000-m (62,335-ft) long wire ropes. The production of ropes suitable for such complex, multi-reeved heavy-lift cranes required both technical expertise and manufacturing consistency. Bridon developed, tested, and delivered the ropes, and their performance was such that equivalent arrangements were added to Heerema's unique of the Hermod, Thialf, and Balder.
A key to technical development of heavy-lift wire ropes is the use of specialist polymers to improve rope reliability and performance. Bridon experts identify, select, and process novel polymer materials to optimize the performance of ropes in the most onerous of applications. This has led to development of Bridon's patented manufacturing process to apply a plastic jacket in an exact profile around the core of a wire rope to support it, and to follow the helix of the rope's strands. This cushion supports the geometry of the wire rope and limits the impact of interwire contact to enhance the work life of the rope. New materials are being tested to allow the application of this technology to even more critical applications in deepwaters, under high pressures, and in heat sensitive applications such as heave compensation.
In addition to steel wire ropes, Bridon is working to develop synthetic fibers that trials indicate can be suited to next generation offshore operations. The use of fully synthetic ropes can offer the highest strength-to-weight ratio for subsea handling to extend the depth range of existing equipment without detriment to static load capacity. Crucially, tailoring extension characteristics of synthetic products can negate additional load displacement compensation.
In the development of optimized offshore heavy-lift systems, collaboration is key to innovation. Bridon and Heerema demonstrate what can be achieved when suppliers and operators work together in a sustained and supportive way. The two companies' collaboration has allowed Bridon to gain the most rounded possible understanding of the complex challenges Heerema faces. This understanding has allowed Bridon to develop rope applications uniquely designed to overcome Heerema's challenges.
MoreOffshore Issue Articles
Offshore Articles Archives
View Oil and Gas Articles on PennEnergy.com