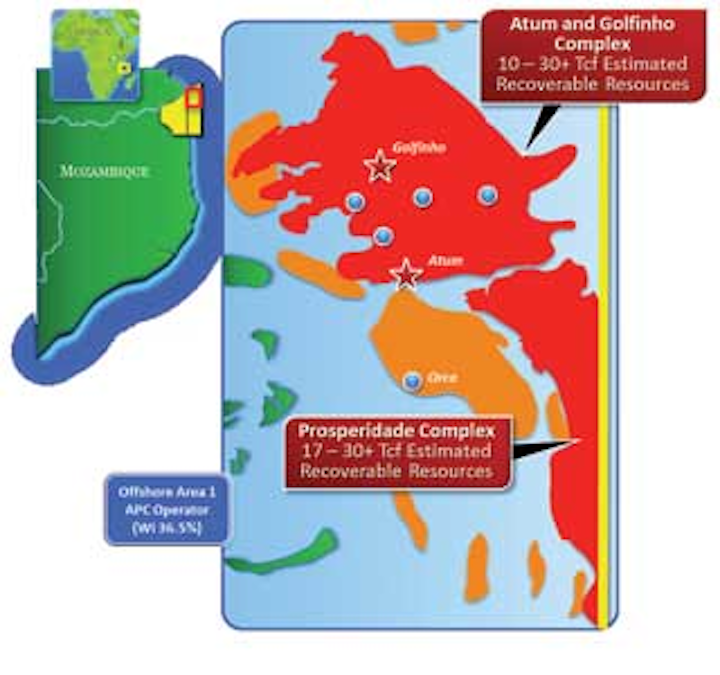 Eldon Ball • Houston
Anadarko Petroleum Corp. has yet another natural gas discovery offshore Mozambique in Offshore Area 1 of the Rovuma basin, and the potential of the area is looking better with each new well.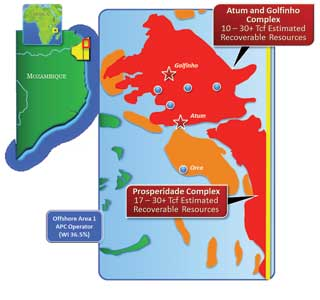 The combined success at Atum and Golfinho and apparent connectivity of these Oligocene fan systems indicate these discoveries represent the Anadarko group's second major natural gas complex offshore Mozambique.
The Atum discovery found more than 300 net ft (92 m) of pay in two Oligocene fan systems. Preliminary data indicates that the find is connected to the Golfinho discovery 10 mi (16.5 km) northwest in Offshore Area 1. It was a follow-up to Anadarko's nearby Golfinho well.
In May, Anadarko's Golfinho discovery well in Offshore Area 1 of the Rovuma basin hit more than 193 net ft (59 net m) of gas pay in two Oligocene fan systems that are age-equivalent but geologically distinct from the previous discoveries in Prosperidade.
"The combined success at Atum and Golfinho and apparent connectivity of these Oligocene fan systems, indicate these discoveries represent our partnership's second major natural gas complex offshore Mozambique," said Bob Daniels, Senior VP, Worldwide Exploration. "We estimate this new complex, which is located entirely within the Offshore Area 1 block, holds 10 to 30-plus tcf of incremental recoverable natural gas resources. We plan to immediately commence a four-well appraisal program of this complex, which has the potential to underpin a large LNG development."
The Atum exploration well was drilled to a TD of 12,665 ft (3,860 m), in water depths of approximately 3,285 ft (1,000 m). Once operations are complete at Atum, the partnership plans appraisal activities to be followed by a drillstem testing program in the Golfinho and Atum.
The Golfinho discovery well was drilled to a TD of 14,885 ft (4,537 m), in water depths of 3,370 ft (1,027 m). Once operations are complete at Golfinho, the partnership plans to mobilize theBelford Dolphin drillship to drill the Atum-1 exploration well.
"With this latest discovery at Atum and a successful upcoming appraisal program, we believe the total estimated recoverable natural gas resource in Mozambique's Offshore Area 1 is between 30 and 60 tcf, and the current upside for total gas in place for the discovered reservoirs on the block is approaching 100 tcf. We still have additional exploration opportunities that could expand the resource potential further," said Anadarko President and CEO Al Walker. "A recoverable resource base of this scale supports our initial two-train development plans, as well as significant future expansions. Our current activity is focused on achieving reserve certification and a Final Investment Decision in 2013, as the partnership works toward expected first sales of LNG in 2018."
Additionally, the Barquentine-1 well in the Prosperidade complex successfully tested the upper Oligocene zone, which flowed at a facility-constrained rate of approximately 100 MMcf/d of natural gas. This is the third successful drillstem test flowing at this facility-constrained rate.
Anadarko is the operator in the Offshore Area 1 with a 36.5% working interest. Co-owners include Mitsui E&P Mozambique Area 1, Ltd (20%), BPRL Ventures Mozambique B.V. (10%), Videocon Mozambique Rovuma 1 Ltd (10%), and Cove Energy Mozambique Rovuma Offshore Ltd. (8.5%). Empresa Nacional de Hidrocarbonetos' 15 % interest is carried through the exploration phase.
Research for cementing technology
A University of Houston civil engineering researcher has received a $2.6-million grant to develop a new type of "smart" cement that could make offshore drilling safer. Cumaraswamy Vipulanandan is working to develop a material that offshore operators could use to monitor the health of a well from construction and throughout its operational life.
The non-profit Research Partnership to Secure Energy for America awarded the three-year grant to Vipulanandan under its contract with the U.S. Department of Energy. Baker Hughes is contributing $500,000 more to the research project.
Vipulanandan wants to create a material that is more "sensitive" than the standard drilling mud and cementing slurry used by operators to construct and form offshore wells. Slurry cement is a mixture of water, cement, and fine sand in a certain ratio that is usable to fill gaps and voids and for other repairs.
He is working on adding new materials to the slurry, including nano-scale particles of calcium, silica, and iron. Other modifiers include polymers, coupling agents, water-reducing agents, particle fillers, and admixtures. These additions, he says, will turn the drilling mud and cementing slurry into piezomaterials, meaning their electrical properties will change when they encounter mechanical stresses, temperature changes, and chemical reactions.
During a well's construction, electrical leads will be placed in the outer casing of the well. As the slurry is poured to form the inner wall of the well, the sensors will be used to monitor how quickly the slurry is hardening, how much of the well has been completed, and if the process is going as planned.
"Sometimes there is a crack in the deep rock formation that allows the slurry to escape. Since the company constructing the well cannot monitor this process, it may take a long time to realize there is a problem," Vipulanandan said. "With this new technology, the sensors will show quickly that the slurry level is not rising. That way the builder can halt construction and start working on a solution."
The new cementing mixture also will allow operators to monitor operating wells, since it will retain its piezoresistive nature after the slurry hardens. When the hardened cement encounters a mechanical stress or strain, the technology's sensing and monitoring capabilities will make it easy to detect and locate structural problems.
McDermott to supply offshore modules
Heerema Marine Contractors Nederland BV has awarded to McDermott International Inc. a fabrication contract for deepwater Gulf of Mexico platform components.
McDermott will construct 16 tendon buoyancy modules to be used during offshore installation of the platform, approximately 225 mi (362 km) south of New Orleans in waters up to 5,185 ft (1,580 m) deep.
McDermott will procure, fabricate, and loadout the structures from its Morgan City, Louisiana, facility. Consisting of an upper and lower module, each TBM is designed to be interchangeable as either an upper or a lower module. Fabrication work is expected to begin during 2Q 2012.
A McDermott subsidiary also has been awarded a design, engineering, and procurement management contract by VAALCO Gabon Inc., for the Etame platform, and a design engineering contract for a potential Southeast Etame/North Tchibala (SEENT) platform, both offshore Gabon, West Africa.
More Offshore Issue Articles
Offshore Articles Archives
View Oil and Gas Articles on PennEnergy.com