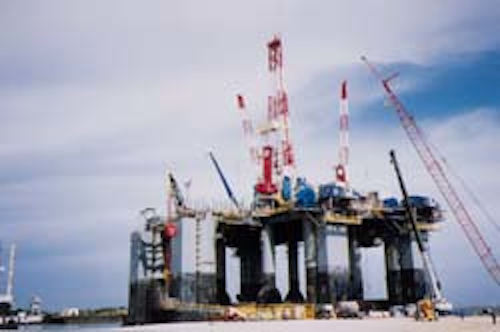 John M. Vecchio
Diamond Offshore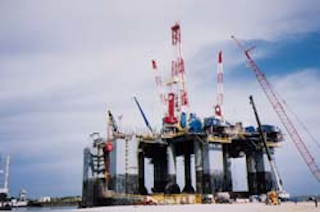 The upgraded Ocean Quest during final shipment.
In the second half of 1995, the demand for deepwater, harsh environment drilling rigs outpaced supply. Although increased demand fostered dayrate increases and the emergence of term contracts, it was insufficient to justify new construction. And scheduled drilling start dates meant the rigs had to be available far sooner than the 24 to 36 months required to build new units.
Diamond Offshore determined the quickest, most economic answer to operator requirements was conversion of a structurally sound second generation semisubmersible to a fourth generation configuration.
The drilling contractor surveyed its own fleet and that of the open market and determined three of its Victory class semisubmersible units met technical and commercial criteria for conversion candidates. Diamond Offshore has nine Victory class rigs in its fleet and therefore was not faced with speculatory purchase as a major commercial consideration. Victory class units offer high residual fatigue life; open spaces for additional deck area; a strong original, column supported structure easily upgraded for the loads required for deep water operation; and basic hulls in excellent condition. Victory class rigs also have a successful track record of conversions to moderately deepwater (2,000+ ft) rigs.
Ocean Quest project
The first major Victory class upgrade was a three-year commitment to Chevron to convert the Ocean Quest for operations in 3,500-ft waters. Chevron wanted the upgraded unit capable of carrying its own mooring system (without wire cut-ins) and to handle all deepwater operating and transit loads. Upgrades had to be compatible with possible future programs to extend the rig's operational capability to 5,000-ft waters. Texas Drydock of Sabine, Texas, instigated a fasttrack shipyard schedule that will ready the rig for location by September 1996. Equipment delivery determined the overall project's critical path schedule.
Basic stability enhancements
A key Ocean Quest project goal was to increase variable deckload (VDL), or payload capacity, so the rig could carry the mooring equipment loads, tubulars, chemicals, and fluids, and the additional riser deep water operation requires. Ocean Quest's operating VDL was increased from 3,000 long tons (LT) to 5,000 LT. Large sponsons were added to the inboard and outboard lower hulls and the eight stability columns. Outboard sponsons added necessary buoyancy for enhanced load requirements and increased the water-plane area for operating stability. The lower hull inboard sponsons provided added buoyancy required for transit.
Sponson enhancements to the Ocean Quest required 2,350 tons (T) of steel. The total project added over 3,000 T to the vessel. The additional steel weight and equipment increased the lightship from 10,500 LT to 15,000 LT. The upgraded vessel's displacement is about 32,000 LT at the 70-ft operating draft and 21,000 LT at the 32-ft maximum transit draft.
Mooring system
Developing and installing a mooring system to meet the 3,500-ft water depth requirement was a major project challenge. The Deepstar Environmental Criteria was used as the mooring system design basis. In order to reduce the anchor handling boat requirements, it was critical to minimize anchor weight without sacrificing station keeping ability. Calculations indicated the rig required an eight-point combination chain and wire mooring system of 3,000 ft of 3 1/4-in. ORQ plus 20% anchor chain and 8,200 ft of 3 1/2-in. mooring wire deployed in lengths for the 3,500-ft water depth case. The breaking strength of both the wire and chain is 1,450 kips, necessitating removal of the existing three-in. chain system and installation of a new system, including winches and fairleaders.
Amclyde model CTW-350/2 traction winches with dynamic breaking were selected. Designed in accordance with IMO-1989 MODU Codes, the system has a releasable dog holding power of 1,450 kips on both the traction winch and windlass portions. The winch portion stall rating is 718 kips and the windlass portion has a stall of 646 kips. Each mooring leg has a Bruce MK4 10 MT anchor and a Bruce Widemouth chain chaser. Added chain extended stationkeeping to 5,000-ft water depths.
New foundations were necessary to support the increased loading at the 128-ft main deck elevation as were new wire take-up reels on platforms at the 120-ft column top elevation. Access and change-over platforms, chain pipes to accommodate 3 1/4-in. chain and new D-shaped anchor bolsters also were installed.
Subsea equipment enhancements
To maintain the shipyard schedule the BOP stack was taken from Diamond Offshore's spares stock and refurbished. The stack unit consists of: two Hydril 18- 3/4 in., 15k double bodies; a Vetco H-4, 18-3/4 in., 15k wellhead connector; a Vetco 18-3/4 in., 10k riser connector; two Hydril P-56B pods; and an Oilstates 18-3/4 in., 10k flex joint. A new riser string purchased for the project consists of seventy 50-ft joints of Vetco MR-6C riser with 15k choke and kill lines and mud booster line. The riser string will have 45-in. OD Emerson & Coming buoyancy, yielding 99.3% buoyancy compensation.
To accommodate the increased water depth, the rig's Shaffer riser tensioner system was upgraded to a total tensioning capacity of 1,000 kips from 480 kips. The tensioner capacity was designed for 18 ppg mud considering one tensioner down.
Two 4,000-ft Furon 1 x 60, 1-in. and 3/16-in., hose bundles were installed as were a subsea camera and a riser angle and hole positioning system with hydrophone retrieval. The 10,000 psi choke and kill manifold was replaced with a 15,000 psi manifold.
Mud systems and drilling equipment enhancements
The Ocean Quest's mud pit capacity, inadequate for deep water drilling, was expanded from 1,600 bbl to about 3,000 bbl by pits added forward of the existing mud pits. This was done by extending the main deck box girder on the starboard side forward and transversely tying the pits back to the inboard longitudinal box girder. The main mud pits house was also extended to protect the new mud pits and the three new mud pits each equipped with agitators, mud guns, supply and suction lines .
Deepwater drilling requires three mud pumps. Two existing mud pumps were replaced with three refurbished 1,600 hp National Oilwell units. The third mud pump was installed in the old cement unit room, immediately aft of the mud pump room.
The Ocean Quest's solids control system had been upgraded to include three Brandt cascading over three Derrick shakers. The system's capabilities were expanded by adding one Brandt and one Derrick shaker. Other solids control modifications included a second degasser and increased flowline diameter from 12 in. to 16 in.
To improve drilling performance, a Varco TDS-4S top drive system with an RBS-III and PH-85 pipe handler was installed. This required the derrick be extended and reinforced. Other drilling equipment modifications included installation of a 49 1/2-in. rotary, a 24-in. Vetco Type KFDS diverter and a 7838 Baylor dynamic drawworks brake.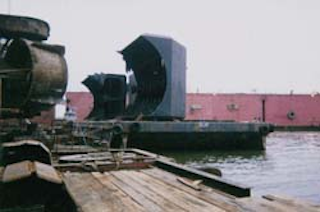 Sponson sections are readied for installation on the Ocean Quest.
Power generation and control modifications
The original power system was removed, providing a smooth engine room deck. Five Caterpillar 3516 engines were installed with engine room space and generator switchgear space reserved for a future generator set. The increased alternator sizing was based on a desire to take advantage of future engine power ratings upgrades when electronic injection or other improvements become available. Maintenance requirements and target exhaust emissions levels drove engine selection.
Power distribution will be achieved by a six-bay IPS Compudrive SCR system selected to minimize components and connections; provide response flexibility to future needs through software modifications; and the capacity to obtain shore assistance via direct modem link to the processors. The driller's, mud pump and anchor windlass consoles use combinations of flat screen display menus and various discrete controls (lights, switches throttles, pushbuttons).
Two 2,000 KVA transformers provide 480 volt service for the vessel with extra capacity for required third-party systems. New motor control centers, with spare capacity dedicated to these specialties, were added in the mud house.
Structural and miscellaneous enhancements
New equipment and the demands of deepwater operations increase space and loading capacity requirements. A 3,500-ft riser stored on the deck required the aft deck pipe rack be converted and reinforced to suit the increased loads. A pipe rack for 20,000 ft of 5 in. drill pipe and associated collars, and BHA was erected on the mud house roof. The deck area aft of the existing pipe rack was raised to the 128-ft elevation. The starboard side of the raised deck section was designed for a storage capacity of 15,000 ft of 9 5/8-in. casing and the port side for diving and ROV equipment.
The large open area at the rig's forward end was decked in at main deck level, yielding a new 7,050 sq ft deck (94 ft by 75 ft) for general loading of 250 PSF. Additional 'P' -tanks and the Halliburton cement unit were placed on the port side in an integrated house to protect the unit and operator.
Over 6,500 sq ft on the starboard forward deck and the mud house roof remain open for operator storage or well test equipment.
The substructure was upgraded to suit loads to 2,500 kips. The Ocean Quest was analyzed for global strength after conversion and correspondingly enhanced to suit the new loading.
The new forward deck was outside the service radius of the two cranes locations, so for general handling a Seatrax 6024 was installed on the starboard side. The starboard aft crane, which is the primary crane for tubular handling, boat loading operations and tree handling was upgraded to a Seatrax 6032 unit. The aft port Clyde cranes pedestal was raised to provide riser storage area clearance. The crane capacity at the cellar deck was increased to handle subsea trees to 85,000 lb.
Ongoing deepwater conversions
The Ocean Quest served as a base model for other Victory class rig deepwater conversions. The Ocean Star has received a three-year Texaco contract for enhancement to 4,500-ft water depth capability.
Ocean Victory, due to arrive at TDI in October, is committed to a three-year contract with Vastar. The basic Ocean Victory and Ocean Star upgrade projects are similar to the Ocean Quest project. Differences are related to the additional or upgraded equipment required for deeper water and specific operator requirements.
Diamond Offshore also has several non-Victory class deepwater conversions underway. The drillship Ocean Clipper is undergoing conversion to dynamic positioning at Atlantic Marine in Mobile, Ala. for a BP Exploration ultra-deep water operation. The Aker H-3, Ocean Neptune, is being upgraded at Amfels for a Chevron contract in 3,500-ft water depths and the SS-2000 class semisubmersible, Ocean Yorktown, is being enhanced for 3,000 ft for Petrobras.
Copyright 1996 Offshore. All Rights Reserved.