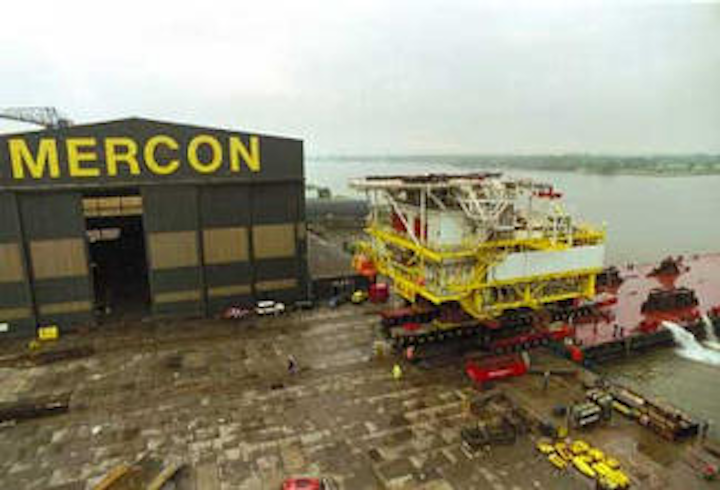 Dutch North Sea activity this year has shifted away from exploration to incre-mental field development. All three of the major operators have expansion schemes underway at key offshore gas production centers.
Among the beneficiaries is Gorinchem-based engineering/fabrication group Mercon Steel Structures. After a quiet period in offshore terms - one small new platform per year - the company is suddenly working to tight deadlines on four different projects.
The largest in volume terms is the new K5PK compression platform that TotalFinaElf is adding to the K4/K5 complex. Mercon supplied three of the existing seven installations during the 1990s. The new assignment comprises a 450-ton jacket and 2,200-ton topsides, plus connecting bridges to the K5P and K5A platforms.
For NAM, Mercon has been commissioned to build three compression modules designed by the Wood Group/Stork venture. These are for the K14 Field (1,400 t dry weight), L/15 (300t) and L/9 (600 t). "We see a growing need for compression as more Dutch sector gasfields start depleting," says Mercon's Tender Manager Maarten Rozemeijer. There are also options in the NAM contract to supply modules for further platforms.
Design responsibilities
Mercon has 10 years' experience working with TotalFinaElf (formerly Elf Petroland) in the Dutch sector. Recently, it delivered the deck for K1A, a TotalFinaElf (TFE) operated satellite that will be controlled from the Markham complex near the UK median line. A year earlier, it built the compression module for Elf Petroland's F15 project. K1A, like K5PK, was an EPC project. The EPIC contract for the F15 compression module also included offshore installation.
Increasingly, TFE has been subcontracting detailed design responsibilities to Mercon. This is good for the fabricator's self-esteem, but it also introduces new pressures. Earlier platforms Mercon worked on for TFE were built to "frozen" designs, with a delivery schedule of around 16 months. But for K5PK, TFE provided only a basic design, Rozemeijer points out, "so we are starting more-or-less from scratch." This approach also increases the engineering contractor's exposure to risk, as it must verify its own designs. And the deadline for delivery on this project is just 13 months.
K5PK will support three compression trains comprising 7.6 MW and 8.0 MW Alstom diesel turbines driving Demag Delaval compressors. Prosernat is supplying the glycol regeneration system. A waste heat recovery unit, also provided by Demag Delaval, will be installed in the compressor's exhaust cooler banks to generate heat for the glycol generation system.
Reduced commission time
Once construction is completed, Mercon will undertake run tests on site in Gorinchem using natural gas. "We also did this - successfully - for the F15 compression module. That was good preparation for this project, which comprises much bigger compression facilities. Due to our preparatory work on F15, hookup and commissioning offshore was reduced from the normal three to four weeks to seven days."
K5PK's piled jacket will be a support structure only, without guidance for risers or conductors. Assembly is expected to be completed simultaneously with the topsides. Once the platform is installed (the installation contractor has not yet been decided), Mercon will also be responsible for connection of the bridges to the K5P and K5A platform and hookup of the K5PK platform. These bridges are respectively 20 meters and 40 meters long, and 40 tons and 80 tons in weight.
For the NAM projects, Wood/Stork are responsible for the entire design, so Mercon is in this case working totally to order. All three are being built simultaneously at Gorinchem - first steel was cut in May, and the completed modules are due to be loaded out fully commissioned next March. Heerema's Thialf crane barge will perform the installations.
In the recent past, Mercon also built much larger packages such as the 6,000-ton drilling module for Oseberg. Only Norwegian contractors can count on this size workload these days from the North Sea. Like other European fabricators, Mercon is therefore looking for work further afield, for instance through the main contractors with a presence in West Africa and the Caspian.
K1A satellite to Markham
The K1A Field was discovered by Elf in 1997, and straddles Dutch North Sea blocks J/3a, K/1a and K/4a. Analysts Wood Mackenzie estimate recoverable reserves at 352 bcf. Initially, Elf envisaged a stand-alone platform with full processing facilities linked to a wellhead platform on the field's southern section. Eventually, it opted instead for a satellite development to the Markham complex, with the gas heading through a 9 km 14-in. pipeline to the J6A platform for processing, with onward export through the WGT trunkline.
K1A's topsides include three-stage separation facilities and accommodate nine well slots. Starting from a conceptual design, Mercon built the 950-ton deck, with load-out completed only 11 months after the EPC contract was awarded.
TFE issued an EPIC contract for the jacket to allow Seaway Heavy Lifting (SHL) to perform installation with its crane barge Stanislav Yudin. SHL, Schiedam-based fabricator HBG Steel Structures and designer IV Oil & Gas teamed up to find the most economic solution. The 50-meter water depth, soft soil conditions, and the barge's crane hook capacities led to design of a four-leg, 1,000-ton jacket with 70-meter-long grouted skirt piles.
For the installation this June, four support piles were driven to create stability on the soft soil during piling of the main piles, and also to reduce the jacket's weight (no large mud mats). Also, the buoyancy of the jacket was made adapted to allow the jacket to turn in water with the vessel's main and auxiliary hooks.