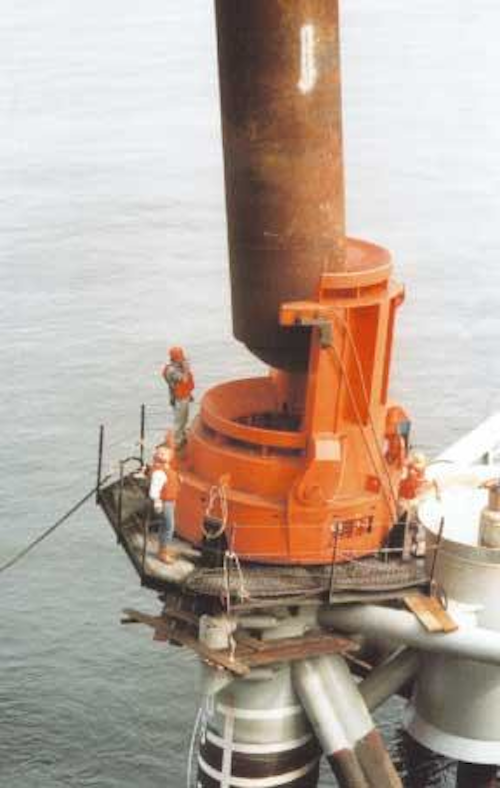 Every platform needs secure foundations. IHC Handling Systems is playing its part with a series of tools that ease deployment of large-diameter tubular piles. Two of its systems were recently proven on a problematic jacket installation in the North Sea and on a deepwater field off West Africa.
Among the Delfgauw-based company's recent innovations are jacket pile grippers, cylindrical devices that are welded onto the upper section of a jacket's skirt-pile sleeves during fabrication. Once the piles have been driven at the offshore location, the grippers serve as secure, temporary connections during the jacket-leveling phase.
According to IHC, they prevent relative movement of the jacket legs during grouting and grout curing and also allow the jacket to be secured quickly in the event of sudden bad weather.
Aker Maritime chose the technique for Statoil's Kvitebjørn jacket installation, which was performed in two separate operations. Jackets are normally launched horizontally, followed by uprighting at the installation site. In this case, the jacket was built in two sections to allow both delivery to the offshore location, and subsequent placement, in a vertical position.
For this project, IHC des-igned and built four grippers with 12 hydraulic jacks, each gripper weighing 25 tons and with a holding capacity of 2,500 tons. They were fitted to the jacket's bottom section, which was first to be installed in September 2002. The top section was due to follow shortly afterwards, but owing to bad weather and transportation difficulties, it could not be installed until March this year.
The grippers were also supplied with leveling systems to level the upper jacket section to tight tolerances. Once this operation was completed, the hydraulic jacks were activated remotely from the installation vessel, the S7000, to secure both jacket sections firmly together. The jacket legs were then grouted.
According to IHC Handling Systems Sales Manager Marc Doorduin, the unexpected gap between the two installation programs meant that the grippers were submerged below water longer than had been anticipated.
"In the event, installation and leveling were successful," he said, "although some small flaws came to light, which we will take account of to optimize the design."
For another current Norwegian sector project, IHC also supplied four conventional 2,500-ton pile grippers with the same load-holding capacity and guide cones as those used for Kvitebjørn. Additionally, it provided jacket-leveling services.
null
null
IHC designs, produces, and rents surface and subsea leveling tools, which can also be used for templates. The surface version, with 400-ton capacity, operates between the top of the driven pile and the main lifting pad eyes on the jacket. The 200-ton subsea version has to be positioned on top of the driven pile.
Currently the company is working on a new subsea model with higher lift capacity of 3,000 tons, suitable for piles up to 102-in. diameter, with the first offshore job scheduled for next August.
Another IHC specialty is external and internal lifting tools for pile and conductor alignment, stabbing, and lowering into guide sleeves and uprighting from the horizontal position. A 1,000-ton IHC 60-84 lift tool was recently modified for remote operation in 1,500 m of water for ExxonMobil's Kizomba A project off Angola. Client Stolt Offshore used the system to install six 84-in. piles for Kizomba's TLP.
"This tool carries its own energy by means of a battery of hydraulic accumulators," says Doorduin. "The tool functions are activated via ROV-operated valves. Should a malfunction occur in the accumulator circuit, the tool can still be operated via a combination of the ROV's power pack and hot stab facility."
Another new market for the company is offshore wind farms. It provided pile-handling equipment during construction last year of the Horns Rev installation off Denmark.
"As the mono piles used for offshore windmills have diameters ranging from 2 to 6 meters," Doorduin says, "designing a lifting tool conforming to our ILT concept would not have been practical. We therefore designed a special upending tool for this sector alone. We built two similar tools for Horns Rev (one for operation, one for backup). Currently, we are upgrading these tools for a lifting capacity of 290 tons, which is the requirement for the Arklow Banks project offshore Ireland."