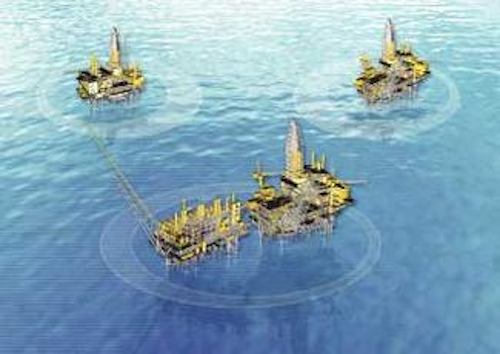 Phase 2 of the Azeri-Chirag-Gunashli development project in the Azeri sector of the Caspian will feature two 48-slot production, drilling, and quarters plat-forms known as East Azeri and West Azeri. Both platform's drilling facilities will be virtually identical and will be structurally rein-forced to provide protection against seismic shocks. This sector of the Caspian is well known for earthquakes and mud volcanoes.
As part of an integrated team led by BP on behalf of Azerbaijan International Operating Co., KCA Deutag is responsible for design engineering of the drilling facilities and for procurement of all category A and B drilling equipment. KCA will provide technical support during the fabrication, handled by Mercon, and integration with the platform topsides at the Baku Deep Water Jackets fabrication yard. It is also overseeing mechanical completion, pre-commissioning, and commissioning.
Start of drilling is scheduled for late 2005 and first oil is planned for 1Q 2006. First steel for the West Azeri drilling facilities was cut this January and ready for load-out next June for shipment through the canal system into the Caspian. Load-out of East Azeri should follow in April 2005.
The two sets of drilling facilities will be identical, except for East Azeri's dual-motor power swivel replaced by West Azeri's a single-motor system. With no suitable location possible above the East section of the reservoir, it was necessary to position the East Azeri platform beyond the North edge. This in turn would entail longer extended reach wells, hence the need for higher specifications, with regard to hoisting loads, mud capacities, and other factors.
Among the main equipment items, Maritime Hydraulics is supplying the 1.1-million-lb derricks with 2,500-hp drawworks, and semi-automated pipe-handling equipment for drillpipe up to 6 5/8-in. and casing up to 20-in. Both sets of facilities will have a dry weight close to 4,000 metric tons, including a 1,740-ton drilling equipment set and a 2,140-ton drilling support module.
Dynamic Engineering Consultants in Aberdeen designed the rig's skidding and clamping systems to clamp down on the structure and grip it securely, even in the event of a seismic hit during skidding.
null
As the drilling facilities are being built outside of the Caspian, they have to be broken down into sections for transportation by barge to Baku.
For the ACG project, weight savings are critical, as the installation method for the topsides is via floatover. The East Azeri and West Azeri drilling facilities have been designed with spliced steel structures and services to facilitate both shipment in sections through the canal system, and assembly in Baku.