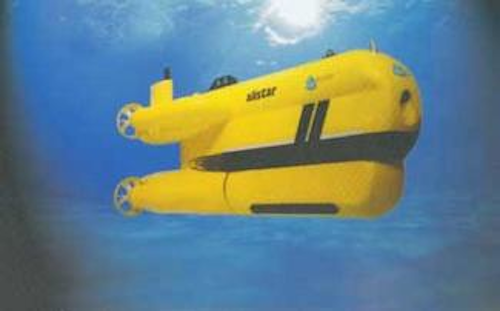 Fine-tuning of ECA's Alistar AUV cont-inues, following the first live run-out for the 300-m depth version before an industry audience in Brest last June. The next aim is to present an ultra-deep version of the vehicle at the Deep Offshore Technology Conference in Marseille, primed for operations in 3,000 m of water.
ECA, based in Toulon, has designed and built autonomous vehicles for naval and civilian applications since 1980, but this is its first AUV for the offshore sector. While others are developing AUVs for survey or intervention tasks, ECA is focusing on deep or ultra-deepwater monitoring and inspection. This includes pre- and post-lay surveys of pipelines, cables, and umbilicals; pipeline and umbilical touchdown point monitoring; and inspection of vertical risers and seabed equipment such as manifolds, mooring anchors, bundles, and christmas trees.
null
Alistar is a 600-kg vehicle measuring 3.2 m long, 1.1 m wide, and 1.3 m high. Lithium/ion secondary batteries provide the power, much of which is devoted to the drive capability – four longitudinal thrusters at the rear of the vehicle and two vertical thrusters. The longitudinal thrusters are used to control speed (up to 8 knots), pitch, and yaw. For safety purposes, a ballast system is included featuring an air-compressed bottle and a controlled electro-valve. ECA says the configuration of the actuators leads to a high level of maneuverability and roll and pitch stability.
An internal computer directed by a surface computer system that includes one console dedicated to manual control and mission management provides operational control. The communications system is a radio Ethernet link. Navigation equipment includes a pressure sensor that relays depth measurement after conversion; a Doppler velocity log for ground speed measurements; a fiber-optic gyrocompass providing heading, roll and pitch angles and rates; a GPS receiver on top of the vehicle; an echo-sounder at the front of the vehicle for obstacle detection; and a tri-axial magnetic compass. A GIB intelligent buoy positioning system is used to locate the vehicle's position, both in real time and off-line, to validate its estimated trajectory. This is based on signals issued from the vehicle's synchronized acoustic pinger. Time-of-flight measurements are combined with differential global positioning system (DGPS) positions to compute the pinger's location.
Brest trials
The first public demonstration of the vehicle in action was at Sea Tech Week in Brest in northwest France last June, coinciding with the Ultra-Deep Engineering Technology conference. According to ECA Commercial Executive Jean-Pierre Hainsselin, "We demonstrated the vehicle's complete array in the Brest dock, where the water depth is 15 m. The vehicle was launched from the quayside using a crane. It drove for a while around the surface before diving, then finally re-surfacing at its starting-point, having performed a 500-m square. Its movements were followed by the GIB system. Conditions were cloudy, and visibility therefore reduced. But the important thing was that the audience could see the vehicle's stability and maneuverability. The speed was limited to 2 knots."
The demonstration also showed the benefit of having the underwater camera positioned on the vehicle's tail, for piloting purposes, during the launch and recovery phases. "ROV pilots are trained to direct the vehicle with just a picture in their mind," Hainsselin says. "But with our camera on the tail, the pilot feels like he is actually driving the vehicle."
Further, lower-key trials have since been performed in shallow water off Toulon with Ifremer's division in La Seyne-sur-Mer, which is analyzing the data. The partners have evaluated the Alistar 's capacity to carry different payloads, designed to measure connectivity, temperature, and depth.
"Payload is a big issue," Scourzic says, as this generally has to be adapted for each trial. At the moment, the existing vehicle can handle up to 130 kg. For the latest trials in February, the vehicle was fitted with two doppler systems.
The connectivity, temperature, and depth sensors and acoustic depth current profiler were integrated into the vehicle with a new fairing protection. Ifremer research vessel Europe supervised control operations. Payload data was collected and stored in the vehicle using its Ethernet communication link; the data was recovered and processed following retrieval of the vehicle. Four GIB buoys deployed prior to the vehicle's launch provided a real-time displayed of its position.
Trials were performed in fully autonomous mode with bottom-following automatic control at a speed of 4-5 knots. ECA says the results validated integration of a payload this size on the Alistar, and also the vehicle's good dynamic behavior with this payload. The trial also proved effective interfacing of the payload and data acquisition through the communications system.
Another test is planned for the end of May, in this case using the same payload as in February, but in 200 m of water. Further trials will follow in September through October as part of Marie 2, an acoustic and video mosaic project founded by the French Ministry of Trade and Industry. Here the payload will likely include a multi-beam echosounder and a TV camera to provide high-resolution cartography using Ifremer's Mosai-cing technique.
"We'll try to use an area with some underwater features or structures to demonstrate that we can provide high-level definition," Scourzic says.
At this stage, he adds, "we don't need a 3,000-m version Alistar for our integration tests. But it's obvious that the offshore community won't be convinced of the value of this exercise until they see a proven, 3,000-m-rated vehicle."
According to Hainsselin, "Our discussions suggest that oil companies and contractors are confident of AUVs' suitability for survey operations, but now they want to see what can be achieved in inspection and maintenance. But clients also admit that the potential scope and payload of vehicles for these tasks needs to be clarified."
ECA Commercial Engineer Dominique Mallet points out: "For riser inspection, our vehicle would be taking video images while in hover-mode and applying forward-looking sonar. We are working on relative navigation programs. Today's AUVs generally follow a geographical route, whereas ours would be programmed to track the equipment to be inspected. It would know in real time where the equipment is by internal processing, enabling it to adjust its position and then perform the visual and acoustic inspection. This would be very convenient in pipeline inspection projects involving hundreds of kilometers of flowlines."
Hainsselin adds, "Our vehicle can inspect more than twice as fast as ROVs, which have a speed limit of 2 knots; this enables the operator to reduce the duration of the inspection, and hence also its cost."