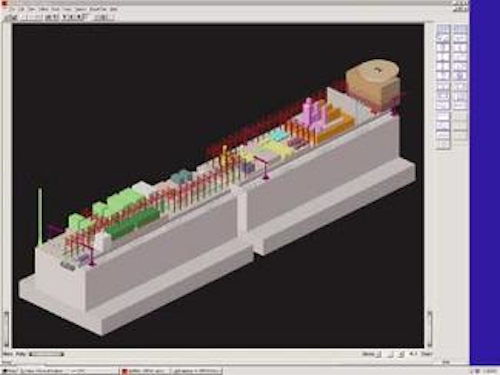 Value chain for LNG moves offshore
Judy Maksoud
International Editor
The natural gas deficit continues to grow as the ready supply diminishes. That is one reason so much money is being invested in LNG developments. It is also the reason offshore LNG regasification terminals are being seriously considered.
Imported LNG is a critical supplement to America's natural gas supply. As immediately available resources are depleted, LNG will play an increasingly larger role in the country's energy supply mix.
null
Australia, Malaysia, Indonesia, Algeria, Kuwait, Qatar, Nigeria, Angola, and Trinidad are among the major gas producers and LNG exporters. The largest concentrations of gas are in regions where there is not significant demand for it. There is a growing need to monetize stranded deepwater and remote gas reserves around the world. Liquefaction of natural gas is often the only commercially viable way to move large amounts from its place of origin to the end user.
null
Increasing importation
According to Greg Pepper, business development manager at Aker Kvaerner, "current LNG trade routes are going to change dramatically over the next three to five years." Evidence of that is construction of receiving terminals around the world.
Brazil's Petrobras is planning to build an LNG terminal to receive African gas. And plans are also in place for a liquefaction production facility on the Amazon River. Processed gas will move 500 mi down-river to a receiving terminal. When this project is completed, it will be the first instance in the world of LNG being produced, moved, and sold in the same country.
Mexico is also laying plans to increase LNG imports because the country's need for gas is growing. Australian and Indonesian LNG will likely start coming into Mexico soon, to one or more of the announced LNG terminals by ConocoPhillips, Marathon, Sempra, and Shell.
And an LNG facility in North Carolina is scheduled to take its first shipments of Trinidad gas in 2Q 2003.
Right now the only operating LNG facilities are onshore. But the number of planned import facilities is rapidly increasing, and it is only a matter of time before one of those facilities is located offshore.
Moving offshore
The Gulf of Mexico could lead the way. In December of 2002, ChevronTexaco submitted a deepwater port license application to the Department of Transportation, US Coast Guard, to build and operate an LNG receiving and regasification terminal in the GoM.
The development, known as Port Pelican, is to comprise an LNG ship receiving terminal, LNG storage and regasification facilities, and pipeline interconnection to existing infrastructure to deliver natural gas into the US interstate gas pipeline network.
Port Pelican will receive LNG from the West Coast of Africa.
Phase one of the Port Pelican project is be an offshore facility, initially designed to process 800 MMcf/d. The facility would connect to ChevronTexaco's offshore infrastructure to deliver natural gas to the US Gulf Coast. Using existing gas supply and gathering systems in the GoM and southern Louisiana, gas would be delivered to shippers via the national pipeline grid. Phase two plans are for expansion resulting in processing capability of 1.6 bcf/d.
A significant volume of natural gas processed at Port Pelican would be used for power generation and for industrial and residential markets in the US.
ChevronTexaco's application was filed following a 16-month technical and commercial evaluation of an LNG receiving and regasification terminal in the GoM. The first phase of the facility should be operational by 2006.
One of the reasons for moving toward offshore LNG processing facilities is logistics. Present LNG terminal capacity and placement limit distribution in the US. All but one of the country's import LNG terminals are on the East coast, which is not the only area where there is demand. Terminal location currently restricts the supply of gas. In fact, an enormous energy need exists where the general public does not support or desire offshore hydrocarbon activity.
A gravity-based re-gasification terminal would allow tankers to offload LNG in the GoM, which is much closer to areas of high gas demand than facilities on the East coast. The infrastructure in the Gulf would allow treated gas to be delivered easily via pipeline to shore.
Safety and the environment
One of the primary reasons for moving LNG terminals offshore is the general population's resistance to building them near residential areas. Fear is the motivating force. The "not in my back yard" (Nimby) mentality is one of the key reasons for considering offshore terminals, Pepper said.
Silly as it might sound, the Nimby issue is serious. Opposition to construction can preclude permitting.
In fact, LNG itself is not a dangerous substance. It does not burn because it does not contain oxygen. LNG vapors are flammable in air only at a concentration of 5-15%. If the fuel concentration is lower than 5%, it cannot burn because of insufficient fuel. If the fuel concentration is higher than 15%, it cannot burn because of insufficient oxygen. For LNG to burn it must be released, vaporize, mix with air in a very narrow gas to air ratio of 5-15%, and find an ignition source.
Though scientific facts disprove the view that LNG terminals are intrinsically dangerous, they do not change people's opinion.
By moving LNG facilities to near-shore areas (not more than 50 mi offshore in the GoM), much of the resistance is eliminated. Nimby is defused because the facilities are out of sight, Pepper said.
The advantages of offshore LNG terminals go far beyond the "out of sight, out of mind" palliative. For starters, there are many favorable construction locations close to shipping lanes, where the LNG tankers can easily and safely access the terminal.
And in a time when homeland security has become a high-visibility issue, offshore LNG terminals stand out as a way to reduce the threat from terrorists, who target areas of high population density.
Technology
Building extremely large gravity-based structures (GBSs) is not new business. The offshore processing idea simply takes two mature, proven technologies and combines them in a new way, Pepper said.
Statoil's Troll platform in the Norwegian North Sea is an example of an enormous GBS working in harsh environment conditions in 900 ft of water. Built by Norske Shell, the platform was towed into the North Sea in 1996. The Hibernia platform off Atlantic Canada is another example of a GBS working in extreme conditions. The sea conditions are much more benign where GBSs are being considered for offshore LNG processing.
null
In terms of concrete volume, the Troll platform has more than twice as much as any of the GBSs Pepper is proposing. "Even the largest GBS we are talking about is less than 100,000 cu m of concrete, and it is only going to stand in 50 ft of water. Building a concrete structure offshore to house this type of facility is simple in comparison.
In terms of stability, the GBSs built for offshore LNG processing will be even more immovable than those constructed for harsh-environment production. "These GBSs are going to be like very large concrete bricks sitting on the ocean floor in shallow water. Their stability is significantly greater than those built for the North Sea," Pepper said.
The actual processing facilities of an offshore facility are identical to those of a facility onshore, he said. The coupling of the two ideas is what makes an offshore terminal possible.
Now is the time to market this idea, Pepper said. "The value chain for LNG is moving offshore."
Options
Onshore LNG facilities employ one of three types of containment systems: the self-supporting prismatic type B (SPB) tank, the spherical Moss type tank, and the Technigaz type membrane tank. All of these have proven to be safely operational on LNG carriers.
Offshore GBS considerations disqualify the Moss style tank as an option because of the tank's height. The high open concrete box structure of the GBS with the Moss tank inside creates an air space that makes the tank buoyant. The objective of the GBS is to place the structure on the ocean floor.
Choice, then, is limited to the Technigaz membrane tank or the SPB tank. GBS construction is the same with either tank, Pepper said.
Construction
There are two viable construction strategies for GBS LNG facilities, Pepper said. One option is to build a single GBS structure with multiple LNG tanks. The other choice is to build multiple GBS structures, each containing a single tank.
Installation location dictates the construction strategy because these structures are so large and so heavy that it is only feasible to build them near the installation site. Construction options are also limited by yard capability.
"In order to build the single-GBS, multiple-tank structure, the yard requires 16-18 m of water depth at the shipyard channel," Pepper said.
The water depth requirement limits construction options to two or three European yards. Though this structure is less expensive to build because it contains less concrete, towing costs are too great to consider using the multi-tank, single-GBS structure in very many areas of the world.
The multi-GBS single-tank option will be the most likely choice, according to Pepper, because it can be built in more yards around the world. Construction requires only 10-12 m draft for tow out. And because more yards are capable of building this type of GBS, competition among shipyards could result in lower construction costs.
The multi-GBS structure does require a little more offshore work, building a connecting bridge and pipe between the two GBS structures, which is unnecessary with the single-GBS structure. The positive side of this is that the technology is exactly the same as that used to connect two fixed offshore platforms offshore. "There's no new technology or effort. It is just that there is one additional marine function in this configuration that does not exist in the other."
An advantage of the multi-GBS structure is that if more LNG storage capacity were needed, the simple solution would be to simply buy another GBS with the tank in it and add it to the existing structure. This building block principle could be used indefinitely to increase capacity.
Benefits
Aside from resolving the Nimby problem, using offshore LNG terminals has other advantages.
An offshore GBS could be positioned near shipping lanes with easy and safe access to LNG tankers. The LNG tankers can access the terminal easily and safely without the need to construct large docks and jetties. This makes them more environmentally friendly, while it brings the gas closer to the market where it is needed, something the present arrangement does not allow.
Most likely, most of the North American LNG terminals will be located onshore, Pepper said. But he believes there is a case to be made for building an offshore GBS LNG processing facility in the Gulf Coast. "I feel confident that an offshore GBS LNG facility will be under construction somewhere in the world by the end of this year."