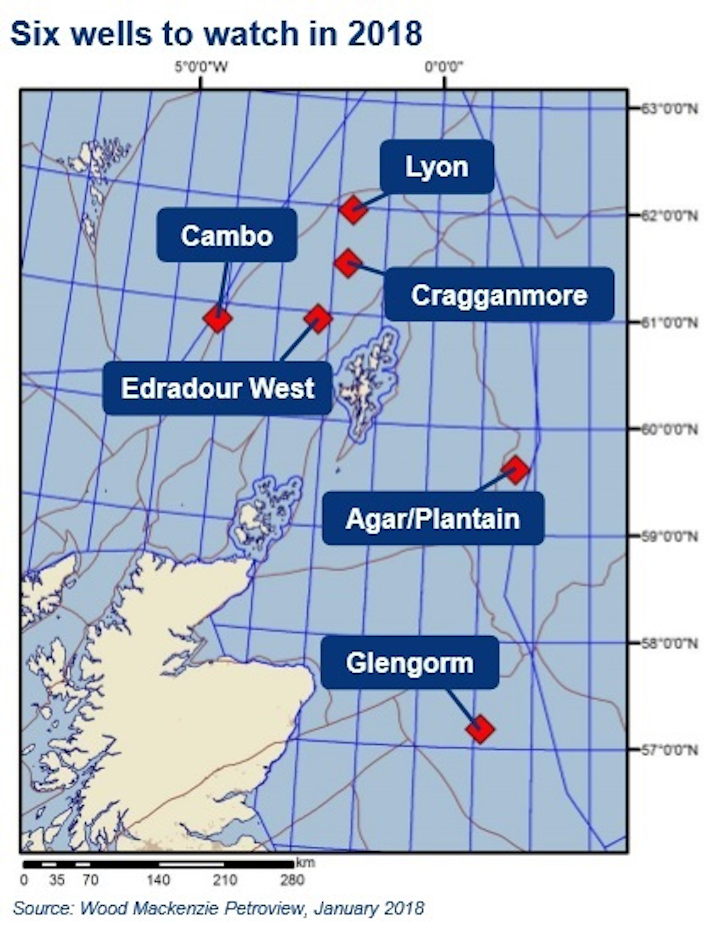 Offshore staff
EDINBURGH, UK – Wood Mackenzie sees E&P offshore the UK stabilizing during 2018.
It anticipates a "new normal" emerging in terms of development spend and exploration activity, although lower than historical levels, with the mergers and acquisitions (M&A) sector remaining active.
The consultant foresees 15 exploration wells being drilled in UK waters, similar to 2017, comprising a mix of infrastructure-led and high-impact wells.
There should be at least five wells west of Shetland, the highest in the region since 2014.
Overall, Apache is set to be the most prolific driller with up to five operated wells. It is also a partner with Azinor Catalyst on the Agar/Plantain well, close to Apache's Beryl complex, and targeting 60 MMboe recoverable.
Siccar Point Energy plans to drill the 1.4-tcfLyon prospect and final appraisal of the Cambo discovery, both west of Shetland.
In the same area, Nexen will appraise the Cragganmore discovery, and revisit Glengorm, a high-pressure/high-temperature prospect in the UK central North Sea.
Wood Mackenzie predicts average production from UK offshore fields of 1.9 MMboe/d this year, the highest since 2010, as projects that came onstream last year ramp up.
Statoil's Mariner and BP's Clair Ridge are also expected to start up in 2018, the last of the big projects sanctioned during 2010-2014.
However, development spending is set to drop across the sector by 20% compared with 2017, to the lowest level since 2000. This is due to the few recent project sanctions, continued caution over incremental investment, and cost deflation.
On the plus side, the consultant expects decisions to be taken on up to 14 new field projects with reserves totalling around 500 MMboe, the highest since 2013.
Project

Concept

Operator

Expected start-up

Tolmount

Platform

Premier Oil

2020

Penguins Re-dev

FPSO

Shell

2021

Vulcan & Blythe

Platform

IOG

2019

Cheviot

FPSO

Alpha Pet.

2020

Buzzard Ph 2

Platform

Nexen

2020

Finlaggan

Subsea

Zennor Pet.

2020

Liberator

Subsea

i3 Energy

2018

Fram

Subsea

Shell

2021

Arran

Subsea

Dana

2021

Vorlich

Subsea

BP

2020

Sillimanite*

Platform

Wintershall

2019

Breagh Ph 2

Platform

INEOS

2021

Corona

Subsea

Apache

2019

Eagle

Subsea

EnQuest

2019

* Capex and reserve
UK offshore decommissioning expenditure this year should total $1.8 billion, down slightly on last year's high of $2 billion, but with activity set to surge from 2020.
01/18/2018