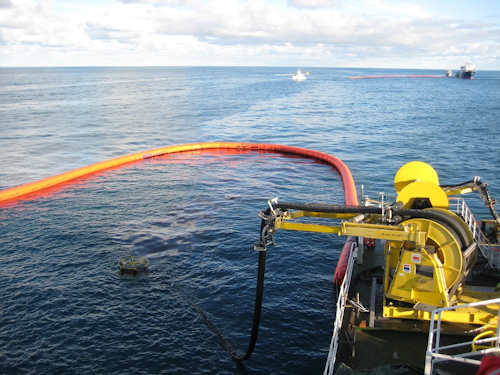 Offshore staff
BERGEN, Norway – Framo, Maritime Partner, Norbit Aptomar, and NorLense have formed the OSRV (Oil Spill Recovery Vessel) Group to offer a comprehensive oil spill response service.

"Our aim is to be a one-stop-shop where we pool our efforts and act as a total systems supplier of safe, highly functional, and well-tested technology," said Jørgen Brandt Theodorsen, Area Manager, Oil & Gas Pumping Systems, at Framo.
"The emergency response equipment has undergone thorough testing and quality assurance drawing on 40 years of oil spill response experience," he added.
OSRV's package is said to cover all needs, from detection and containment to oil spill recovery, all conducted with equipment claimed to be capable of responding to any challenges that may occur.

Aptomar's radar and infra-red camera identifies and produces an overview of the oil slick, while Maritime Partner's high-speed vessels can be used to deploy equipment such as booms.
Recovered oil is contained with booms supplied by NorLense, then transferred to a vessel equipped with Framo's TransRec oil skimmer system.
Lars Solberg, sales and marketing director at Norbit Aptomar, said: "This is a turnkey solution where customers have access to emergency preparedness expertise without themselves having to acquire this.
"With our package solution, supply vessels can easily be upgraded and used as part of new emergency response tenders. It is quick and easy for shipowners to convert existing vessels in order to offer new services to oil companies." Peder Myklebust, managing director of boat-builder specialist Maritime Partner, added: "We operate with a delivery lead-time of a mere eight weeks for the full package…"
Norbit Aptomar's radar is used to detect the spill on the surface of the sea, establishing the slick's location, size, relative thickness, and in what direction it is heading.
When the oil has been contained, the Framo TransRec system is used to start the pumps which are designed to clean the ocean area at a rate of up to 400 000 liters of oil/hr.
03/09/2018