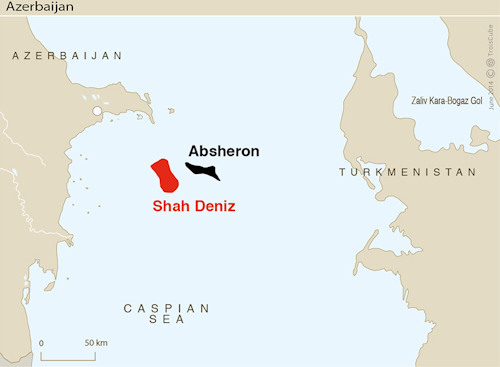 Offshore staff
PARIS –Total has agreed to sell its 10% interest in the Shah Deniz field and the South Caucasus Pipeline to TPAO, the Turkish state-owned E&P company. The transaction is valued at $1.5 billion and is subject to customary approvals.
"The sale of our interest in Shah Deniz is in line with Total's active portfolio management and the focus of its investment capability on more strategic assets," said Michael Borrell, senior vice president of Continental Europe and Central Asia at Total's Exploration and Production. "This sale is another step forward in achieving our asset sale program. Following this operation, the Group will have sold nearly $16 billion worth of asset since 2012, in line with its $15–20 billion asset sale target."
In Azerbaijan, Total remains operator of the Absheron offshore field, with a 40% share. A significant gas and condensate discovery was made in 2011 on Absheron, and Total is now conducting studies to prepare the field development plan. It is the operator of the Absheron n the Caspian Sea with a 40% interest.
The offshore Shah Deniz field is 100 km (62 mi) southeast of Baku in the Caspian Sea and covers 860 sq km (332 sq mi), with water depths ranging from 50 m to 550 m (164 ft to 1,804 ft).
The first phase of the field started up in 2006 and is currently producing 200,000 boe/d. A second development phase was sanctioned at the end of 2013.
The Shah Deniz field is operated byBP (28.83%) with partners SOCAR (16.67%), Statoil (15.5%), Total (10%), Lukoil (10%), Nico (10%), and TPAO (9%).
06/03/2014