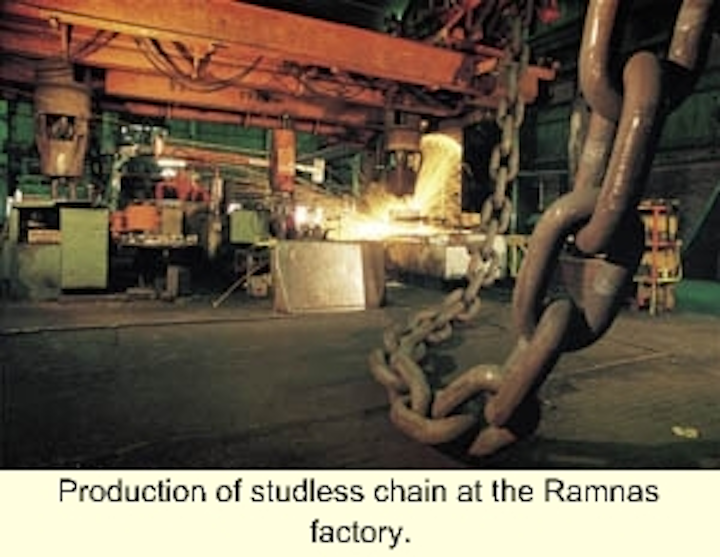 A new grade of mooring chain has been introduced by Scana Ramnäs that offers increased strength compared with chain using links of the same size. The Grade 4+ chain is claimed to be 22% stronger than an equivalent chain of the same size and gives rig designers the option of boosting mooring strength, without necessarily adding to the system's overall weight.
The Grade 4+ chain was introduced last year when it was used for the first time on the semisubmersible Borgland Dolphin. Despite its increased strength, it retains the same 76-mm external measurement of the company's established Grade 4 chain. This enabled the strength of the platform's mooring to be significantly increased without incurring the estimated several millions of Norwegian kroner that would have been necessary for the installation of another four winches, fairleads, and new larger-diameter chains. By February, 2,000 tons of the new Grade 4+ chain had been supplied. The company anticipates a steady demand throughout the coming year.
The mechanical properties of the new chain in relation to the DNV minimum requirements are indicated in the table below which is based on the average value obtained from 90 tests.
The total annual world market for offshore chain is estimated at around 100,000 tons, of which Scana Ramnäs maintains a 20-30% share. Although the overall market demand for chain fell last year (around 70,000-80,000 tons), it proved to be a good year for the sales team at Scana, who found themselves in the position of having to turn down orders. Industry demand for chain is expected to fall even further during 2000, probably not exceeding 50,000 tons. The best prospects appear to be in Brazil, the Gulf of Mexico, and West Africa.
The factory at Ramnäs, Sweden has two fully automated production lines capable of manufacturing 16,000 tons of 70-165 mm diameter chain yearly. A second factory in Ljusne has one production line with the capacity to make 10,000 tons of 70-102mm chain. "At present, most of the orders are for smaller chain, so much of the work is going to our Ljusne facility," explained Johan Broback, Scana Ramnäs' marketing manager.
Asymmetric studs
The output of Scana Ramnäs chain is divided between studless and studlink chain. The former is the most popular choice for use on long-term moorings. For studlink chain, the company has established a technique for fixing studs which resist loosening after prolonged use. Scana's Asymetric Expanded Studs are designed to be flatter on one side and thus resist being pushed too far into the flash butt weld side of the link when hot, resulting in equal footprints on each side of the link. This has the important proven benefit of reducing the typical number of loose studs in a chain from 30% to 0.3%. In a typical mooring chain, there can be 40,000 links; if 30% are found to contain loose studs after four years, for example, this can cause the rig operator to be faced with a repair bill of around $100,000. Scana Ramnäs believes that if operators take long-term maintenance costs into account, the Asymetric Expanded Stud chain should provide an important competitive advantage.
Scana Ramnäs is also approved to manufacture studless chain up to 6.5-in. diameter Grade R3, R3S and R4. The company believes that studless chain offers considerable advantages in terms of cost and weight, particularly on long-term moorings.
The studless link can deliver the same performance in terms of static strength as a stud link chain while offering a saving of some 9% in weight - a factor that can be particularly beneficial when used in deepwater. Alterna tively, a chain with the same weight as a studlink chain can be used and its fatigue strength correspondingly increased by opting for a larger diameter. This option gives a greater margin of safety against the incidence of corrosion. Being a simpler structure, studless chain is also easier to inspect. The company's standard studless chain has a width of 3.35 x diameter. A length which at 6 x diameter is the same as for stud chain.
For projects where fatigue is of vital importance, the weight saving due to stud reduction can be used to increase the chain size. By doing this, the average load and the load amplitude is reduced and the fatigue life is increased. As an example, through replacement of 100 mm diameter R4 stud chain with studless chain, the same weight and length can be obtained, but with a 9% increased area of the chain which results in a diameter of 104.4 mm. If the design mean load is 20% of the MBL (minimum breaking load) this is reduced to 18.5%. In recent studies performed by Noble Denton, lower mean load on a mooring chain has been shown to increase fatigue life.
The stud in studlink chain was introduced as an element that would avoid kinking. Scana Ramnäs now believes that modern developments in handling techniques have largely eliminated this problem, as studless chain is delivered untwisted in bundles and is used without any difficulties. For bottom segments in long-term mooring applications Scana Ramnäs recommends studless chain, although if extreme flexibility concerning the twist of a loaded chain is necessary, stud link chain is recommended.
For more information contact Johan Broback, Scana Ramnäs, Tel: +46 220 22000, Fax: +46 220 35837, Email: johan.broback@scana.no