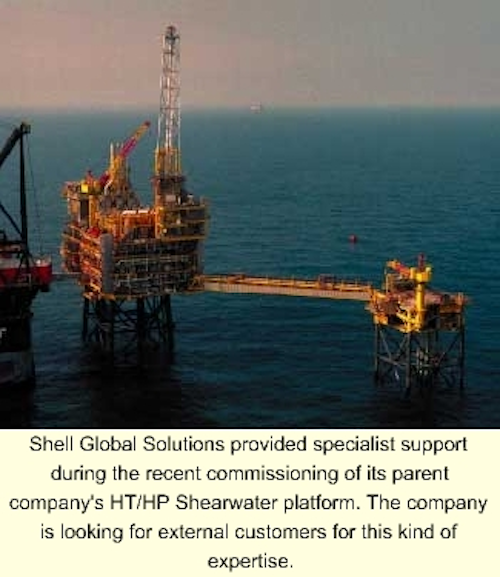 Shell plans to make the firm's combination of technology and experience in the oil and gas exploration and production (E&P) sector available to outside companies. The move essentially commercializes a large chunk of upstream technology portfolio. While the desire to reduce costs is clearly a factor behind the decision, Jonathan Simcock of Shell Global Solutions, who has been heavily involved in the restructuring, cites the business opportunities presented by the move.
Shell's investment in science and engineering, stretching back decades, enabled the producer to build a substantial technology resource base, capable of providing an outstanding range of services, notably on an exclusive basis, to its operations all over the world.
However, in recent years, the drive to reduce costs has forced the company to take a hard look at how it manages technology. Some consolidation of various generic disciplines took place as early as 1995, but the crunch came in 1997. With the oil price at an all-time low, the pressure on the research and development budget was intense, and downsizing was starting to appear a serious possibility.
First steps
Subsequently, Shell adopted an alternative course of action. "It was conceded that not all the company's technology was strategic; nevertheless, it was all considered to be valuable," Simcock explained. "To test this notion, the decision was taken to keep the strategic technology to ourselves, but to expose the less strategic areas to a genuine market environment."
As a consequence, Shell Global Solutions was formed to provide technology services to customers both inside and outside Shell on exactly the same commercial terms. For the past three years, the organization has operated predominantly in the downstream area, seemingly with considerable success. It employs around 1,500 people who, although based in various laboratories around the world, are firmly linked by a common commercial ethic and accountability for their own profit or loss.
Simcock believes the shift from a cost-driven environment to one where adding value is the main spur has been the reason for its success. "We accepted the challenge of placing our relationship with internal customers on a fresh footing," he said, "while going out at the same time to win new customers by demonstrating that we could add value to their operations."
He sees no distinction between working for Shell and non-Shell companies and said that future performance will be measured by the growth in external business. Last year, between 12-15% of turnover, which totaled a healthy US$350 million, came from contracts with customers having no links with Shell. The figure rises to 30-35%, if customers are included where Shell has a non-controlling interest.
Building on success
Until now, upstream technology has not been a specific feature of Shell Global Solutions. Exceptions have been technologies offered by Shell to the downstream market, but which are also applicable in the upstream area - for example, maintenance planning, hazard analysis, environmental science, and corrosion engineering. All this is now set to change.
Shell Technology E&P, the company's dedicated upstream technology resource group, will become focused on what Simcock describes as the "E&P high ground." By this, he means the subsurface - reservoirs and wells - where Shell believes there is competitive advantage to be gained by keeping the technology to itself.
Some commercial involvement is not ruled out here, although it will not be service-based. Shell will seek to exploit specific ideas via, for instance, spin-offs or partnerships with other companies, whichever is more appropriate. The recent joint venture with Halliburton covering smart well technology and the deal with Baker Hughes to develop and market expandable tubulars is an indication of this intent.
Most of the surface-related technology currently within Shell Technology E&P will be moved into Shell Global Solutions and exposed to the rigors of the marketplace. Available to the rest of the industry will be Shell's field development capability, process engineering, and operations expertise, and its specialist subsea and pipeline know-how. Over 150 people will be affected by the restructuring, mostly based in Houston and Rijswijk, near The Hague in the Netherlands.
Concept commitment
Simcock points out this is a genuine move for the technologists into a distinct business division of Shell. "It is impossible for people to be 'half commercial.' It is not going to be business as usual, plus some external work on top. They are going to be working in a quite different environment. Shell is absolutely committed to the concept, and we want our people to feel they can give it their full commitment, too."
Shell will base its value proposition to customers on the combination of strong technology and extensive experience of field development and operations, which it regards as virtually unique. "This is a market where experience is just as important as technology. The key to success is having the people who know what operating an oilfield involves, people who have first-hand experience of the job," says Simcock.
"We are offering customers lower CAPEX (capital expenditures) and faster returns. Further-more, we are ensuring higher reliability for their facilities at lower operational costs," he explained.
The companies being targeted by Shell are those that have the funds to develop or enhance oil and gas assets, but lack the necessary skills or experience to do it themselves. This would include emerging national oil companies, the smaller independents, and some of the new entrants - small entrepreneurial firms with sound business strategies, but needing professional assistance on the technical side.
Contract competition?
Very similar messages have been coming from the industry's larger, integrated contracting organizations over the past few years. So what will differentiate Shell from these players? Will Shell be going out to compete with them?
Simcock seems clear on this issue: "We do not intend to compete directly with the existing major contractors. I am sure there will be observers who may chose to see it this way, and the service companies themselves are likely to take a hard look at us. But it would not make sound business sense for a new organization like ours to try to enter an established market, dominated by such strong competition.
"We have to demonstrate the ability to add value in ways no one else can. You will not find us chasing individual projects, and we certainly will not be selling man-hours. Our aim is to forge long-term, intimate relationships with customers and to provide access to Shell's store of intellectual property in this area. Put another way, we aim to act as the technology arm of these customers.
"There are likely to be instances when we will position ourselves between the customer and the integrated service provider. This will allow us to contribute our knowledge of technology, skills, and experience where they are most appropriate, where there are weaknesses in the overall scheme of things."
Simcock places emphasis on the depth of experience available. He says there will be areas where high technology will be the precursor of high value - multiphase flow modeling, studies of vortex-induced vibration in risers, and process separation technology are examples. But equally, there will be low-tech areas where the value is generated from the operational experience Shell possesses. Simcock cites plant commissioning, maintenance planning, and reliability engin-eering as examples of this.
What about deepwater?
One of the difficulties facing this new E&P group within Shell Global Solutions will be deciding what to include in the commercial offering and what to omit. Having established that subsurface technology is a source of competitive advantage, and therefore strategic, would some of the subsea engineering knowledge and skills needed to develop deepwater fields be of interest?
The existence of Shell Deepwater Services suggests that Shell views deepwater E&P technology as strategic. Simcock confirms this and explains that Shell Deepwater will continue to address the company's deepwater development needs on an exclusive basis. In this capacity, Shell Deepwater will be a potential internal customer for the E&P skills on offer from Shell Global Solutions.
But where does this leave outside customers? The impression is that Shell does not want to rule out providing a service in this area. However, Simcock cautions that Shell Global Solutions will not pursue technical service work at the "far frontier" of the deepwater market.
Culture change
One of the greatest challenges presented by this commercial initiative concerns people and the company culture surrounding them. How do you convert people used to working in a cost-dominated environment, where the focus is internal and the emphasis is on squeezing the last penny from the R&D budget, to one where they have to look outwards, where relationships are important, and where there is a need to sell services by demonstrating the value they can generate?
Shell has spent a lot of time communicating with the staff involved to ensure they understand what the company is striving to achieve. There also has been a move to group people into relatively small, self-managing teams with responsibility for their financial performance.
Simcock said the process helps people focus on business goals and in thinking in terms of value, as well as ways of reducing costs. To help them, Shell has introduced a commercial training program, involving a series of master classes covering sales techniques, pricing, contract terms and conditions, business development, and other topics.
Simcock says there have been "some casualties," but that the majority of people asked to take on the new role have reacted with enthusiasm. The move to expand into the E&P market should be equally well-received by scientists and engineers involved, he suggests.
Market response
Some industry-watchers could see this move as a form of creative business accounting. It will be argued that Shell has always favored maintaining control over technology and is attempting to justify retaining costly resources in-house.
Simcock says this is how it might appear; however, Shell Global Solutions has been an outstanding success in the downstream sector. "We would not be taking this action with our E&P technology portfolio, unless we felt it was going to win market approval and work well for Shell," he says.
While other companies have jettisoned technology resources over the past decade, stating their intention to rely on outside providers, Shell has taken another route. The firm still has access to a quality service, but one which now is partly funded by the market. The situation will only continue if the market feels it is receiving value.