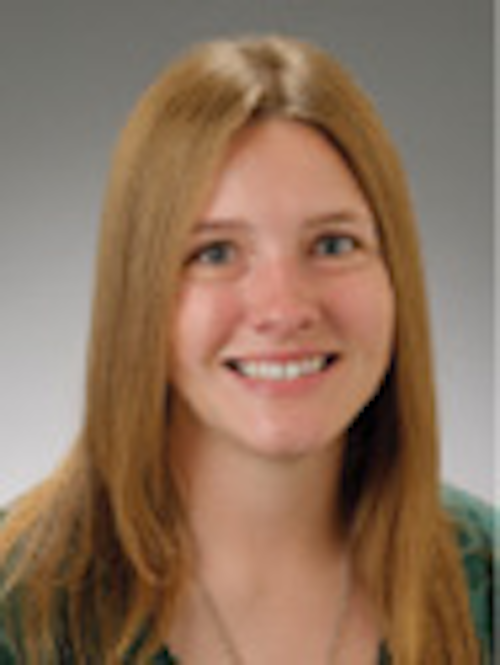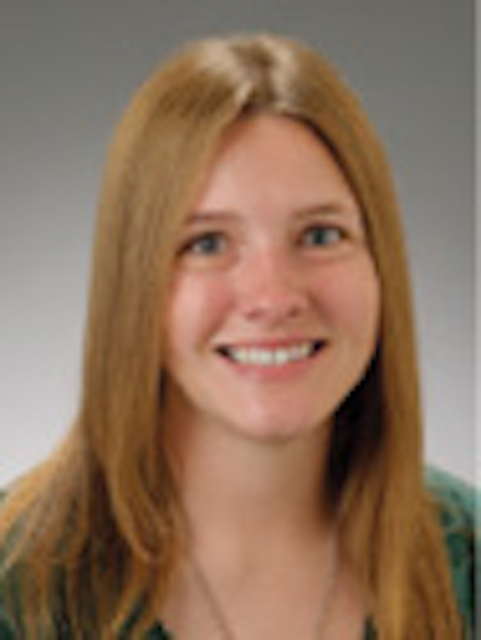 Stena Don heading to Damen Verolme Rotterdam
Stena Drilling has contracted Damen Verolme Rotterdam (DVR) for a refit of its semisubmersible drilling rig Stena Don. The rig is expected to arrive at DVR in October and remain there for around three months.
DVR will install an eight-point mooring system prior to the rig being deployed off the UK's Shetland Islands. Preparations are already under way to ensure that the installation of the mooring system can begin as soon as the Stena Don arrives at the yard.
Various elements of the system need to be manufactured. These include the anchor chain blisters and sponsons which, weighing 1,200 metric tons in all, are currently being fabricated at Damen Shipyards Mangalia, ahead of being transferred to Rotterdam.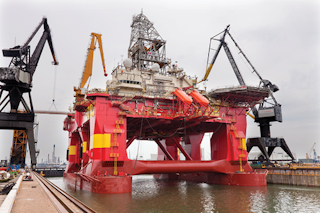 The Stena Don at Damen Verolme Rotterdam during a previous visit. (Image courtesy Damen Shipyards Group)
Other components of the system that are being prepared include eight anchor winches and the fairleads, plus the winch control cabins which will be supplied by Rolls Royce A.S. Modified VFD switchboards and brake resistor units will be delivered by Siemens A.S. The eight ultra-high-holding power anchors are being supplied by Damen Anchor and Chain Factory.
In addition to the mooring system, the yard will also install strengthening to the hull to comply with the new regulations regarding the mitigation of wave impact forces.
The Stena Don, a harsh environment, dynamically-positioned, Class 3 semisub, can drill in waters up to 500 m (1,640 ft) deep and has accommodation for 120 personnel. The rig is 95.5 m (313 ft) in length with a beam of 67 m (220 ft). It was built by the Kvaerner Warnow Werft Shipyard in Germany in 2001.
This will be the drilling rig's fourth visit to the DVR yard. Its most recent stopover was in July 2015 when it came in for a special periodical survey and a mid-life upgrade. The eight-point mooring system will enable the rig to operate over a wider range of water depths and remain longer on station than before, particularly in adverse weather conditions, and will make it more fuel efficient by not relying solely on the DPS.
BV provides guidance for FSRU, FSU construction
Bureau Veritas (BV) has issued new/updated notations and guidance for construction and operation of floating storage and regasification units (FSRUs) and floating storage units (FSUs).
According to BV, floating gas terminals are attracting growing interest due to the operational flexibility they provide and the reduced timescales for construction – from concept to operation – in comparison with onshore terminals. In addition, converting existing LNG carriers offers a further speedy way of achieving operational availability.
At present there are more than 20 LNG carriers in laid-up condition, BV said, many of which are candidates for conversion to FSRU or FSU operations.
The new conversion guidelines are designed to advise the industry how to address issues that may arise during the conversion process, helping shipowners either avoid or surmount potential problems.
Matthieu de Tugny, COO, Marine & Offshore at BV, said: "We are providing the rule framework and guidance necessary to develop both FSRU and FSU terminals – both for newbuildings and conversions."
IHC to modify McDermott pipelay vessel
McDermott has detailed its modification plans for converting the pipelay and construction vessel Amazon to an ultra-deepwater J-Lay vessel.
The modifications will consist of removing the existing tower and replacing it with a J-Lay system with 1,500 metric tons (1,653 tons) of dynamic top tension on the tower, which will enable large subsea structures and hex sections of pipelines from 4.5 to 24 in. (11 to 60 cm) to be installed.
The modifications will include an integrated multi-joint facility, where single joints will be welded to form hex joints. The 10,000 metric tons (11,023 tons) of existing cargo space onboard will remove the requirement for onshore facilities to produce the multi-joints, enhancing mobility of the vessel and reducing reliance on shore bases for support.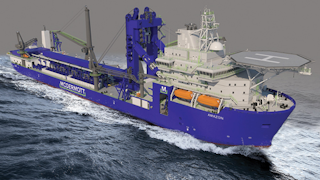 The Amazon modifications include a new J-Lay system that will allow the vessel to install hex-joints up to 24 in. in diameter. (Image courtesy McDermott)
Royal IHC (IHC) has been selected to design and build the J-Lay system, based on its proprietary design, and will perform overall management of the modification project. The original equipment manufacturers will be used for all modifications to the ship's systems, including an additional five megawatts of power and pipe handling cranes, under the management of IHC.
Alan Marriott, global vice president, Marine Assets & Operations, said: "The extensive use of existing proven technology and process automation, combined with early collaboration with the system designers, means we expect to have a very efficient and cost-effective asset.
"The Amazon will provide a key enabling asset within the McDermott fleet. The vessel is designed to be self-sufficient, allowing easy transition from project to project. The vessel is expected to provide pull through opportunities for the rest of the McDermott subsea fleet."
Initial engineering began on the project in October 2017 and transitioned into full engineering design in January 2018.
The Amazon will be delivered to IHC in the Netherlands in August 2019 for a conversion period that is expected to last 10 months. Redelivery is expected in the summer of 2020.
IHC's Executive Director Mission Equipment Paul Hardisty added: "We are setting a new benchmark for installing a multi-joint J-Lay system in a vessel of this size. Our novel approach for this J-Lay system will be a game-changer in the market. We have been working on a collaborative and transparent approach with McDermott from the early tower concept stage to ensure that we deliver a solution that meets their expectations." •