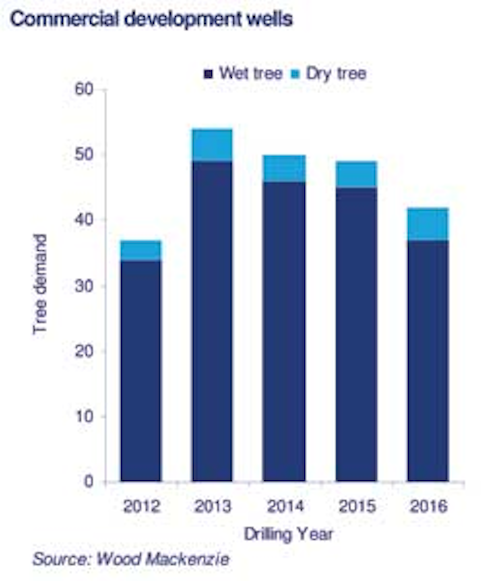 Sixty-three percent of US E&P and service companies anticipate increasing their domestic capital expenditures in 2012, according to a survey by the Grant Thornton LLP accounting and advisory firm. Although the responses indicate an optimistic outlook for the year, the number planning increases is down slightly from the 71% reported in 2011.
The 10th annual Survey of Upstream U.S. Energy was conducted via mail and Internet from November 2011 through January 2012, with more than 100 responses from senior executives of independent oil and gas exploration and service companies.
Among the major findings:
Foreign capital outlays should remain relatively unchanged this year, as 82% of respondents anticipate holding the line on such expenditures
Respondents expect the price of West Texas Intermediate crude oil to average $93.14/bbl in 2012, $97.09 in 2013, and $101.75 in 2014
Forty-one percent anticipate the price of crude will be high enough to support more than a 20% increase in drilling activity this year, down from 55% a year ago
Expectations for the spot price of natural gas in 2014 range from $3 to $8 per Mcf; oil price forecasts for the same period range from $75 to $150/bbl
The maximum acquisition price companies are willing to pay for conventional proved reserves is $2.49 MMbtu, down from $2.57 in last year's survey
Seventy-one percent of respondents expect employment levels to rise at their companies in 2012, up from 61% in 2011 and 50% in 2010
Eighty-six percent believe employment levels in the oil and gas industry will increase this year, up from 56% in 2011 and 33% in 2010
More than half (55%) anticipate difficulties hiring and retaining employees in 2012, up from 22% in 2011; availability of technical staff was rated third among the industry's top concerns.
Wet trees development in GoM to grow
Wet trees are chosen over dry trees as the best alternative to develop deepwater fields in the Gulf of Mexico (GoM) and will continue to be for the foreseeable future, according to a report by energy analyst firm Wood Mackenzie.
Wood Mackenzie currently expects that 17 out of 19 future production facilities will use wet trees, accounting for 5.1 Bbbl of reserves.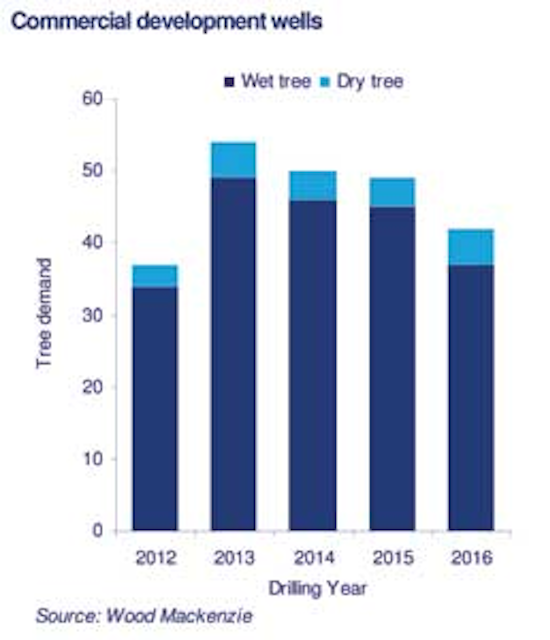 Wet tree demand through 2016.
Wet tree facilities provide greater development flexibility in ultra deep waters, and have become the favored option in the region for a number of reasons, the report states. Wet tree facilities require fewer risers, as multiple subsea completions can tie in to a single manifold. Fewer risers also results in a lighter payload, which creates more options for facility design and helps minimize capex, the report says. Finally, wet-tree facilities can better accommodate fields with a large areal extent, which is becoming more common in frontier plays.
The report also found that:
Over 200 new development wells are expected to be drilled between 2012 - 2016, with 90% of them using wet trees
$14.2 billion is expected to be spent on subsea capex in deepwater GoM during 2012-2016. Development activity in deepwater GoM is currently focused on large fields with complex reservoirs located in ultra deepwater. This operating environment creates challenges that can be largely resolved with subsea technology, resulting in a shift toward the use of wet-tree facilities
Nearly 75% of wet-tree deepwater costs over the next five years will be spent on sanctioned projects, making these investments highly likely. These projects include fields that are currently onstream, brownfield, or under development
The predominance of wet tree facilities, increasing brownfield investment, and ongoing infrastructure-led exploration will continue to support subsea demand in deepwater GoM. The challenging environments of frontier areas like the Lower Tertiary create opportunities to advance subsea technology. Operators are already considering subsea processing and increasing high-pressure, high-temperature requirements. For more on the growth of these trends, see article by Molly Reyes of Wood Mackenzie on page 108.
Service identifies potential drilling issues
A new Baker Hughes service identifies potential drilling issues before they occur, the company says.
The service works by pinpointing similar case histories in real-time using a global library of drilling practices and expert advice. The service provides operators with suggestions on how to respond or take corrective actions while drilling, the company says.
The WellLink Radar Remote Drilling Advisory Service uses case-based reasoning and event-detection software to reduce uncertainty, minimize nonproductive time, and increase safety. The service allows for the remote monitoring of multiple wells simultaneously, Baker Hughes says.
Remote service engineers monitor real-time drilling operations around the clock while the software looks for patterns based on similar situations where issues have occurred in previously drilled wells. When a similar situation occurs, the software automatically recalls relevant cases from the Baker Hughes' knowledgebase of experience and best drilling practices. The engineers investigate, validate, and determine the best course of action. They then make recommendations to avoid potential drilling challenges. New cases can be included in the knowledgebase, allowing for the continuous enrichment of the service.
According to Baker Hughes, an independent operator successfully deployed the service in an ultra-deepwater well, within a previously undrilled block of the Gulf of Mexico. The offset wells on a nearby block had experienced pack-offs, stuck pipe, lost circulation, and influx of water. While drilling, the WellLink service identified multiple events including pack-offs, over-pull, maxed-out torque, hard stringers, string stalls, and changes in pore-pressure. These events are known symptoms that could lead to drilling problems such as stuck pipe, twist-offs, lost circulation, and influx. Based on matches with previous cases, the identification and validation of these potential events enhanced the risk assessment, according to Baker Hughes.
MPD benefits Petrobras well
Use of AGR's managed pressure drilling systems on two wells off Brazil was effective in reducing costs, according to operator Petrobras. The system was deployed in two wells in the Rio Grande do Norte region.
The technology is based on the company's riserless mud recovery system that has been modified for use on Petrobras' jackup wells. It allowed AGR's operators to adjust the drilling fluid level in the conductor, allowing accurate manipulation of bottomhole pressure for more efficient drilling, AGR says.
MoreOffshore Issue Articles
Offshore Articles Archives
View Oil and Gas Articles on PennEnergy.com