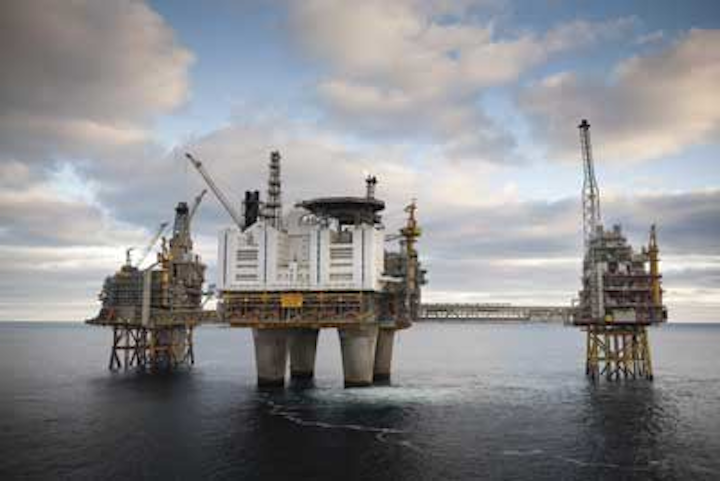 Jeremy Beckman • London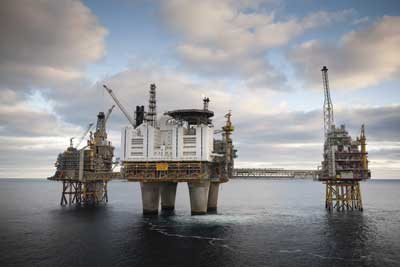 Oseberg complex (Photo courtesy of Øyvind Haugen).
The Norwegian Petroleum Directorate (NPD) has awarded its annual improved recovery prize to Statoil for its work on the Oseberg field. Gas injection at the North Sea complex has delivered more than 400 MMbbl of extra oil than would have been the case with water injection alone.
In 1991, previous operator Norsk Hydro began drawing in gas from Troll field to use in the Troll Oseberg Gas Injection (TOGI) scheme, the world's first remotely controlled subsea facility. During 1991-2002, around 21.7 bcm (766 bcf) of gas was injected, with gas produced from Oseberg itself later applied to push out more oil. And injection will continue over the foreseeable future, according to Statoil's senior vp for technology excellence, Siri Espedal Kindem, speaking at ONS Stavanger. Success of the scheme has persuaded the partners to defer increasing gas exports by three years, until 2020.
Other measures in hand to increase and extend recovery from the field include use of 4D seismic to map remaining resources and to improve design and mapping of new wells on the field; drilling of multi-lateral and branch wells; and tie-ins of new satellite accumulations such as the Sterne development, due onstream next year. The current goal is to lift the recovery rate from the main Oseberg reservoir to 69%, significantly above the 50% Statoil typically achieves from its Norwegian sector fields.
Another Norwegian major, Norske Shell, has contracted Framo Engineering to supply a subsea multi-phase booster pump system to increase oil recovery from the Draugen field in the Norwegian Sea. This is due to be installed offshore in 250 m (820 ft) of water in 2014 following a run-out at Framo's advanced test facility in Hosoey. The company delivered the world's first prototype subsea multi-phase pump to Draugen in 1994.
A new initiative has been launched to make it easier to test new oil recovery techniques for Norwegian fields. Main goals of the Force Agreement for Pilot Consortium Projects include promoting greater collaboration on testing to reduce R&D costs, and better information sharing on technological breakthroughs. Another aim is to identify new ways of pushing out immobile oil trapped, for instance, in the flood zone or bypassed by injection. Statoil is considering various approaches, Espedal said, which include use of polymer flooding to increase the sweep of injection. This technique has worked on the heavy Miocene oil on the Dalia field offshore Angola, and is now under consideration for Statoil's Heidrun and Mariner fields in the Norwegian Sea and the UK northern North Sea.
Low salinity waterflood for Clair
BP is applying a new reduced salinity water injection technique to increase oil extraction from its $7.2-billion Clair Ridge development west of Shetland. The company developed LoSal EOR in-house following a decade of laboratory tests at its UK research center in Sunbury, near London, using sandstone samples from various fields around the world. Following successful single-well tests in various oilfields, the technique was first trialed in the Endicott field in Alaska.
In conventional waterflood, injected water flows through layers of porous reservoir rock, shifting oil to the production well. The porous spaces often contain clays that cling on to much of the well. BP's chemical studies show that oil molecules are bound to clay particles by bridges of divalent cations (calcium or magnesium), and that in high salinity water with a high ionic concentration, the molecules/particles are compressed to the clay surface by electrical forces. If, however, the salinity is reduced, so too are the forces. This allows the bridges to expand and the cations to be replaced by non-bridging monavelent ions such as sodium. The oil molecules can then be swept in greater volumes toward the producer wells.
BP has allocated $120 million for desalination facilities at Clair Ridge to produce 145,000 b/d of low salinity water for waterflood from seawater. It hopes the technique will generate an extra 42 MMbbl of oil, compared with the yield from waterflood via conventional seawater. Another scheme is planned for the Mad Dog Phase 2 project in the Gulf of Mexico, with a low salinity waterflood injection capacity of over 250,000 b/d.
Tax break for mature UK fields
Britain's government has responded to calls from the UK offshore sector to introduce tax relief for mature North Sea fields. The new Brown Field Allowance should shield up to $400 million of income on qualifying older field projects from the current 32% Supplementary Charge, or nearly $800 million for projects on fields incurring Petroleum Revenue Tax (PRT). The aim is to encourage investment in Britain's older fields and push back decommissioning.
Industry association Oil & Gas UK said the measure could lead to $2 billion in fresh investments on the UK continental shelf, and increase UK oil and gas recovery by 150 MMboe. Alan McCrae, head of UK energy tax at PwC, agreed: "The UK's current rate of tax for North Sea production is extremely high at 62% for newer fields and 81% for those subject to PRT, and these rates are making some investment unviable…This measure recognizes that investment in existing fields is every bit as important as new exploration in the fight to produce as much from the North Sea as possible."
Johan Sverdrup keeps growing
Statoil has discovered what looks to be a northerly extension of the Johan Sverdrup field in the Norwegian North Sea. The well on the Geitungen structure in license PL 265 intersected a 35-m (115-ft) gross oil column in Jurassic sandstone and further oil in basement rock, and well data indicate communication with Johan Sverdrup. Preliminary analysis suggests 140-270 MMbbl of recoverable oil.
Lundin Norway, which operates the portion of Johan Sverdrup in adjacent PL501, has completed a further appraisal well on the northeast of the giant discovery, encountering a 25-m (82-ft) oil column in the Middle and Upper Jurassic, also establishing the oil/water contact. The well was then side tracked to the north for further investigations.
Ashley Heppenstall, president and CEO of parent company Lundin Petroleum, said at ONS that Johan Sverdrup is now acknowledged as the largest discovery in the North Sea since the 1980s. In 1976, Elf drilled a well in the area, but missed the structure by 25 m. Over the next few decades, the southern Utsira High region was overlooked by the industry because of its perceived complex geology. Lundin had no competition when it began drilling, discovering the Luno field (since renamed Edvard Grieg) and then Avaldsnes (now Johan Sverdrup). "We saw Jurassic sands, and a common oil/water contact all over the High," Heppenstall said, "and we identified various stratigraphic traps."