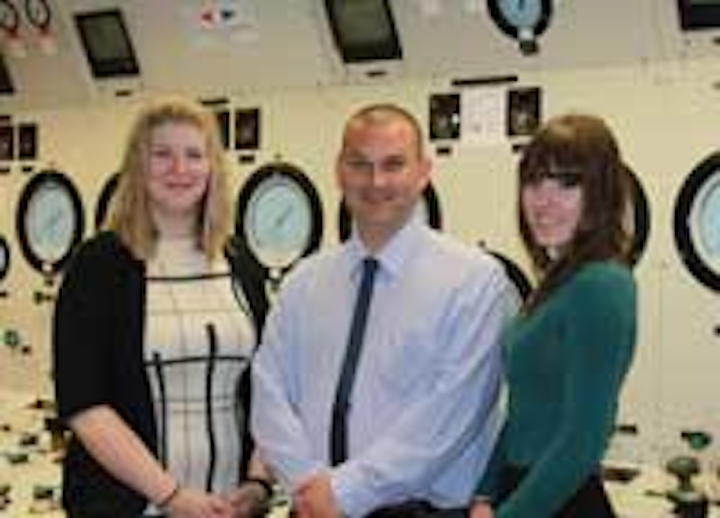 ATP Oil & Gas Corp. had appointedMatt McCarroll as CEO, but was unable to reach a mutual employment agreement.
Rosneft has appointedIgor Sechin as president, and Dmitry Avdeev as vice president for finance and economics.
Gerry Ward has joined OPEX as vice president.
The National Hyperbaric Centre has namedJames Ridgeway training manager, Ashleigh Gillan training coordinator, and Angela Stephen consultancy coordinator.
Stephen, Ridgeway, Gillan
Topaz Energy & Marine has appointedRené Kofod-Olsen as CEO.
Kofod-Olsen
Dolphin Group ASA has appointedTim Wells as chairman of the board.
David J. Crowley has joined Geokinetics as president and COO.
CGGVeritas has namedOlivier Gouirand vice president of finance.
Spectraseis has appointedDan Prairie as senior sales engineer for seismic monitoring services.
Williams Partners GP LLC has electedThomas F. Karam and James E. Scheel to its board of directors. Laura A. Sugg has resigned from the board.
Hoover Container Solutions has appointedDean Conway as sales manager Western Australia and northern territory.
Reg Nelson, managing director of Beach Energy, has extended his employment contract until June 30, 2014.
UniversalPegasus International has appointedPhilip Luna as CEO.
Luna
WFS Technologies has appointedGerry Watt as general manager for operations in Livingston, Scotland, and Belfast, Northern Ireland.
Daniel Trad has received the 2011 CSEG Technical Achievement Award Citation for his work on 5D interpolation. Trad, research adviser at the CGGVeritas Calgary processing and imaging center, developed the first multi-dimensional commercial algorithm for the regularization of data that depends on four spatial coordinates.
Ralph A. Midkiff has joined Endeavour International Corp. as senior vice president and general counsel.
Baker Hughes has appointedLynn L. Elsenhans to its board of directors.
Survitec Group's UK services business has appointedKevin Laing as area sales manager.
American Pollution Control Corp. has hiredDavid Diamond as industrial services/operations manager.
Socotherm has appointedJonathan Gibson as acting CEO.
Lee C. Tashjian has retired as vice president, corporate affairs at Fluor Corp. He is succeeded by R. Clifton Webb.
Lloyd's Register has appointedLuis Benito as strategic marketing manager, and Soo Young Lee as chief representative and marine manager for Korea.
Petrobras has appointedJosé Antônio Figueiredo as engineering, technology, and materials director executive.
Hydraulic & Offshore Supplies Ltd. has appointedDon Fenwick and John Joyce as directors.
Robert Terrell has been appointed president of Peritus Americas.
Terrell
Alan Jordan has joined Jee as principal cables engineer.
Central Petroleum Ltd. has appointedRichard Cottee as director and CEO.
Pat Davies has joined the BHP Billiton board as an independent non-executive director.
Longreach Oil and Gas has appointedRonald Lansdell as vice president exploration and as a member of the board. The company also appointed Dr. Mehdi Ali as an adviser to the board.
Chris Mann has joined Swagelining Ltd. as operations director.
Mann
Baker Hughes has appointedTrey Clark as vice president of investor relations. He succeeds Adam B. Anderson, who is now president, Latin America.
U.S. Steel has namedKurt A. Barshick general manager – tubular operations.
SBM Offshore has appointedPeter van Rossum as CFO.
David Hicks has been named president of EMGS North South America.
Greene's Energy Group has promotedCarlos Chagas de Oliveira, Jr. to general manager – Brazil.
de Oliveira, Jr.
Rialto has appointedSimon Zoller as corporate drilling manager.
Dana Ourso has joined InterMoor Inc. as human resources manager.
Tentec Ltd. has namedRichard Outram business manager for the UK.
Yokogawa Electric Corp. has appointedIan Verhappen as managing director of Yokogawa Canada Inc.
Verhappen
Dave Mitch has joined TMK IPSCO as COO.
Occidental Petroleum Corp. has namedChristopher G. Stavros vice president and treasurer, Dale Petroskey vice president, public affairs, and Melissa E. Schoeb vice president, corporate communications.
Mike Bequette has been named director of SKW Enterprise Solutions.
Bequette
EFC Group has appointedCraig Clarke as vice president – Americas.
DNV KEMA Energy & Sustainability has appointedElisabeth Harstad as executive vice president and member of the executive board, and Bjørn Tore Markussen as COO of the Asia/Pacific division.
Company news
National Oilwell Varco has completed the acquisition of the Wilson distribution business segment from Schlumberger.
Reef Subsea has acquired Vako AS, which will be integrated into Scanmudring-Rotech Subsea.
ffA has secured an office facility in Rio de Janeiro, Brazil.
TAM International has opened a new Canadian regional headquarters, including a manufacturing, service, and training facility, in Calgary, Alberta.
Cactus Wellhead has acquired True Turn Machine.
Cudd Energy Services has relocated its corporate headquarters to The Woodlands, Texas.
Dialight has achieved FPAL-certified oil and gas industry supplier status.
ASCO has signed an agreement with Tromsø Port Authority in northern Norway to operate a new supply base and harbor. The base, due to be operational in mid-2013, will service rigs operating in the northern Norwegian Sea.
National Response Corp. has selected American Pollution Control Corp. (AMPOL) to store and maintain emergency response equipment including portable barges, skimmers, boom, boom rollers, anchors, hoses, and a fire boom. AMPOL also now offers in-house emergency medical services within the state of Louisiana.
Shell Offshore Inc. has contracted LoneStar Marine Shelters to fabricate the 607-ton (551-metric ton), 76-bed auxiliary living quarters for the Mars A expansion in the Gulf of Mexico.
Topaz Energy and Marine has signed the first phase of a $330-million bank loan to help refinance some of its existing loans. According to parent company Renaissance Services, the deal should lead to extra liquidity and new investments in Topaz's offshore support vessel operations.
Seadrill has reduced its holdings in SapuraKencana Petroleum Bhd Seadrill sold $200 million in SapuraKencana shares and now has 6.4% of the outstanding shares.
Parkmead has agreed to acquire fellow UK independent DEO. DEO's main asset is its 52% operated interest in the Perth field development in the UK central North Sea.
National Oilwell Varco has completed the purchase of Enerflow Industries Inc.
Venari Resources LLC, an early-stage company focused on deepwater oil exploration in the Gulf of Mexico, has announced that Warburg Pincus, Kelso & Co., Temasek, and The Jordan Co. have agreed to make an investment of up to $1.125 billion in the company.
Maritime Training and Competence Solutions has acquired a facility in Loyang, Singapore, to provide ROV training courses.
Nylacast has gained ISO 14001:2008 accreditation.
Conductor Installation Services Ltd. has received the Gold Award for Occupational Health and Safety 2012 from the UK's Royal Society for the Prevention of Accidents.
Hydro Group has been awarded £1 million ($1.6 million) from the European Commission's Research Executive Agency in support of research, development, and production of a new 33 kV hybrid wet-mate subsea connector for the offshore renewable energy industry.
New Century Software has opened an office in Calgary, Canada.
Marlink has introduced the new C-band services on the iDirect platform, which will enhance network efficiency and open up new options for customers using Sealink global C-band coverage for business critical applications.
Aquatech has received a contract to design and supply a wastewater recycle system for a gas field development project in Turkmenistan.
Artificial Lift Co. has successfully installed the first rigless electric submersible pump string in the Middle East for Saudi Aramco.
AGR Group has launched EC-Drill technology which enables safer, and cost-effective drilling of wells where reservoir conditions require more precise bottomhole pressure management. The technology can be used off both fixed and floating rigs.
Seatronics has opened an office in Macaé, Rio de Janeiro, Brazil.
Aker Solutions has acquired the mechanical workshop company Lyngdal Mek. Verksted.
Expro has received its eighth safety award from the Royal Society for the Prevention of Accidents.
Statoil has designated Cubility's MudCube system a proven technology.
Teledyne TSS Ltd. has appointed Unique System FZE as its authorized service provider for the United Arab Emirates.
TWMA has launched its US expansion with the opening of the manufacturing base in Houston.
Paradigm has entered into a strategic access agreement with Divestco to provide Divestco with its seismic processing, imaging, and characterization suite to carry out its seismic data processing services.
TGS has acquired Volant Solutions.
AGR has acquired an 80% shareholding in Steinsvik & Co AS.
Swift Worldwide Resources has opened an office in Accra, Ghana.
QTEC Environmental Services Inc. has landed an 18-month contract to provide its specialist fluids handling and containment services on a drilling installation in the Gulf of Mexico. The contract is valued at more than £400,000 ($637,000), and has the potential to be extended to five years.
Navis Engineering Oy has established Singapore as its regional sales hub to cover Southeast Asia and Oceania.
Bio-Cide International has received the Hearst Energy Award for Technology for the friendly environmental profile and innovation of its Petro-Flo biocide.
Greene's Energy Group has acquired the shares of Singapore-based Associated Rental Tools Company Pte Ltd.
DNV has entered into a strategic partnership with Norwegian StormGeo Group.
Research directors fromRobert Gordon University in Aberdeen have signed an international cooperation agreement with Gubkin Russian State University of Oil and Gas. The two institutions will establish areas of joint research and opportunities for staff and student exchanges.
Viper Subsea has signed a new collaboration agreement with Velocious that enables both companies to expand their offerings to overseas markets, and collaborate on product supply and project execution.
Element Partners and CSL Capital Management have acquired Environmental Drilling Solutions. EDS' management team will continue to run the business, and current investor NGP Energy Technology Partners will retain an interest in the company.
ABB's Measurement Products business unit has invested in a state-of-the-art instrumentation, calibration, repair, and training facility at its UK manufacturing site in Stonehouse, Gloucestershire.
TheOffshore Petroleum Industry Training Organisation has approved the Hi-Con (High Consequence) Training Program at NASA's Johnson Space Center. OPITO approval ensures that workers undergoing helicopter escape training, basic offshore safety induction and emergency training at NASA's facility are trained to the same standard as workers in other major oil and gas hubs around the world.
U.S. Underwater Services and Neptune have entered into a 10-year exclusive license agreement for the use of Neptune's patented NEPSYS underwater dry welding technology in the Gulf of Mexico.
Ulterra has opened a new stock point in Hammond, Louisiana.
Maritime Training and Competence has established a new facility in Singapore.
Damen Shiprepair Brest has received its first ship repair order from Bourbon Offshore Surf for the docking of the anchor handling tug supply vessel Alcyon.
Aberdeen-based standby vessel operatorSartor Offshore Rescue Ltd. has rebranded to Atlantic Offshore Rescue Ltd.
Aker Solutions will build a new state-of-of-the-art umbilical manufacturing plant in Pekan, Malaysia.
DNV and Korea National Oil Corp. have agreed to cooperate on environment, health, safety, and quality management system enhancement. DNV will organize a series of HSE conferences and training programs to enhance KNOC's safety culture and management technology.
Total has opted not to pursue its proposed acquisition of UK-based independent Wessex Exploration.
IHC Merwede has opened its new Singapore office at the PSA Building. The base will serve as the corporate headquarters for IHC Offshore & Marine's Southeast Asia businesses.
Archer has acquired X-it Energy Services.
BIS Inspection has announced a strategic alliance with PDL Solutions (Europe) Ltd. and Star Net Geomatics. The agreement enables BIS Inspection to offer a fully integrated facts-based approach using the latest in high definition 3D laser scanning and true-to-view photographic technology.
IKM Subsea has secured a five-year frame agreement with Statoil for ROV services.
Schlumberger has opened its new Houston Geoengineering Laboratory, a state-of-the-art, 30,000-sq ft (2,787-sq m) facility that will provide reservoir core analysis services for the oil and gas industry.
Subsea 7 and NKT Holding have completed the sale of NKT Flexibles to National Oilwell Varco.
More Offshore Issue Articles
Offshore Articles Archives
View Oil and Gas Articles on PennEnergy.com