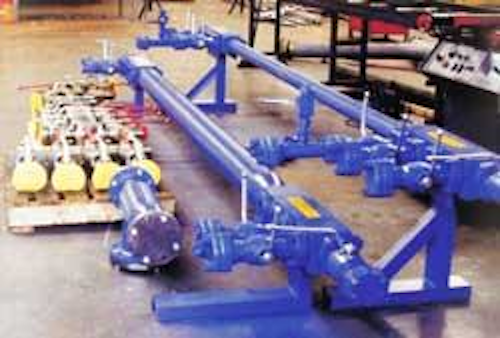 Non-welded flange specialist GS Hydro has supplied piping systems to 50 drilling rigs and numerous platforms since its formation in 1978. The Hameenlinna-based company offers two main product lines flare flange and retain ring systems.
The GS 37deg Flare Flange is a high pressure, up to 420 bar, joint for mild and stainless steel tubes up to 3-in. diameter. It is claimed to be safer for small tube sizes than bite-type fittings, particularly in applications subjected to heavy vibrations. The GS 90deg flare system provides low pressure, up to 50 bar, non-welded flange joints up to 2-in. diameter. Flaring takes 25% or less of normal welding times for pipes, the company adds. The joint is intrinsically clean, and there is no need for X-rays. Installation on site also goes quickly.
The GS retain ring flange is a compact, high pressure joint, up to 690 bar, for pipe sizes up to 14-in. The flange is clasped to the pipe by a stainless steel ring and spring retain-ring, which sits in a machined groove on the pipe end. A wide range of flanged fittings for all sizes is offered that includes tees, elbows, and thread adapters.
Recently, the company played a role in the salvage of the Russian nuclear submarine Kursk. One part of the operation involved sawing the bow section before raising the vessel from its position on the Barents Sea bed. The saw comprised two large hydraulic cylinders placed on each side of the submarine, anchored to the sea floor via suction piles. A cutting chain, abrasive-covered bushes mounted on a steel wire, was pulled back and forth by the cylinders, with vertical forces supplied by the controllable vertical position of the suction piles. GS-Hydro provided large-bore hydraulic piping manifolds for the hydraulic power packs powering the cutting operation from the deck of the Smit-operated salvage barge. Manifold dimensions were calculated, and the package designed and delivered, within two weeks of receiving the order.