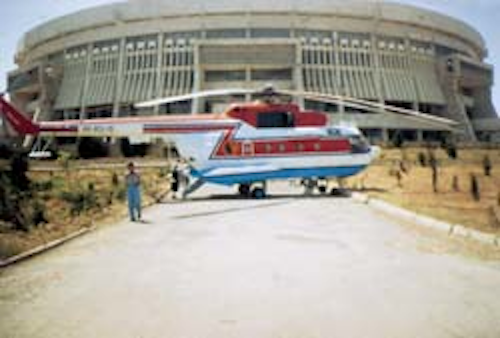 Babayev AliContributing Editor - Baku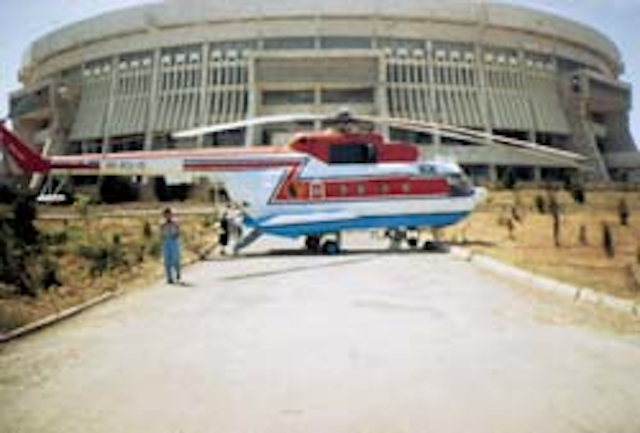 Russian offshore transport helicopters were shown at Baku's Caspian 96. (photo by the author)
Development of the huge Shaikh Deniz oilfield, located in the central quadrant of Azerbaijan's Caspian Sea aquatory, has finally been awarded to a consortium of companies, after a period of negotiations in which a role in the project for Iran caused the potential participants to change. Ultimately, the decision was taken to forego American involvement in order to include Iran.
As a consequence, Azerbaijan's second major development contract was signed on 4 June with considerable pomp and ceremony at Baku's Gulistan Palace. President Heydar Aliyev and leading members of the Azeri government, officers of oil companies, ambassadors, and other officials took part in the ceremony. The contract was signed by the president of State Oil Company of Azerbaijan Republic (SOCAR), Natik Aliyev, and the leaders of the participating foreign oil companies.
The final division of the project was BP/Statoil, with 51%; Elf Aquitaine, with 10%; Lukoil, with 10%; Turkie Petrolleri, with 9%; and the Iranian firm Oil Industries & Engineering Company, with 10%. SOCAR retained 10% equity.
In the beginning, SOCAR's negotiations for Shaikh Deniz's development were only with the BP/Statoil Alliance and Turkie Petrolleri, which shared 60% interest between them and retained 40% for the State Oil Company, but the latter portioned out its share to other participants to ease its financial burden and to maintain the geopolitical interests of the country.
In March, during a visit to Baku of Elf's president Phillipe Jaffre, French participation in Azerbaijan's oil industry was begun by the inclusion of Elf Aquitaine in the Shaikh Deniz consortium, then in April, it was learned that SOCAR was handing over 10% of its interest in the project to the Russian oil company Lukoil.
All along, the Aliyev government has wanted to include Iran in the development of the Azeri Caspian oil industry, and a method of achieving that involvement was being sought. To this end, when the Shaikh Deniz development was in final negotiations, SOCAR management decided to offer half of its remaining equity to the National Iranian Oil Corporation (NIOC), but several months went by without a response from Iran. Lukoil petitioned to increase its share to 20%, taking up the 10% offered to Iran, but finally, on 11 May, the Oil Industries & Engineering Company (OIEC) was substituted for NIOC by the Iranian government, and SOCAR was able to sign an agreement of participation with this previously unknown company.
OIEC differs from NIOC in that it is a joint stock company rather than a state-owned oil company. NIOC holds 40% of the ownership of OIEC, however, and Iran's minister of petroleum Agozode, is OIEC's president.
Shaikh Deniz is the largest offshore oilfield in the Azeri aquatory, extending approximately 150 sq km. Its reserves are estimated at 100 million tons of oil (about 560 million bbl), 200 million tons of gas condensates (1.12 billion bbl), and about 400 bcm of gas. The field is located approximately 70 km south of the Apsheron Peninsula in waters ranging from 50 to 600 meters in depth.
The US$4 billion, 30-year development project is to begin with exploration over the next three years at a cost of $150 million. Once oil reserves are encountered, SOCAR will begin paying its share of the expenditures, which are to be borne by the foreign companies until that time. In the unlikely event that no reserves are found, Azerbaijan will receive $37 million in payment.
Copyright 1996 Offshore. All Rights Reserved.