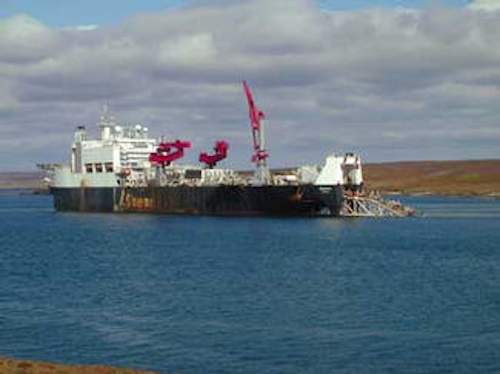 Prepared by Offshore in association with the IRO
This year, the Association of Dutch Suppliers in the Oil and Gas Industry (IRO) celebrates its 30th birthday. Over the years, it has grown to accommodate 300 member companies, promoting their interests where possible in emerging upstream sectors. This has become more critical of late, given the downturn in exploration and new field developments on the Dutch continental shelf.
IRO today is based in Zoetermeer, with a general board of 17 members and a steering committee, headed by newly appointed Managing Director Hans de Boer. He sees the association's strengths as threefold:
Political lobbying towards the government in The Hague, and increasingly also to Brussels via Eurogif, the European Oil & Gas Innovation Forum, of which IRO is a founding member
Export promotions, including workshop presentations for oil companies overseas, Dutch exhibitor group stands at international oil and gas shows, and market intelligence gathering
Encouraging networking among IRO members.
Aside from the major annual or biannual events, such as OTC, Offshore Europe, ONS, and OSEA, IRO has recently taken pavilions at MIOGE in Moscow, Latin American Petroleum in Caracas, and Rio Oil & Gas. It is also looking to participate in newer events such as KIOGE in Kazakhstan and ASCOPE in South East Asia.
Overseas push
Theoretically, there should be more opportunities at home for the Dutch contractors, with gas prices high across Western Europe following market liberalization. The government, however, seems intent on turning the screw further on offshore operators through more punitive taxation measures. It has also rejected calls to stimulate exploration in the Waddenzee off northern Holland and the inland waterways of the Biesbosch following pressure from the environmentalist lobby.
But the government isn't totally aloof from the offshore sector. It works with IRO and the operators' association Nogepa to develop new safety and training regulations. It also supported construction of Marin's new test basin for deepwater research in Wageningen.
Despite the relative inactivity on the Dutch continental shelf, the breadth of offshore engineering expertise remains as strong within IRO as any other association in Europe. Surprisingly, few companies have folded or been forced into mergers. Most of its members have survived by diversifying into civil engineering or pushing harder for work overseas.
"One country where we are trying to put something together in the form of a trade mission is Kazakhstan," says De Boer. "We feel that part of the world is definitely worth looking at, in cooperation with Nogepa." It also helps that the North Caspian Sea consortium responsible for the giant Kashagan oilfield development is headquartered in The Hague. De Boer points out that some Dutch contractors are already active in this region, such as Andersen, PetroPlus, and Wagenborg.
"A few of our members have also been active independently in the deepwater sectors in the Gulf of Mexico and offshore Brazil," he adds. Allseas was one of the foremost pipelay contractors to commit to a deepwater construction vessel, the Solitaire. This investment has paid off with numerous contract wins in the Gulf of Mexico. Mariner Energy's 1,000-meter water depth King Kong could be the next. Bluewater is also hoping to secure the award of a leased floating production, storage, and offloading vessel (FPSO) for Albacora Leste under a 20-year contract from Petrobras.
"Vryhof Anchors has developed new mooring systems for both these markets. Heerema's large crane vessel, Balder, is being converted for deepwater operations for BP's Gulf of Mexico projects. A number of our members are in the consortium doing the conversion: Verolme Botlek, SAS for the pipe handling system, Huisman Itrec for the J-lay tower, John Crane Lips for the thrusters, and Imtech in Rotterdam for the electrical control system. Gusto Engineering is doing much of the design and engineering work. In fact, as part of the IHC Group, it has been very active in designing and developing all sorts of systems for deepwater operations around the world, including drillships and FPSOs.
"In the Gulf of Mexico, a number of our companies have their own representatives, mainly in Houston. We are now thinking of setting up a Dutch oil and gas facility there also. We already have seven to eight companies interested in participating."
Dutch contractors have been more tentative about West Africa, the perception being that the market is polarized between French and US operators and their respective national coteries (although Shell is also influential). However, Suction Pile Technology in Woerden confounded that theory recently with the award of 11 suction pile cluster foundations for the Ceiba project offshore Equatorial Guinea in 800 meters water depth. These will be installed using SPT's new deepwater suction pump, which will be operated shortly from the Stolt Offshore vessel Polaris.
Other specialties
Aside from Albacora Leste, Bluewater has become one of the most prolific suppliers of FPSOs. Recently, it secured a lease for the Glas Dowr on Soekor's Sable Field in South Africa's Bredasdorp Basin. The vessel had been inactive for two years following early shutdown of the Durward/Dauntless Field in the UK North Sea. Also in the UK sector, Bluewater's Bleo Holm FPSO topsides were recently modified to handle extra production from BG's Blake oilfield. And last month, it signed a provisional agreement with Aker Maritime to acquire the Berge Hugin, currently working on Enterprise's Pierce Field.
As stated earlier, Marin has a new 30-meter-deep test basin which can be used for new deepwater developments. This is the largest such facility in the world, according to De Boer. The unit is being used for work on joint industry projects on FPSO roll and offloading operations. There is further academic expertise routinely applied to floaters at the mechanical and shipbuilding department at the University of Delft.
Another area where Dutch contractors have a leading edge is platform re-use. Genius Vos in IJmuiden successfully refurbished the redundant K10c platform last year for a new life on Clyde's Q-4A development. Nearby, Tamalone International is arranging for the transfer of another Dutch oil installation for re-use on the Shengli Field offshore China.
"Oil and gas remains our main target sector, but for the future, we are looking at other things," says De Boer. "One is the installation of offshore wind farms. Companies like Seaway Heavy Lifting and Smit Maritime Contractors could handle these installations. Another activity we're looking at is wave energy. There is a project under way involving a wave power station offshore Portugal - all being managed by a Dutch consortium."