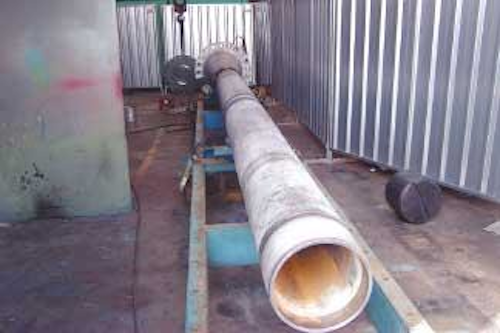 Kevin Burton
UWG Group
New operator Tuscan Energy and partner Acorn North Sea are re-developing Ardmore, the UK's first offshore oilfield, formerly known as Argyll.
Production originally started in 1975 but was discontinued in 1992 when operations were deemed to be uneconomic. The field was then left fallow until 2003, when specialists determined applying modern techniques could revive the field, leading to the potential extraction of a further 25 MMbbl previously considered inaccessible.
Ardmore is being developed using a converted jackup production platform, the Rowan Gorilla VII, from which up to four wells will be drilled, with conventional subsea wellhead systems. Tuscan Energy has contracted GlobalSantaFe to deliver the wells for the project. GSF contracted UWG, based in Norwich, UK, to provide a 5,000-psi rated, 18 3/4- in. full bore riser system to allow these wells to be drilled using the jackup's standard surface BOP.
Although the company had supplied similar systems in the past, these had been for applications where the jackup was drilling one well at a time. In Ardmore's case, the production risers will be in place when the drilling riser is actually in use. So, the optimization of drilling and production riser tensions, to suit the Rowan Gorilla VII's capabilities, has been of vital consideration. GSF also contracted UWG to provide the production riser systems.
The blueprint for the Ardmore production riser systems was conceived early in the initial design and analysis phase in late 2002, when it became evident that conventional jackup multi-tubular production risers, with surface wellheads and mudline suspension systems, would not suffice. In this instance subsea wellhead systems and single-string, high pressure, tieback risers similar to those deployed typically on tension leg platforms were needed.
This proposal presented numerous challenges, the most testing being the short lead-times for equipment delivery – notably the risers that would be needed in less than six months. This tight timeframe meant that the usual design, development, and qualification testing process for new riser system components would not be practical.
UWG decided to employ existing, proven technology. Given the constraints, it would also be necessary to commit early to long-lead items for the production risers, i.e., prior to completion of the detailed system analysis and design.
The team quickly conducted conceptual production riser system analysis to confirm the required tubular specification, identify the need for taper joints at the upper and lower end of the risers, and if necessary, determine their specification.
Additionally, the possible severity of vortex induced vibration (VIV) was investigated. Preliminary results indicated that fatigue loadings on the production risers could be relatively high, and that VIV suppression strakes would be required. The suggestion that welded taper joints would likely possess marginal fatigue resistance was subsequently confirmed on completion of the detailed riser system analysis.
Based on these findings, comprehensive designs were developed for single piece, forged, and machined, upper and lower taper joints. Due to unavoidably long lead-times for the taper joint forgings, these were commissioned shortly after UWG's contract award, but prior to completion of the final riser system analysis.
null
null
The pipe specification for the production risers was critical, as was riser connector selection. Joint industry programs conducted by 2H Offshore Engineering in the UK had demonstrated that suitably designed threaded and coupled connections would possess more than sufficient fatigue resistance for this application. These connections would also overcome concerns regarding the reliability of welds on riser connections in the relatively small diameter tubulars that were needed for the Ardmore production risers.
The selected connections had evolved from designs used widely offshore, including Spar-based projects in the Gulf of Mexico, and had been fatigue tested by the manufacturer. 2H also designed the VIV suppression strakes that were fitted to the Ardmore production riser tubulars.
Ultimately, timely delivery of all the riser system components in this project was achieved by simultaneously undertaking interlinked activities, rather than in series as is more common in offshore projects. This concurrent approach to engineering aided the successful delivery of this project, but other factors played a significant role:
Initial riser system analysis had previously been conducted by a reputable, highly experienced supplier
Specifications for long-lead items (riser tubulars, upper and lower taper joints) were determined before completion of the detailed system design and analysis
UWG was prepared to commit to purchasing long-lead items before detailed system analysis and component design had been completed
Meticulous and rigorous sub-contract management was in place.
Clearly, not all riser projects can be engineered concurrently, but a combination of technological advances and industry experience can speed up project delivery. If implemented correctly, this approach will facilitate more cost-effective processes and reduce the time between drilling and production, benefiting all parties.