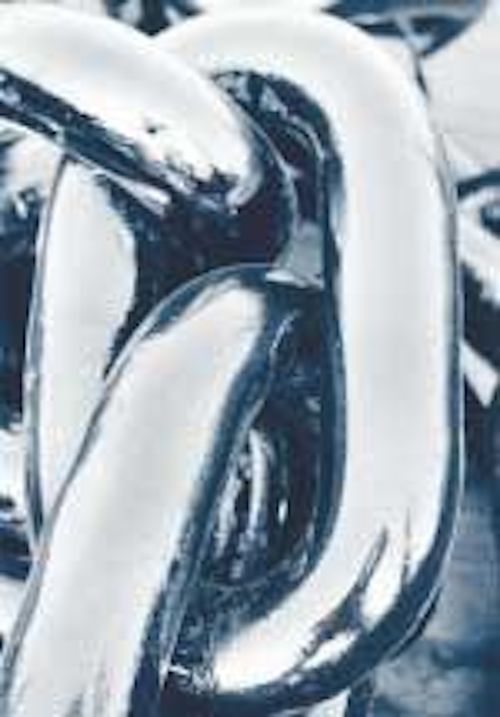 While the development – and acceptance – of new chain grades is the domain of the classification societies, Swedish chainmaker Scana Ramnäs wants to forge its way into higher grades of studded and studless links.
null
null
Three years ago, Scana Ramnäs developed Grade 4+ stud link chain in response to Statoil's requirements for the semisubmersible drilling rig Borgland Dolphin for chain 22% stronger than ordinary Grade 4. The Grade 4+ stud concept saves about 8% in weight compared to standard Grade 4 for the same minimum break load.
The Scana Ramnäs stud chain is fitted with drop forged studs. The stud's asymmetrical design gives equal stud footprints and contributes to a symmetric stress-distribution in the link.
Creating links without studs requires a different focus on the chain.
"If you take the stud away, you change the stress concentration in the link," said Mats Sohlström, technical support manager. "The weakest point in a link is always the weld."
Following promising test results, the company said it believes it has found a solution to that dilemma.
Scana Ramnäs said its studless link can deliver the same performance as a stud link in terms of static strength while offering a weight saving. In deepwater applications, each percentage point increase in strength saves "a tremendous amount of money" for the rig owner, the company said.
The company is working not only on Grade 4+ studless chain, but also on Grade 5 chain, Sohlström said.
Long lengths for Kristin
Currently, Scana Ramnäs is manufacturing 16,560 m of Grade 4 studless chain for the Kristin field semisubmersible in the Norwegian Sea. The 6,300-metric-ton project features chain of 138-mm diameter. The project's mooring concept calls for four chains from each of the four corners to deal with wind and other long-term mooring challenges. Scana Ramnäs is manufacturing segment lengths of 20 m, 140 m, 250 m, 400 m, 850 m, and 1,000 m. Delivery of the chain will be early 2004.
null
In 2002, the company began offering a five-year guarantee on all of its Swedish manufactured stud link chain against having loose studs within five years of delivery. Loose studs seriously affect the fatigue life of the chain, leading to cracks in the link.
For more information, contact Mats Sohlström, Scana Ramnäs, Tel: +46 220 22000, fax: +46 220 35837, email: mats.sohlstrom@scana.no, website: www.scanaramnas.com.