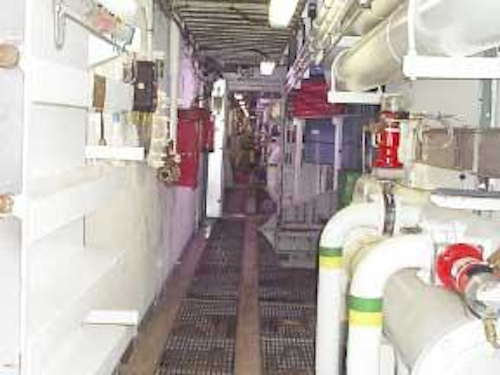 Ultra Fog has added large engine room capability to its roster of certificates. The company tested its water mist system for certification in 500-2,000 cu m engine rooms, with a ceiling height of up to 7.5 m. The Gothenburg-based company has certification for local protection for engine rooms with up to 12 m ceiling height.
The company has been making use of that local protection certification and has installed systems in large machinery rooms to supplement existing systems. Ultra Fog expects more work in this area as vessel owners comply with IMO requirements to include local protection on all engine rooms larger than 500 cu m by 2005, said Managing Director Veronica Kronhamn. The market for main systems in machinery rooms is growing quickly, she added.
The water fog system combines cooling and oxygen removal to extinguish fires under an automated, high-pressure water delivery design. Ultra Fog's patented nozzles balance the amount of water delivered, the size of drops produced, and the speed of water sprayed. The stainless steel nozzles feature slits rather than holes. These allowed the company to decrease the number of individual components in the nozzle far below what is used in other high-pressure water systems, said Technical Director Anders Kjellberg. The lower number of components in each nozzle makes them easier to mount and service, he added.
null
The larger a fire in a machinery room, the easier it is to extinguish with a fog system. Higher heat levels help the mist work better by creating more steam and driving the oxygen level down in the room to kill the fire. The trick with small fires is to balance the amount of water emitted through the nozzle system so the heat from the smaller fire is high enough to turn the water into steam.
"You don't want to spray so much water that we cool it down too much because then it's impossible to kill the fire," Kjellberg said.
Ultra Fog is also focusing on smaller fires, which require a precise balance in the amount of mist generated and speed and size of water droplets compared to the size of the fire.
For more information, contact Anders Kjellberg, Ultrafog. Tel: +46 31 98 23 70; fax: +46 31 98 23 68; sprinklersystem@ultrafog.com; www.ultrafog.com.