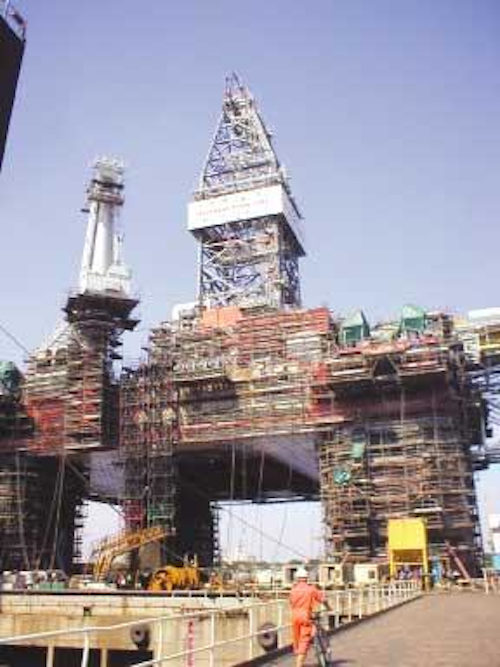 MoorLink has delivered half of its largest job to date, 24 custom swivels and new sockets for GlobalSantaFe's Development Driller I semisubmer-sible. An identical number of swivels, plus sockets, are being manufactured for the Development Driller II.
MoorLink won the contract in August 2002 to supply customized swivels for the rigs' fairleads, anchor fore runners, and chaser pennant systems. The chaser system's wire rope scket is designed to connect 3.5-in. wire into 3.25-in. chain with a 3.25-in. Kenter joining shackle. This design is said to eliminate the need for adapters.
The Gothenburg-based company performed finite element analysis to verify the structural soundness of Swivel Type 133 C, which it developed for the GSF order. The design reduced the number of components required in the mooring system, which will allow GSF to change out components as necessary for increased cost-effectiveness, flexibility, and redundancy.
MoorLink delivered the sockets to the rope manufacturer for fitting to the pennant ropes in February. In June, it shipped the rest of the order for Development Driller I. The complete order for the Development Driller II is due in April 2004.
null
Smart Swivels
MoorLink is now working on a new product, the Smart Swivel, prompted by operator requirements. The design locks up under high tension and swivels under low tension. Björn Palmquist, managing director, said bench testing for proof loading is pending, with the new design due out by the end of the year. The test will verify that "when you reach certain tension levels, the property values that you've calculated work," he said.
Variables to be considered include environment, assembly, mud, corrosion, and water pressure.
Palmquist said that to meet the design demands, special attention had been paid to seals, double seals, and corrosion protection. In addition to the smart swivel, the company is also looking at improved materials for the bearings.
"But before we jump into changing our well-proven materials, we need to test it," he said.
For more information, contact Björn Palmquist, MoorLink. Tel: +46 31 711 18 19, fax:+46 31 708 7900, bjpa@moorlink.se, www.moorlink.com.