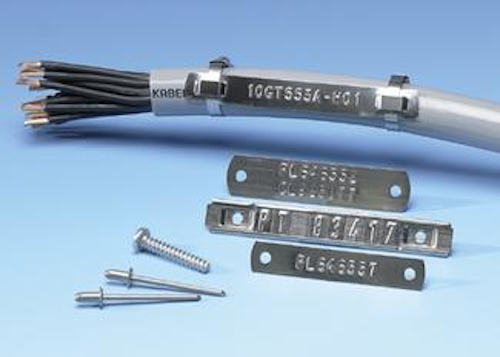 Statoil will benefit from the anti-corrosive properties of Fleximark's stainless steel markers as they label cables for the Snøhvit development, in the Barents Sea off Norway. Fleximark was named as the preferred stainless steel marker provider for Snøhvit, due to go online in 2006. The scope includes cables associated with the land-based LNG process plant and also power cabling for the subsea equipment.
On average, an offshore installation requires at least 10,000 markers, said Bo Malmkvist, managing director, and the company deliveries for this project to continue for the next few years.
The Fleximark 316L Acid-Proof system is intended for long-lasting marking of cables in electrical and electronic installations with high temperatures and in environments where traditional plastic labeling does not meet the demands.
"We have markers for almost any environment on an offshore installation," said Göran Karlsson, marketing and product manager.
null
FlexiMark's units feature 4.2-mm high characters for enhanced readability.
The company can create customized markers at its Nyköping, Sweden, facility, or it can sell standard letters and holders in cases so the labels can be made onsite. The on-site assembly system comprises letters and numbers embossed onto break-off strips. The chosen character is inserted into the end of a text holder, and the remainder of the strip is snapped off. The text holder containing the characters is then fixed to the cable with fastening strips.
FlexiMark's line also includes plastic labels suited for computer rooms.
The Fleximark MINI and MAXI systems are primarily intended for sure, long-lasting marking of cables and components in various electrical equipment, as well as labeling pipes, hoses, shelves, boxes, cabinets and doors.
The MINI and MAXI are printed character strips of semi-rigid PVC plastic with break markings for each character. Each character strip contains 20 MINI and 10 MAXI fixed width letters, numbers, or symbols that can be snapped out of the strip and mounted in accessories.
One of the newest trends, Malmkvist said, is for customers to download software, buy sheets of labels, and design their own labels for indoor use. The labels can be printed out using a laser printer, and can be protected by sleeves if needed.
"The nice thing about the software is that we have fixed templates for our labels," Malmkvist said.
Karlsson said the company intends to grow in the offshore market by increasing the product range and production capacity.
For more information, contact Fleximark. Tel: +46 155-777 90, fax: +46 155-777 91, info@fleximark.se, www.fleximark.com.