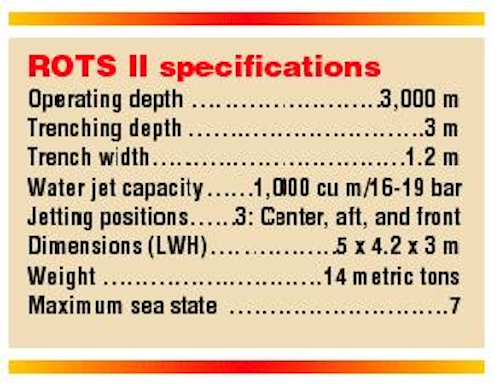 Late last year, Nordic Offshore used its free-flying jetting machine to trench an 85-km gas pipeline in the Baltic Sea.
The company deployed the second generation of its remotely operated trenching systems (ROTS) for the Polish oil and gas company Petrobaltic using anchor handling/tug supply (AHTS) Bazalt as the support vessel for the project, in 85 m of water. Technical Manager Gösta Nilsson said using the 65-m-long vessel in the Baltic Sea in sea states 4 and 5 proved to be a good test of the launch and recovery system (LARS) designed for the ROTS II. The LARS can be installed on any vessel, he added. In the recent project, Petrobaltic stipulated use of a Polish boat.
The project involved trenching the 85-km gas pipeline from the Baltic Beta platform to shore. Burial depth was 1.5 m at the top of the pipe, and seabed hardness in this part of the Baltic was up to 100 kpa.
ROTS II started service a year ago, trenching its first 10-in., 4,500-m-long pipeline in May 2002.
Burial depth for the ROTS II is 3 m with a trench width of 1.2 m for ROTS II. The system, while depth rated to 3,000 m of water, has so far worked to 1,000 m water depth. A longer umbilical will allow the system to work in 3,000 m of water, Nordic claims.
null
The ROTS II LARS unit can be launched and recovered in adverse weather, minimizing the weather downtime. LARS, which can be operated by one person, is designed for a maximum sea state 7 operation with hydraulic snubber and cursor system. Deployment and recovery are quite fast, Nilsson said. This opens a longer operational weather window.
During the two-month project in the Baltic, where conditions frequently hit sea states 4 and 5, the ROTS II had only 10 hours of weather-related downtime, Nilsson said.
Sea state 5 in the Baltic Sea is tougher than sea state 5 in the North Sea, because the wave period in the Baltic is shorter.
null
Nordic Offshore can have ROTS II operational within 48 hours and can demobilize the system in less than a day.
The company has been working on improving its patented sword technology and optimizing its equipment to get through over harder seabeds.
The company's sword technology enables re-configuration remotely while the unit is on the seabed.
In another ongoing development, the company is working on an idea for a smarter backfill system to enhance the capability of the ROTS II.
For more information, contact Gösta Nilsson, Nordic Offshore. Tel: +46 522 81 379; fax: +46 522 151 60; gn@nordicoffshore.se; www.nordicoffshore.com.